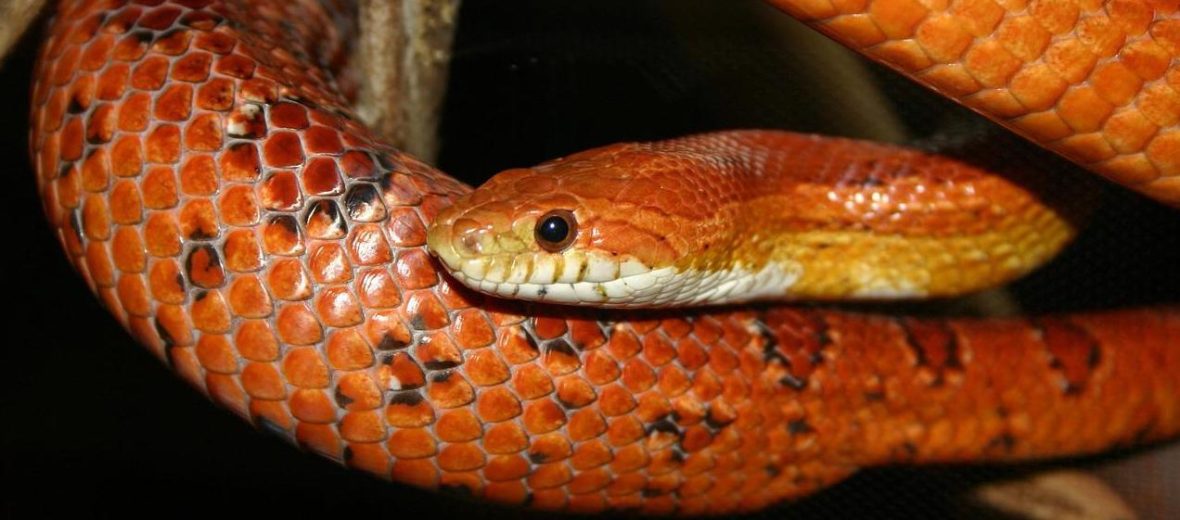 The corn snake can be found throughout the southeastern United States on up to New Jersey and out west to Utah. They prefer overgrown fields, forest openings, palmetto flatwoods, trees, and abandoned or lightly-used structures and farms. These snakes are actually a species of rat snake. Due to their stable wild numbers and ease of captive breeding, the corn snake is listed as Least Concern by the IUCN.
First the Stats…
Scientific name: Pantherophis guttatus
Weight: Up to 2 lbs.
Length: Up to 6 feet
Lifespan: Up to 8+ years
Now on to the Facts!
1.) Like so many other snakes, corn snakes are solitary. They only come together, briefly, to mate.
2.) Corn snakes are nocturnal (active at night).
3.) A group of snakes is called a bed, den, knot, nest, or pit.
4.) Although typically terrestrial (spend their lives on the ground), these snakes can climb and swim quite well.
5.) During colder winter months, they will brumate (hibernation for reptiles).
But wait, there's more on the corn snake!
6.) Corn snakes are nonvenomous constrictors.
7.) They prey on mice, rats, voles, gophers, moles, reptiles, and amphibians. Sometimes they will even scale trees to search for unguarded bird eggs.
Did you know…?
All too often, corn snakes are mistaken for the dangerous copperhead and are killed. But copperheads are a thicker bodied snake with a different head shape.
8.) Females lay up to 24 eggs that hatch in up to 10 weeks.
9.) The snakelets are born precocial (totally self-sufficient).
10.) The corn snake is a popular pet snake to keep. This is due to their manageable size, calm temperament, and ease of care.
11.) Corn snakes are preyed on by bobcats, foxes, opossums, skunks, weasels, and hawks.
Now a Short Corn Snake Video!
Be sure to share & comment below! Also, check out the Critter Science YouTube channel. Videos added frequently!
Want to suggest a critter for me to write about? Let me know here.
Think you know a lot about critters? Try your hand at these fun, free quizzes: