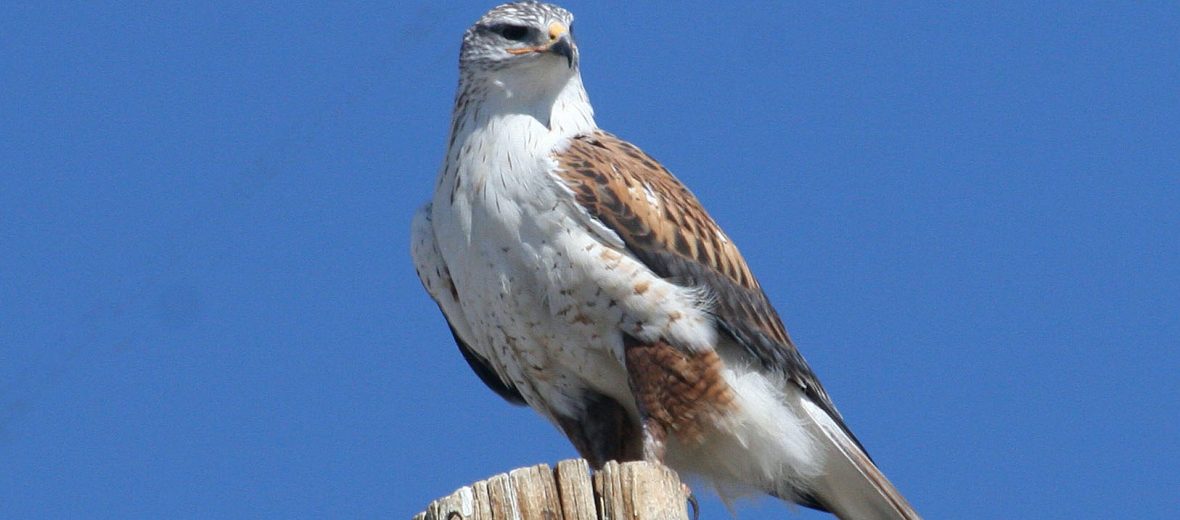 The ferruginous hawk, aka ferrugineous rough-leg, can be found throughout the western half of Canada and the United States and on down throughout Mexico. These are the largest buteo (not true hawk, aka buzzard) species in North America. They prefer agricultural land, lowlands, rolling hills of grass lands, plains, plateaus, valleys, ranches, and desert edges. Even though they face the threat of habitat destruction at the hands of mining, agriculture, logging, and fire suppression, these raptors are not only listed as Least Concern by the IUCN, but their populations are increasing.
First the Stats…
Scientific name: Buteo regalis
Weight: Up to 3.3 lbs.
Length: Up to 25 inches
Wingspan: Up to 56 inches
Lifespan: Up to 20 years
Now on to the Facts!
1.) These hawks, like other birds of prey, are solitary until they find a mate.
2.) Ferruginous hawks are diurnal (active during the day).
3.) When calling, they produce a "kaah-kaah" sound.
4.) A group of hawks is called a boil, kettle, cast, aerie, or lease.
5.) These raptors prey on squirrels, mice, rats, jackrabbits, birds, amphibians, snakes, lizards, meadowlarks, grasshoppers, and crickets.
But wait, there's more on the ferruginous hawk!
6.) Larger raptors, like golden eagles, sometimes prey on the ferruginous hawk.
7.) They build their nests in and on a variety of structures, like abandoned farm machinery, farm buildings, utility poles and structures, artificial platforms, haystacks, cliffs, and lone trees.
Did you know…?
While their general flight speed is only around 40 mph, their dive speed can reach up to 150 mph!
8.) Their nests are large and built with sticks. Then lined with grass, shredded bark, or dried cow dung.
9.) The ferruginous hawk is monogamous (mates for life).
10.) Females lay up to 4 eggs that hatch in up to 35 days.
But wait, there's still more on the ferruginous hawk!
11.) Both parents take turns incubating and rearing their young.
12.) The chicks are independent in up to 50 days after hatching.
13.) These hawks, like other hawks, can catch prey on the ground or on the wing (in mid air).
14.) To entice a female partner, these hawks perform an impressive display of aerial acrobatics that can go on for 10 minutes at a time.
15.) A hawk's eyesight is up to 8x stronger than a human's. They can detect prey up to 100 feet or more away.
Now a Short Ferruginous Hawk Video!
Be sure to share & comment below! Also, check out the Critter Science YouTube channel. Videos added frequently!
Want to suggest a critter for me to write about? Let me know here.
Think you know a lot about critters? Try your hand at these fun, free quizzes: