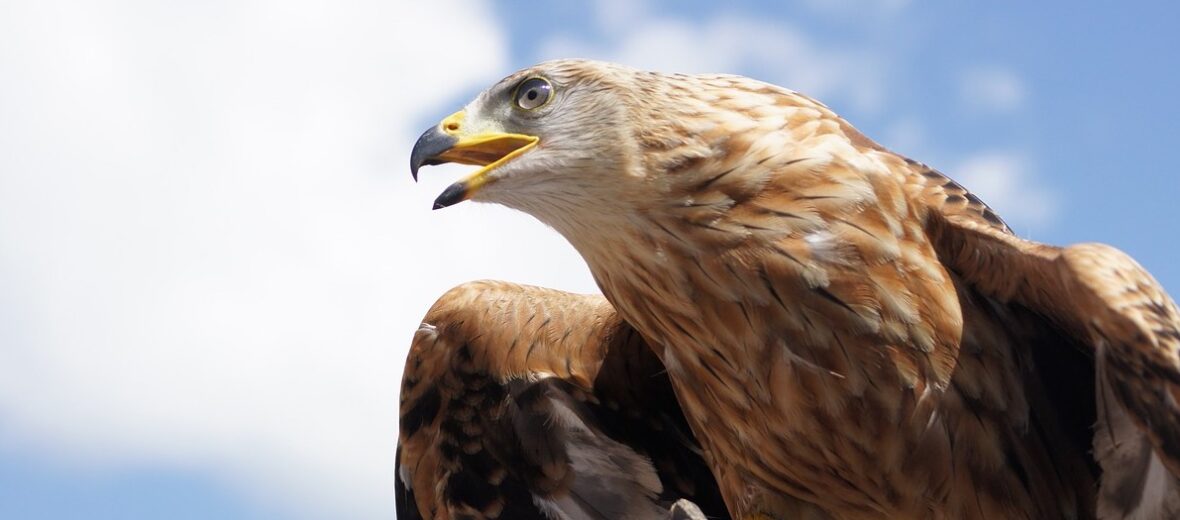 The golden eagle is the largest predatory bird in North America. They prefer to hang out in cliffs along rivers, canyons, mountainous regions, and bluffs; anywhere they can get a good updraft. They are the most widely distributed of all eagles. They range from Mexico all the way up to Alaska. Considering the fact that their eyes don't have a wide range of movement, golden eagles are able to move their heads up to 270°. They have keen eyesight and can see great distances and in color.
First the Stats…
Scientific name: Aquila chrysaetos
Weight: Up to 15 lbs.
Length: Up to 3 feet
Wingspan: Up to 7 feet
Lifespan: Up to 30 years
Now on to the Facts!
1.) These giant raptors are 1 of only a few raptors that have feathers all the way down to their talons.
2.) Like all raptors, these eagles are Carnivores (eat meat).
3.) A golden eagle is powerful and large enough to take down an adult deer! However, they prefer rabbits, hares, small rodents, reptiles, other birds, fish, and carrion (dead animals).
4.) This raptor is able to dive at speeds of up to 150 mph! Not quite as fast as a peregrine falcon, but impressive, nonetheless.
5.) These eagles are a protected species but are listed as Least Concern, by the IUCN.
But wait, there's more on the golden eagle!
6.) Monogamy (mating for life) is commonplace with these majestic birds.
7.) A mated pair, being very territorial, can monitor an area of up to 60 square miles!
Did you know…?
The golden eagle's talons can grow up to 3 inches long! Being struck by these talons during a dive has been compared to being hit with a bullet!
8.) Their nests are gigantic and can be as large as 5 – 6 feet across and 2+ feet deep. They are made of sticks, pieces of fencing, wires, and even bones. That's pretty metal, right there. They sometimes add scented leaves to help keep insect pests away.
9.) The biggest nest on record, for a golden eagle measured 20 feet tall and 8.5 feet wide!
10.) Females lay between 1 – 3 eggs.
Now a Short Golden Eagle Video!
Also, check out the Critter Science YouTube channel. Videos added frequently!
Want to suggest a critter for me to write about? Let me know here.
Learn more about all kinds of cool critters, right here!