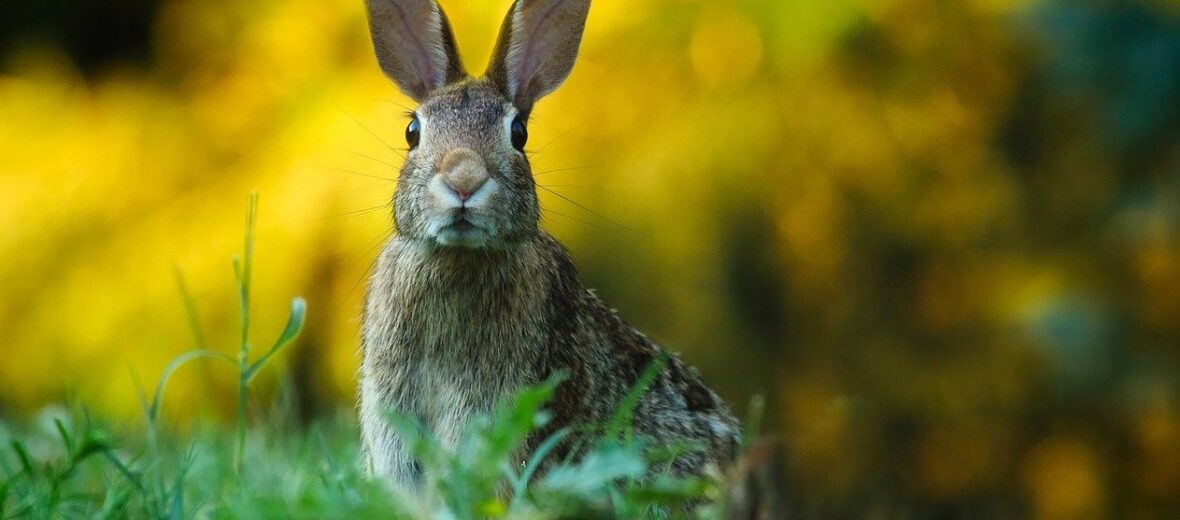 Soft, cuddly, typically quiet, and unfortunately in big demand in April, the rabbit has been entwined in our culture, the world over, for centuries. There are 29 known species of rabbits within 10 recognized genera found on every continent, sans Antarctica. The American Rabbit Breeders Association recognizes 49 individual rabbit breeds; with many more hybrids just not yet acknowledged. Nearly half of the world's rabbit species are in danger of extinction, per the IUCN.
First the Stats…
Scientific name: Oryctolagus
Weight: Up to 5.5 lbs. (Flemish giant rabbits can get up to 22 lbs.)
Length: Up to 17 inches (Flemish giant rabbits can get up to 2.5 feet long)
Lifespan: Up to 10+ years
Now on to the Facts!
1.) In a behavior known as "binky" a rabbit will jump around and flick their heads and feet. This is presumed to be a sign of happiness. It's kind of like zooming, like how dogs act, when happy.
2.) Instinct runs deep with all rabbits. They are a prey species, so as a result they are at a near constant state of alert.
3.) Contrary to popular belief, rabbits don't live off of carrots and typically avoid root vegetables altogether. They tend to be high in sugars, which causes tooth decay. They prefer to eat grasses, weeds, and clovers.
4.) In the wild, rabbits are prey to just about every carnivore out there. Wolves, foxes, coyotes, and more. Life is rough when you're a rabbit.
5.) Males are called bucks, females are called does, and babies are called kits or kittens; not bunnies.
But wait, there's more on the rabbit!
6.) Rabbits are social animals. If kept as pets, it is best to keep an altered male and female. This way they can't reproduce, and they can keep each other company.
7.) Even though they eat grasses in the wild, fresh cut grass, from your lawn is toxic to rabbits.
Did you know…?
A rabbit can rotate their ears up to 270° and they use their ears, not only for excellent hearing but also for temperature regulation.
8.) Kind of like rodents, a rabbit's teeth never stop growing, so they must constantly chew on tough substances to wear their teeth down. This is called tooth digestion.
9.) Rabbits, being prey animals, not only have great hearing but they also have 360° vision.
10.) While typically quiet, they can make a multitude of sounds like: screeching, growling, teeth chattering, and they can even produce a soft honking sound.
But wait, there's still more on the rabbit!
11.) Hypnotizing or trancing a rabbit is actually a horrible thing to do to them. It was once thought that placing them on their back and stroking their legs was a great method of calming them. However, rabbits will engage in tonic immobility when grabbed by a predator. This is where they will freeze and play dead, in order to fool the predator into letting them go. Trancing induces the same effects in a rabbit as post traumatic stress disorder.
Did you know…?
Rabbits can jump vertically up to 3+ feet and horizontally up to 10+ feet!
12.) These frisky little critters are able to breed at anywhere from 3 – 8 months old and reproduce up to 8 months out of the year!
13.) Females give birth to up to 12 kits each time she breeds! That equates to a single female birthing up to 190 kits in her life time. That's just 1 female.
14.) Just like guinea pigs, rabbits also eat their own poop. It actually contains valuable nutrients needed to aid in the processing of their food. They produce special feces (poop) called cecotropes. Since their digestive systems are so fast, recycling their waste gives them a chance to pick up some otherwise lost nutrients.
15.) Like cats, rabbits continually groom themselves and are very hygienic. Despite eating their own feces, of course. With this in mind, you typically don't have to bathe your furry friend.
But wait, there's even more on the rabbit!
16.) Unlike cats, they can't vomit. So when they have eaten a copious amount of fur, via grooming, they just eat extra roughage and that pushes the fur out the other end.
Did you know…?
These lagomorphs (rabbits, hares, and picas) can reach speeds of up to 18 mph!
17.) Even though they can see up to 360°, they do have a small blind spot, just in front of their face.
18.) A rabbit burrow is called a warren. Warrens can be as large as a tennis court and can also extend up to 10 feet below the surface.
19.) Rabbits can't walk. They can only hop, due to their fused pelvis.
Now a Short Rabbit Video!
Be sure to share & comment below! Also, check out the Critter Science YouTube channel. Videos added frequently!
Learn more about all kinds of cool critters, right here!