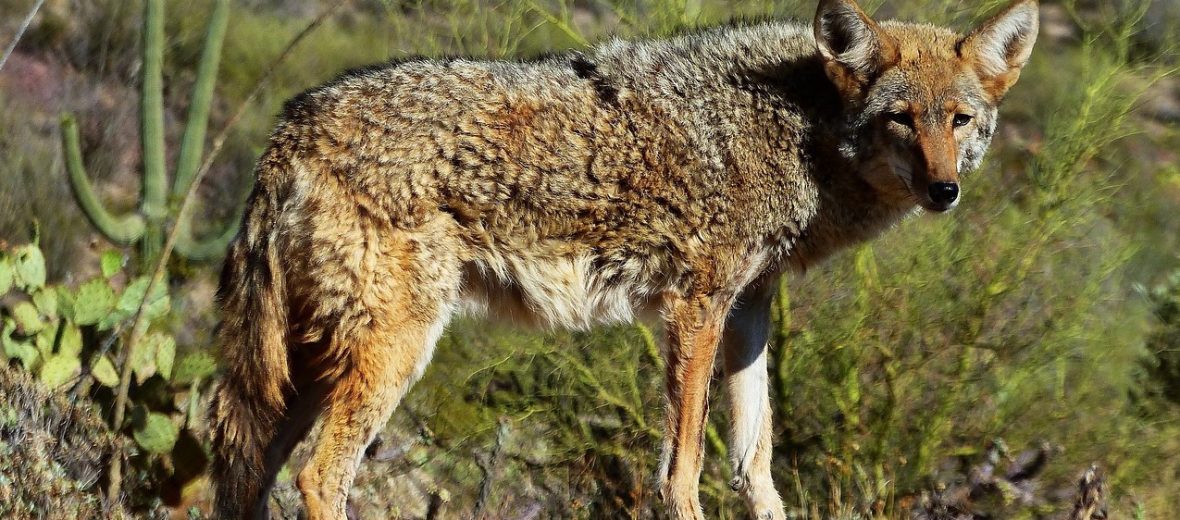 The coyote is found in all parts of the United States, sans Hawaii. They are also found in Canada, Mexico, and Central America. They can be found on plains, in fields, and around shrub-dense areas. These canids are also being pushed into suburban areas. Coyote dens are typically found in caves, rocky crevices, hollow logs, or dens of another critter's. They usually don't dig their own dens. Instead they will find abandoned dens of foxes or badgers and just make them larger to accommodate their needs.
First the Stats…
Scientific name: Canis latrans
Weight: Up to 46 lbs.
Length: Up to 27 inches, plus a 17 inch tail
Height: Up to 2 feet at the shoulder
Lifespan: Up to 8 years
Now on to the Facts!
1.) Coyotes are solitary hunters that prey on smaller mammals, birds, snakes, small dogs, and the family cat. If times are tough, they will also resort to eating carrion.
2.) The coyote is a nocturnal (active at night) critter.
3.) When hunting smaller prey, such as mice, the coyote will stand still with its legs stiffened and then they pounce on their prey, similar to how a fox will do.
4.) If they decide to hunt larger prey, like deer, they will hunt in packs. They separate into teams and take turns running the large prey down, tiring it out, till it succumbs and is eventually overtaken.
5.) Coyotes are listed as "Least Concern" by the IUCN.
But wait, there's more on the coyote!
6.) There are many vocalizations made by these critters like growls, yips, barks, whines, and howls.
7.) They are sometimes called prairie wolves or brush wolves.
Did you know…?
Coyotes can run up to 43 mph. In retrospect, the roadrunner can only run 20 mph. So, technically, the coyote was able to catch the roadrunner all along. My whole childhood was a lie.
8.) They mate between February – April.
9.) These canids are polygamous (having more than 1 partner).
10.) Females give birth to between 1 – 19 pups! Now that's a lot of work!
Now a Short Coyote Video!
Also, check out the Critter Science YouTube channel. Videos added frequently!
Want to suggest a critter for me to write about? Let me know here.
Learn more about all kinds of cool critters, right here!