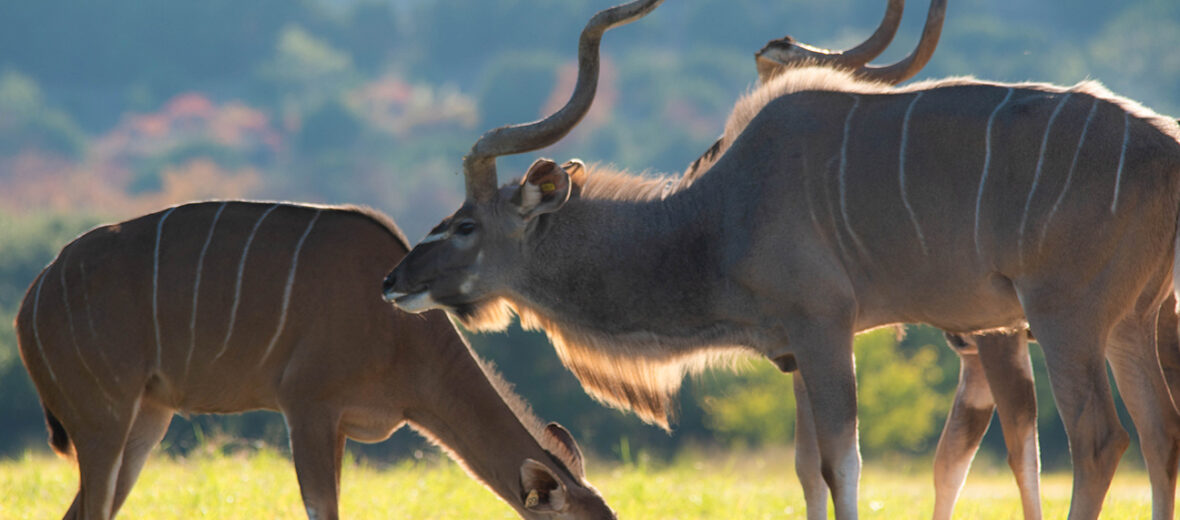 The greater kudu is 1 of 2 subspecies: the greater and lesser. These critters sport the longest horns of all the antelope species. They are found in South Africa, the horn of Africa, East Africa, and the southern Sahara region. Kudus prefer rocky bush country and lightly wooded savannas with plenty of cover to hide from their many predators. They are hunted for their meat and horns, that the local tribes use for musical instruments. Their horns are also used as containers for honey or as a symbol of a man's vigor. Due to their stable numbers, these critters are listed as Least Concern by the IUCN.
First the Stats…
Scientific name: Tragelaphus strepsiceros
Weight: Up to 600 lbs.
Length: Up to 8 feet
Height: Up to 5+ feet
Lifespan: Up to 20 years
Now on to the Facts!
1.) Kudus are preyed on by cheetahs, lions, leopards, wild dogs, pythons, and even eagles.
2.) These grazers eat leaves, grass, roots, fruits, and tubers.
3.) They get most of their water from the plants and fruit they eat, so they seldom drink standing water.
4.) When roaming or fleeing a Predator they will lay their heads back to rest their horns on the back of their neck, to avoid getting caught on overhanging branches.
5.) The kudu is the second largest antelope, next to the eland.
But wait, there's more on the greater kudu!
6.) Kudus make one of the loudest calls of all the antelopes. It's a loud gruff barking sound.
7.) Males are solitary but females travel in herds of up to 10 individuals, including offspring.
Did you know…?
Kudu antelopes are highly susceptible to the rinderpest virus (aka cattle plague or steppe murrain – an infectious viral disease), which killed off vast amounts of these, and other, beautiful creatures in the past.
8.) Kudu horns are spiraled which allows the males to interlock horns in combat. During the rut, males will interlock horns and try to throw the other one to the ground. Several times it has been witnessed that 2 dead males were found with their horns fatally intertwined.
9.) Only the males sport horns and some have measured over 4 feet long!
10.) Females birth 1 calf after an 8 month gestation (pregnancy). The calf will hide in the grass for several weeks, till strong enough to travel with mom. Then they will rejoin the herd.
Now a Short Greater Kudu Video!
Also, check out the Critter Science YouTube channel. Videos added frequently!
Want to suggest a critter for me to write about? Let me know here.
Learn more about all kinds of cool critters, right here!