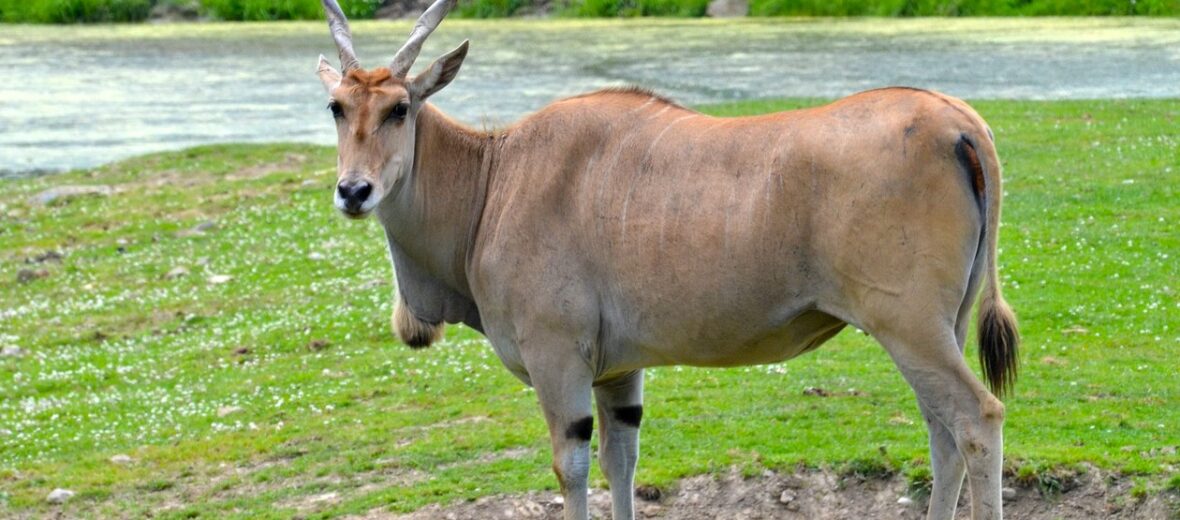 Slowly lumbering its way into today's article is the eland. The eland is the largest and slowest antelope. You can find these beasts on the open plains, sub-desert, savanna, and woodlands of Africa. Elands have reproduced in captivity but the chances of the calf surviving is usually very low. Often times, the farmers will separate the calf from their mother in order to ensure health and adequate feeding. Due to their stable numbers these critters are listed as Least Concern by the IUCN.
First the Stats…
Scientific name: Tragelaphus oryx
Weight: Up to 2,200 lbs
Length: Up to 11 feet
Height: Up to 5 feet, at the shoulder
Lifespan: Up to 25 years
Now on to the Facts!
1.) An eland will literally throw a tantrum, of sorts, trying to get at leaves out of their reach!
2.) Elands are sexually dimorphic (there are distinct differences between males and females) as the females are much smaller than the males.
3.) The eland walks funny due to their large hooves.
4.) Males are known to regularly compete for leadership of their herd, as well as for mating privileges with females.
5.) The male eland has a "dewlap" (a continuous piece of loose skin that hangs from their neck).
But wait, there's more on the eland!
6.) Their horns can grow up to 3 feet in length! Females have larger, but more delicate horns than the males.
7.) These critters are crepuscular (active at dawn and dusk). This is to help escape the extreme African temperatures.
Did you know…?
A fully grown eland can jump up to 8 feet from a complete standstill!
8.) Elands are very sociable and live in large groups of 25 – 70. In some locales you can find herds with as many as 400 elands.
9.) Due to the high urea content of their urine, they can survive for long periods of time without water. Like camels, they strain out the water from their urine and pass a thicker substance, thus retaining water.
10.) A female eland can produce approximately 15 lbs. of milk a day! This milk, if properly prepared, can last for months, unlike cow milk!
Now a Short Eland Video!
Also, check out the Critter Science YouTube channel. Videos added frequently!
Want to suggest a critter for me to write about? Let me know here.
Learn more about all kinds of cool critters, right here!