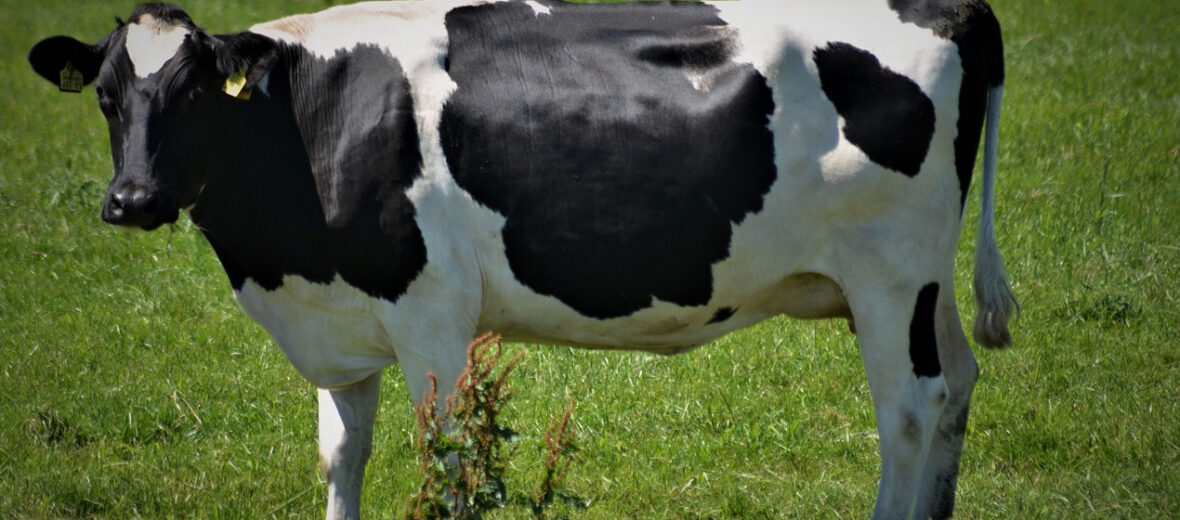 From their big brown eyes, to their famous udders, to the chewing of their cud; it's the domestic cow. Cows are not just for meat and dairy products you get at the grocery store. In India, they are beloved, revered, and worshiped. There is an approximated 1.4 billion cattle and around 920 breeds of cows in the world. Cows exist on every continent except for Antarctica. Cows go by many names: an adult male is called a "bull", an adult female is called a "cow", a group of cows is called a "herd", a young female is called a "heifer", and a baby cow is called a "calf".
First the Stats…
Scientific name: Bos taurus
Weight: Up to 2,400 lbs.
Length: Up to 103 inches
Height: Up to 69 inches
Lifespan: Up to 22 years
Now on to the Facts!
1.) Cows have almost 360° vision! This nearly-panoramic view affords them the ability to watch for predators from every angle. That being said though, they don't see all that great straight in front of them so they will usually turn their head to look at you.
2.) A cow spends up to 6 hours a day eating! Like my kids. Cows also spend over 8 hours a day chewing their cud which happens to be partially digested, regurgitated food. Yummy!
3.) Cows can spend up to 10 – 12 hours a day lying down.
4.) The domestic cow is the descendant of wild oxen called aurochs. They were first domesticated in southeast Turkey over 10,000 years ago.
5.) Cows have such an acute sense of smell that they can detect smells up to 6 miles away!
But wait, there's more on the domestic cow!
6.) Cows don't have any upper front teeth. They will press their sharp bottom teeth against the top of their hard palate in their mouth to cut blades of grass and other plants.
7.) Dairy cows are able to produce up to 125 lbs. of saliva a day. Almost like a teething baby.
Did you know…?
When scientists mapped out the bovine genome in 2009, they found that cattle have nearly 22,000 genes and share approximately 80% of their genes with humans.
8.) Unlike horses, cows don't sleep standing up and they only sleep for about 4 hours a day.
9.) Dairy cows are capable of producing up to 264 gallons of flatus (burps & farts) a day! That's a lot of methane.
10.) Livestock accounts for up to 18% – 51% of global greenhouse gas emissions measured in CO2 equivalency.
But wait, there's still more on the domestic cow!
11.) Cows are called ruminants. This means that they are cud chewing mammals. Other ruminants are giraffes, goats, sheep, and deer, plus others.
12.) Hindu nations believe that cows are sacred and holy. There are even very strict laws to protect these beloved creatures. The central Indian state of Madhya Pradesh has decreed that anyone convicted of killing a cow or taking it to be killed is subject to up to 7 years of jail time!
13.) There are up to 350 udder squirts in a single gallon of milk.
14.) Cows typically face either magnetic north or south when grazing and/or resting; despite the wind's direction or the sun's positioning. Canines, like foxes and dogs also depend on the magnetic poles.
15.) Cows have 4 stomach compartments — the reticulum, the omasum, the abomasum, and the rumen! The primary compartment (the rumen) can hold up to 50 lbs. of undigested food! A bathtub holds about 30 – 50 gallons of water, just to make a comparison.
But wait, there's still more on the domestic cow!
16.) When a Matador waves a red muleta, it's not the color that upsets the bull (they are actually red and green color blind), it's the mere waving of the muleta and the gross mistreatment of the poor animal, which causes the rage.
Did you know…?
It actually takes nearly 5 people to tip a cow over. But don't ever attempt this! It can hurt the cow and you can also get injured.
17.) Cows are able to see in color. However, they typically can't see greens or reds.
18.) They may look lumbering and slow, but cows are actually good swimmers.
19.) In an typical herd, there is a single bull to every 30 cows. Busy boy.
20.) A cow can both lick and pick its nose with its tongue. Yum.
Now a Short Domestic Cow Video!
Also, check out the Critter Science YouTube channel. Videos added frequently!
Want to suggest a critter for me to write about? Let me know here.
Learn more about all kinds of cool critters, right here!