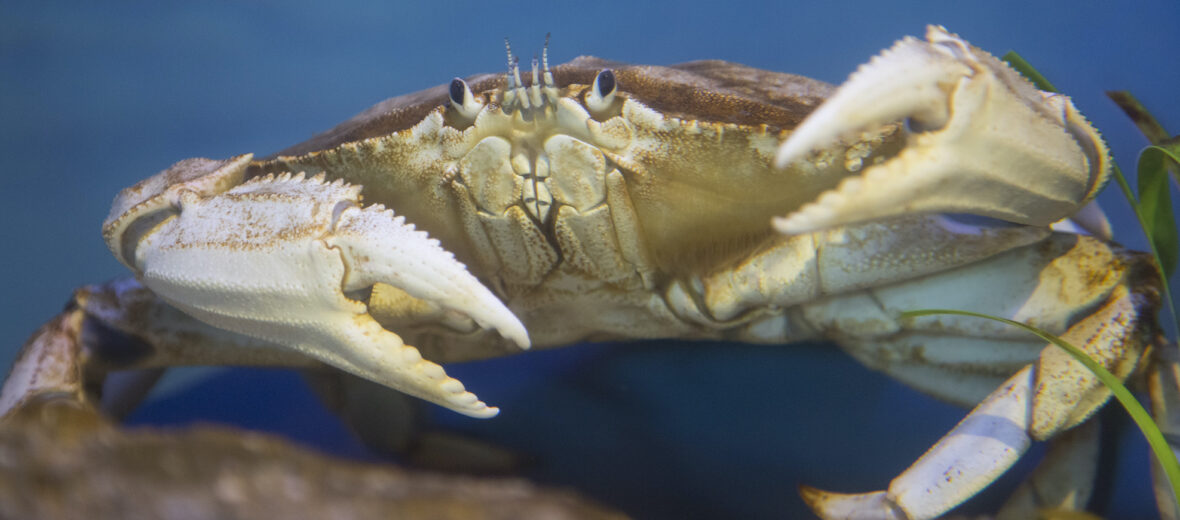 Renown as a west coast delicacy, the Dungeness crab is a very sought after crustacean. This crab can be found off the coasts of Alaska, Western Canada, Washington, Oregon, and California. This crab was named after the Dungeness Spit, a sandy stretch of land located in Northwest Washington. These critters have been commercially collected since circa 1880s. These critters are listed as Least Concern by the IUCN, due to their numbers. But with the introduction of newer and more sophisticated fishing equipment, their numbers are expected to take a large decline.
First the Stats…
Scientific name: Metacarcinus magister
Weight: Up to 3 lbs.
Length: Up to 7.9 inches
Lifespan: Up to 13 years
Now on to the Facts!
1.) Your typical crab boat sets 250 – 300 pots at depths ranging from 30 – 300 feet deep.
2.) A crab trap is called a "pot". They are usually baited with squid, herring, and razor clams.
3.) The Dungeness has a subtly sweeter taste than king & snow crabs, and they typically don't possess an "ocean scent".
4.) Dungeness crab makes up nearly 25% of the Pacific region's fishing industry; and the season only lasts a few months out of the year.
5.) Due to its economic importance, Oregon named the Dungeness crab the state crustacean in 2009. There are only 2 other states that have named state shellfish, Louisiana (freshwater crayfish) & Maryland (blue crab).
But wait, there's more on the Dungeness crab!
6.) Annual harvests along the Pacific Coast ranges from 35 – 55 million lbs.
7.) They often wedge their heads into the sand when they feel there is a threat. They are also able to completely bury themselves in the sand if they have time.
Did you know…?
When threatened and there is no place to hide, this crab will roll onto its back and defend itself with its claws.
8.) Their main diet consists of crustaceans, clams, small fish, and they also scavenge off of what predators have left behind.
9.) Mating occurs between May – August.
10.) After mating occurs the female will begin creating the 2.5 million eggs inside her body! When they emerge they will attach to her body for up to 3 – 5 months. Once mature enough to hatch, the female will release the eggs. The young crabs are totally on their own from this point, are planktonic, and swim freely.
Now a Short Dungeness Crab Video!
Also, check out the Critter Science YouTube channel. Videos added frequently!
Want to suggest a critter for me to write about? Let me know here.
Learn more about all kinds of cool critters, right here!