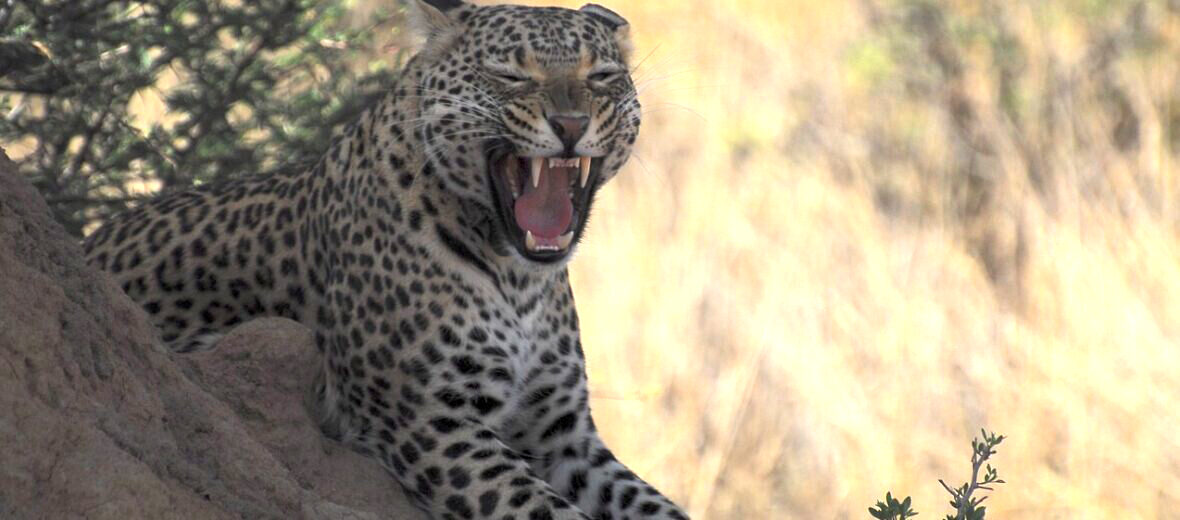 The leopard sneaks and preys throughout deserts & semi-desert regions, arid regions, mountainous environments, savanna grasslands, rainforests, and occasionally even urban areas. The leopard is a very elusive cat that hunts a wide range of prey, including small hoofstock such as gazelle, impala, deer, and wildebeest. On occasion, they also hunt monkeys, rodents, and even birds. They have even been documented hunting cheetahs! They are mainly preyed upon by humans, for their beautiful coats.
First the Stats…
Scientific name: Panthera pardus
Weight: Up to 140+ lbs.
Height: Up to 2+ feet at the shoulder
Length: Up to 7.5 feet
Lifespan: Up to 23 years
Now on to the Facts!
1.) The color and patterns of a leopard's coat vary based on the region they're found. In Eastern Africa the leopard's rosettes are more circular, but are more square-shaped in Southern Africa. The yellow coat is paler in desert regions.
2.) Even though they are so elusive, leopards are actually the most widely distributed of the African big cats.
3.) Leopards can see approximately seven times better in the dark than humans.
4.) A leopard is strong enough to carry prey up a tree that can weigh more than they do.
5.) The leopard is not only stealthy, they also have lightning quick reflexes!
But wait, there's more on the leopard!
To view more facts on this and many other critters, purchase my book Rainforest Critters. It's only $17.99 for an 84 page book! Available now through Amazon. Click the logo to purchase your copy now:
Now a Short Leopard Video!
Also, check out the Critter Science YouTube channel. Videos added frequently!
Want to suggest a critter for me to write about? Let me know here.
Learn more about all kinds of cool critters, right here!