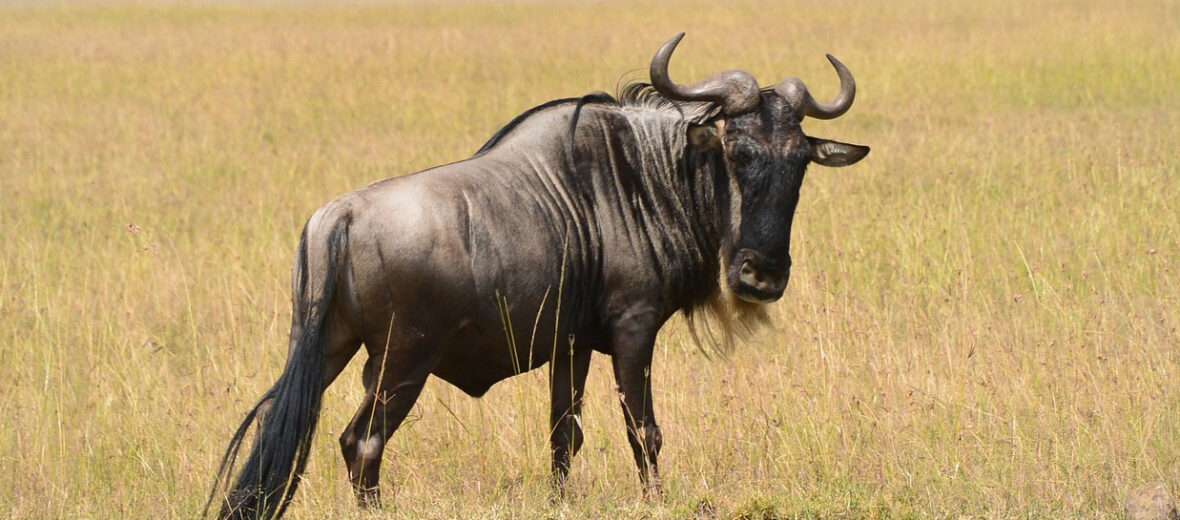 The wildebeest, aka gnu, is a member of the antelope family. They hail from the central, eastern, and southern parts of Africa. These critters prefer open woodlands and green plains. There are 2 recognized species of wildebeest: the blue and the black (aka common). Even though they are hunted by humans and preyed on by several types of predators, they are still listed as Least Concern by the IUCN, due to their large and stable numbers as well as their high rate of reproduction.
First the Stats…
Scientific name: Connochaetes
Weight: Up to 600 lbs.
Length: Up to 8 feet
Height: Up to 4.5 feet (at the shoulder)
Lifespan: Up to 20 years
Now on to the Facts!
1.) Both males and females have curved horns.
2.) Wildebeest are Herbivores (eat plant matter) that primarily graze, all day, on various grasses.
3.) They are sexually dimorphic in that males are quite a bit larger than females.
4.) These creatures are highly social and form one of the largest antelope herds in Africa.
5.) They need to drink water at least every other day to survive.
But wait, there's more on the wildebeest!
6.) As part of their yearly migration, wildebeest can travel between 500 – 1,000 miles in search of food and water. This migration takes place between May – June.
7.) This migration is incredible in size and consists of around 1.5 million wildebeest, plus other animals like zebras and gazelles.
Did you know…?
The wildebeest can run up to 50 mph!
8.) Groups of wildebeest are called a cluster, a herd, or a tribe.
9.) They are both polygynous (1 male mates with several females) and polygynandrous (both males and females mate with multiple partners).
10.) Females birth a single calf after up to an 8 month gestation (pregnancy).
But wait, there's still more on the wildebeest!
11.) Calves are ready to stand and walk within 15 minutes after birth!
12.) They are part of the Bovidae family. This includes critters such as antelopes, cattle, and goats.
Did you know…?
Males will attract females by rubbing a scent (produced in the preorbital and interdigital gland) into the ground. They will also defecate and urinate to mark their territory and to help keep other males away.
13.) Lions, hyenas, African wild dogs, cheetahs, leopards, and crocodiles all prey on wildebeest.
14.) When faced with a Predator, these bovines will come together, stomp their feet, and actually challenge their aggressor to protect one another and their young.
15.) Calves recognize their mothers via scent. Each mother has their own particular scent that is imprinted with the young.
But wait, there's still a little more on the wildebeest!
16.) When startled, wildebeest produce a sudden snorting noise.
17.) Gnu is pronounce "new", not "g-new".
18.) Due to their odd behavior during mating season, male wildebeest are also known as "clowns of the savanna".
Now a Short Wildebeest Video!
Be sure to share & comment below! Also, check out the Critter Science YouTube channel. Videos added frequently!
Want to suggest a critter for me to write about? Let me know here.
Learn more about all kinds of cool critters, right here!