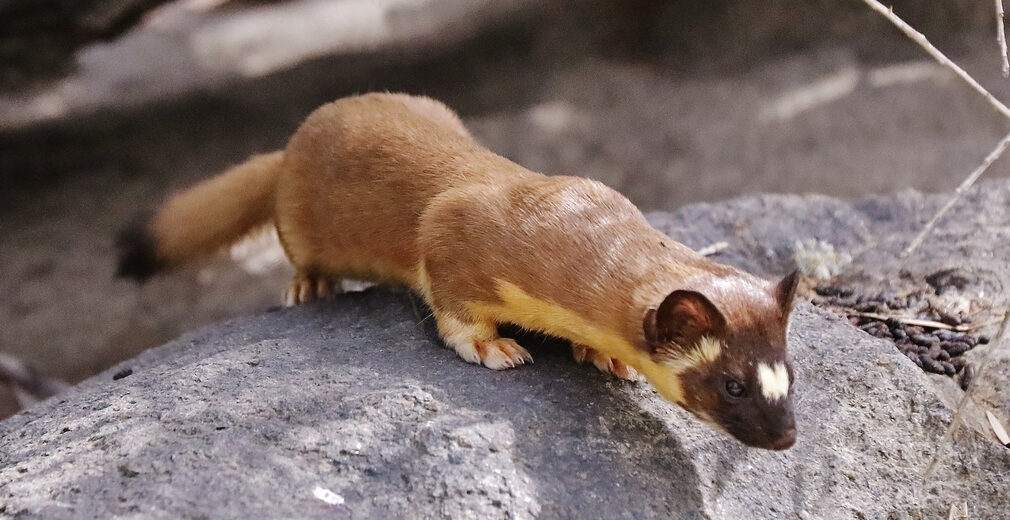 This cute little mustelid that looks kind of like a stretched out kitten is actually a voracious Predator known as the long-tailed weasel, aka nature's psychopath. These little scrappers have no problems taking on foes much larger than themselves, making them a "super predator". They can be found from Canada down south across the United States and into Central America, Mexico, and even South America. They prefer tropical and temperate habitats. Their habitats include crop fields, wooded areas, and suburban areas. They are listed as Least Concern by the IUCN.
First the Stats…
Scientific name: Mustela frenata
Weight: Up to 6.7 ounces
Length: Up to 9 inches long, plus an 8 inch tail
Lifespan: Up to 8 years
Now on to the Facts!
1.) Their prey items include: voles, mice, rats, shrews, moles, squirrels, chipmunks, and rabbits, birds, bird eggs, frogs, snakes, and insects.
2.) Males are called a dog, buck, or Jack. Females are called a bitch, doe, or Jill.
3.) They are good climbers and swimmers.
4.) A group of long-tailed weasels is called a pack, gang, colony, or sneak.
5.) These weasels have been around for about 2 million years.
But wait, there's more on the long-tailed weasel!
6.) The long-tailed weasel is primarily nocturnal (active at night) but they can sometimes be seen during the day (diurnal).
7.) These critters have such fast metabolisms that they need to eat about 40% of their total weight each day.
Did you know…?
The long-tailed weasel is known as nature's psychopath because they have no problems killing and eating their siblings or their own young if there is no other food around!
8.) In regions where it snows, their coats turn white in the winter. In other environments their coats stay the same color, year round.
9.) A loud chirping sound is made when they are threatened, scared, or ready to attack. When calm, then make a low trilling sound, like a whistle.
10.) To kill their prey, they will clamp down on their prey's neck and continue biting until the animal is dead.
But wait, there's still more on the long-tailed weasel!
11.) Long-tailed weasels are polygynous (mate with several partners).
Did you know…?
Before attacking and killing prey, weasels will bob back & forth and hop in a dance which is meant to intimidate the other animal. This is called a war dance.
12.) Mating occurs in mid-summer but females undergo a delayed implantation where the embryo doesn't start developing till March, with births happening from late April through early May.
13.) Females give birth to around 6 pups.
14.) Mom teaches them how to kill and by 56 days the pups are able to kill their own prey.
Now a Short Long-Tailed Weasel Video!
Also, check out the Critter Science YouTube channel. Videos added frequently!
Want to suggest a critter for me to write about? Let me know here.
Learn more about all kinds of cool critters, right here!