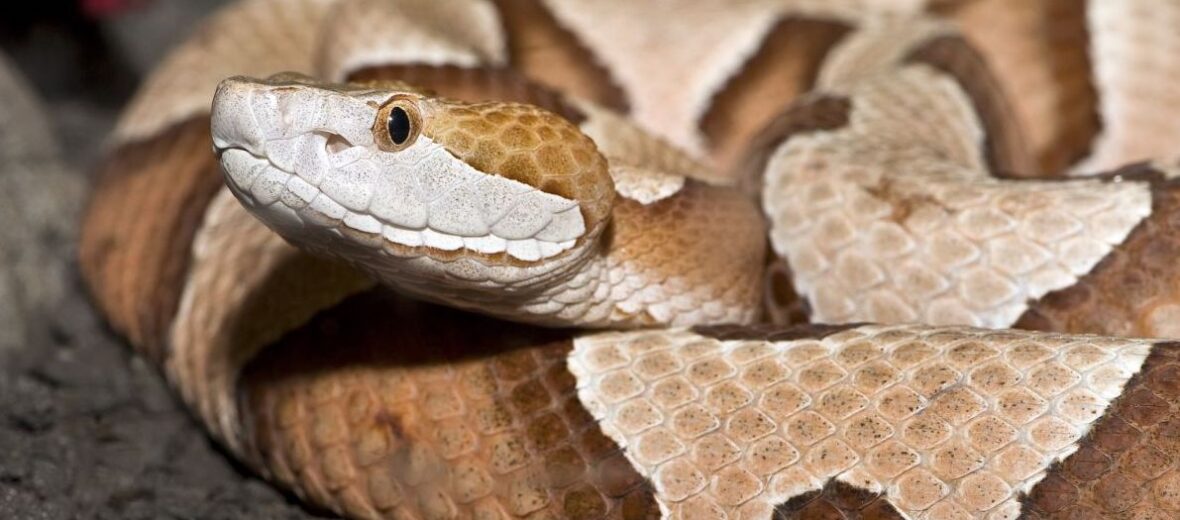 The copperhead is a venomous pit viper found throughout eastern and southeastern United States. They prefer deciduous forests and mixed woodlands. These snakes can also be found around rock outcroppings and ledges, but are also fond of low-lying, swampy areas too. Due to their wide distribution and stable numbers, these vipers are listed as Least Concern by the IUCN. This article is for Colleen.
First the Stats…
Scientific name: Agkistrodon contortrix
Weight: Up to .75 lb.
Length: Up to 3 feet
Lifespan: Up to 18 years
Now on to the Facts!
1.) Like all pit vipers, they have heat-sensory pits between their eyes and nostrils on each side of head. These pits are capable of detecting subtle differences in temperatures that enable the snake to accurately strike at the source of heat.
2.) These vipers are known to freeze when approached. Relying on their superb camouflage to keep them safe. This is where most human bites occur. As they simply are so well camouflaged that they can be stepped on, by mistake.
3.) They will typically only strike if they feel threatened or are handled or stepped on.
4.) The copperhead, like other pit vipers, they are Carnivores (eat meat) and these snakes prey on mice, rats, reptiles, amphibians, and even insects.
5.) Copperheads are ambush predators that lay in wait for passing prey. Then they strike, envenomate their prey, and swallow the dead prey hole… head first.
But wait, there's more on the copperhead!
6.) They are nocturnal (active at night) during the summer and diurnal (active during the day) during spring and fall. These snakes will brumate (hibernation for reptiles) during the colder winter months.
7.) Faster than almost any other non-venomous snake, they can vibrate their tail up to 40 times per second. This tail vibration is meant as a warning to back off.
Did you know…?
Bite symptoms include: extreme pain, throbbing, swelling, tingling, and severe nausea. Tissue damage can also sometimes occur, if a bite happens on an extremity.
8.) Females birth up to 20 live young each season. But typically only up to 7.
9.) These snakes are capable of parthenogenesis (giving birth to young, without the aid of a male's sperm).
10.) Even though venomous, these snakes are not typically aggressive and only deliver a small dose of venom per bite.
But wait, there's still more on the copperhead!
11.) Owls, hawks, opossums, and raccoons prey on copperheads.
12.) These snakes register the most bites for a venomous snake, in the eastern and southeastern United States.
Now a Short Copperhead Video!
Be sure to share & comment below! Also, check out the Critter Science YouTube channel. Videos added frequently!
Want to suggest a critter for me to write about? Let me know here.
Learn more about all kinds of cool critters, right here!