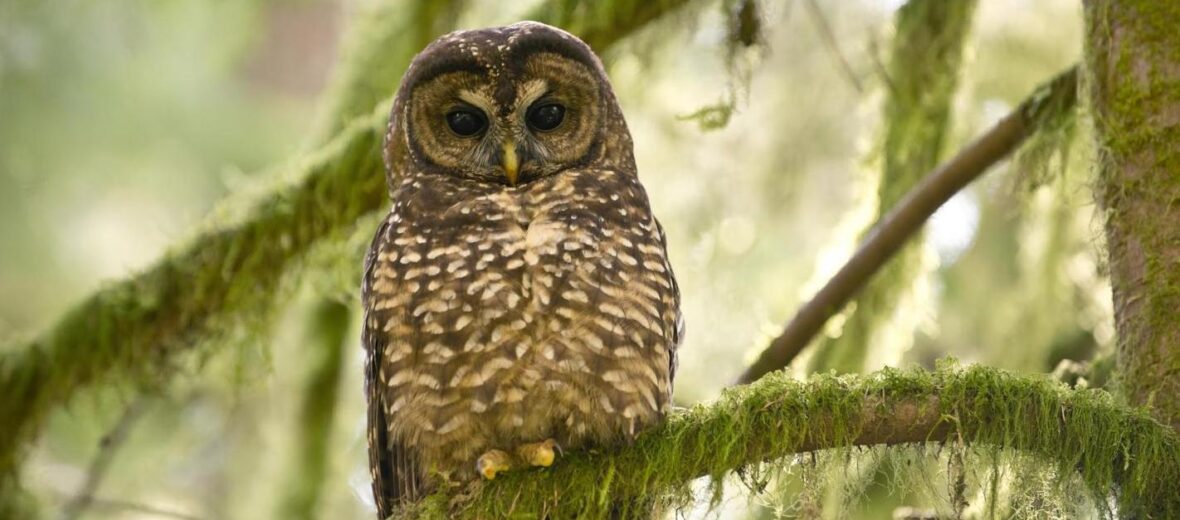 The northern spotted owl prefers to live in old growth evergreen forests and hails from British Columbia down to Mexico. Northern spotted owls are 1 of 3 known subspecies of spotted owls. The other 2 are the California spotted owl and the Mexican spotted owl. Spotted owls typically reside in mixed forests and wooded canyons with a predominant amount of pine-oaks, douglas firs, western red cedars, redwoods, and ponderosa pine trees. They are also being out competed by the barred owl, due to the barred owl having a broader range of suitable habitats, accepting a wider range of prey, and being generally more aggressive.
First the Stats…
Scientific name: Strix occidentalis caurina
Weight: Up to 1.3 lbs.
Length: Up to 1.5 feet
Wingspan: Up to 4 feet
Lifespan: Up to 20 years
Now on to the Facts!
1.) They prey on wood rats, flying squirrels, mice, voles, birds, amphibians, reptiles, and insects.
2.) Their main predators are red-tailed hawks, great horned owls, and ravens.
3.) Like most other owls, spotted owls are nocturnal (active at night).
4.) These owls are listed as Near Threatened by the IUCN due, in part, to deforestation of old growth forests by the logging industry and competition from the barred owl.
5.) Northern spotted owls are an indicator species, in that their presence in old-growth forests indicates a healthy ecosystem.
But wait, there's more on the northern spotted owl!
6.) Spotted owls are monogamous (mate for life).
7.) Females lay 1 – 4 eggs in early Spring and the male brings her and her young food while she broods their chicks.
Did you know…?
Like other owls, they eat their prey whole and regurgitate the bones, teeth, and fur in what are called "pellets".
8.) The owlets are born totally white and only earn their spots once they've matured.
Now a Short Northern Spotted Owl Video!
Also, check out the Critter Science YouTube channel. Videos added frequently!
Want to suggest a critter for me to write about? Let me know here.
Learn more about all kinds of cool critters, right here!