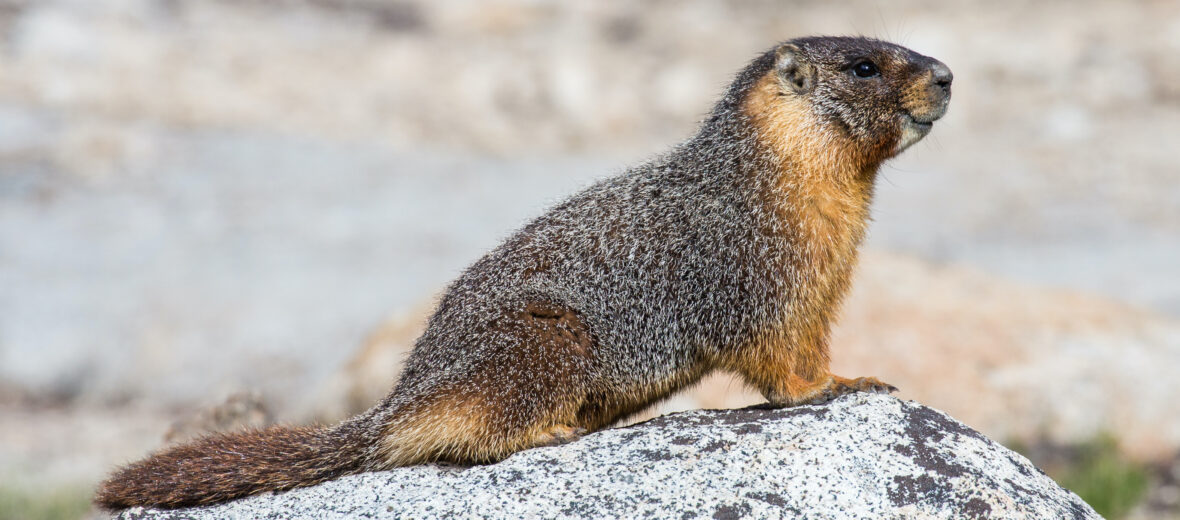 Related to the ground squirrel, the yellow-bellied marmot (aka whistle-pig) can be found in different parts of south-western Canada and in the western parts of the U.S. Yellow-bellied marmots like open habitats that include: alpine meadows, forest edges, pastures, and steppes. They are typically located at elevations of 6,560 – 13,000 feet. These critters are listed as Least Concern by the IUCN.
First the Stats…
Scientific name: Marmota flaviventris
Weight: Up to 8 lbs.
Length: Up to 16 inches, plus an 8 inch tail
Lifespan: Up to 15 years
Now on to the Facts!
1.) They are short sighted but have an excellent sense of hearing and smell.
2.) Marmots are Diurnal (active during the day).
3.) These critters are Herbivores (eat plant matter) that eat berries, grasses, mosses, lichens, roots, and flowers.
4.) Marmots, like all other rodents, are known for their big teeth. They have a large pair of incisors on the upper and lower jaws that constantly grow and need to be honed down and sharpened by continually gnawing on tough objects like tubers and roots.
5.) Wolves, foxes, coyotes, badgers, bears, and eagles all prey on marmots.
But wait, there's more on the yellow-bellied marmot!
6.) A yellow-bellied marmot will communicate via screams, whistles, and teeth chattering. When predators are nearby marmots will make a high pitched, whistle-like sound to alert the others.
7.) Yellow-bellied marmots live in small groups that consist of a single male and 2 – 3 females.
Did you know…?
They can dig burrows up to 23 feet deep!
8.) Up to 60% of their life is spent in Hibernation. Approximately 80% of a marmot's life is spent underground.
9.) Mating season starts in the spring.
10.) Females give birth to between 1 – 9 pups.
Now a Short Yellow-Bellied Marmot Video!
Also, check out the Critter Science YouTube channel. Videos added frequently!
Want to suggest a critter for me to write about? Let me know here.
Learn more about all kinds of cool critters, right here!