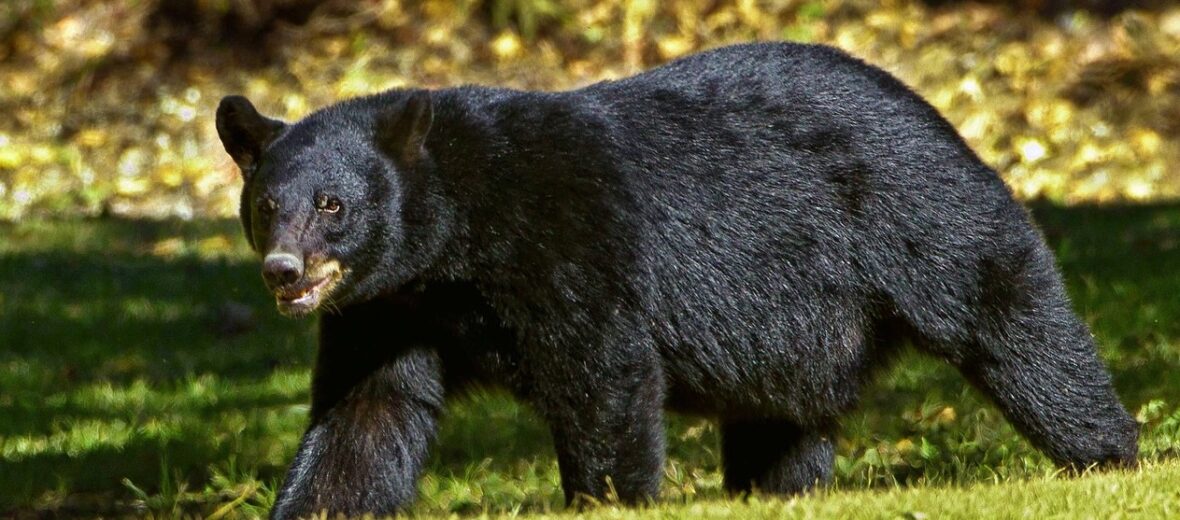 The black bear can only be found in North America and the northern tip of Mexico. They primarily live in forest environments. Their population is estimated at around 800,000. Black bears are legally hunted in 27 states in the U.S. Between 40,000 – 50,000 bears are hunted each year. Many others are illegally poached. These bears are listed as Least Concern by the IUCN as their populations are stable, despite hunting (both legally and illegally).
First the Stats…
Scientific name: Ursus americanus
Weight: Up to 660 lbs.
Length: Up to 7 feet
Height: Up to 4 feet, at the shoulder
Lifespan: Up to 40 years
Now on to the Facts!
1.) Grizzly bears are much larger than black bears and also much more aggressive.
2.) Black bears are superb climbers and the cubs tend to climb to great heights to avoid predators.
3.) These bears are great swimmers and there was one report of a black bear swimming 9 miles in the Gulf of Mexico!
4.) Due to the allure of human food, many black bears will travel great lengths to obtain a discarded burger and fries, as well as other delectables. They are quite skilled at navigating dumpsters, trash cans, and can even break into vehicles with the skill of a car thief. Although, not so subtle. They tend to just smash the window(s) and climb in.
5.) If you come across a black bear, at close range, it is best to continue facing the bear and slowly backing away. If you turn and run, they will chase you down. Trying to outrun a bear that can run 2 – 3 times faster than you isn't the best philosophy. If they continue to approach you. It is advised to make yourself seem as large and noisy as possible to scare them away. Easier said than done, I suppose.
But wait, there's more on the black bear!
6.) Black bears can also be blonde, light brown, or even greyish-blue. There is even a subspecies of black bear with white fur. It is known as the Kermode or spirit bear and it lives in British Columbia, Canada.
7.) If you don't live in black bear territory, the best place to view these magnificent animals is Yellowstone National Park.
Did you know…?
These bears can run up to 31 mph! So good luck trying to outrun one or climb a tree to escape them.
8.) Black bears are mostly Nocturnal (active at night) but hunger and other environmental situations can sometimes cause them to become active during the day (Diurnal).
9.) Females give birth to about 2 – 3 cubs, but can birth up to 6.
10.) Cubs stay with their mother for about 18 months.
11.) Black bears eat fish, insects, larvae, roots, berries, meat, grass, and succulents. This makes them an Omnivore.
Now a Short Black Bear Video!
Also, check out the Critter Science YouTube channel. Videos added frequently!
Want to suggest a critter for me to write about? Let me know here.
Learn more about all kinds of cool critters, right here!