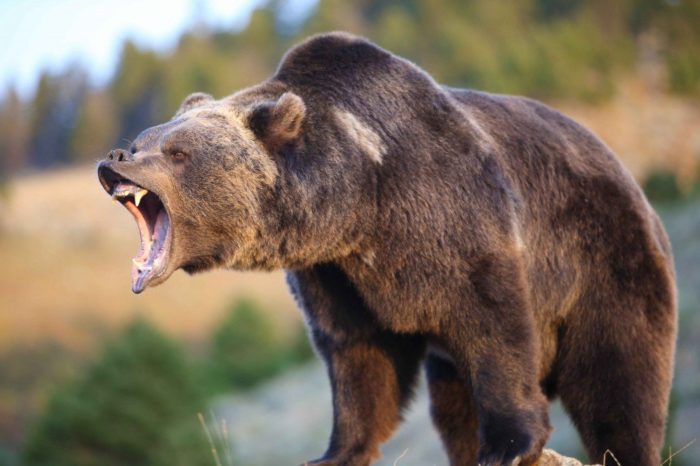 Few critters send chills down the spines of campers quite like the thought of a grizzly bear encounter! While encounters are typically rare, they do occur, depending on where you're camping. That aside, grizzly bears are magnificent animals that deserve our protection and respect. This article talks all about the Grizzly bear and has some pretty interesting facts!
First the Stats…
Scientific name: Ursus arctos horribilis
Weight: Male: 600 lbs (Inland area population), Female: 290 – 440 lbs (Adult)
Length: 6.5 ft. (Adult) 8 ft when standing upright
Height: 3.3 ft. (Adult, At Shoulder)
Lifespan: 20 – 25 years (In the wild) | Up to 40 years in captivity
Now on to the Facts!
1.) As big as they are, the grizzly bear is actually a bit of a light eater. The only time they really become gluttons is during hyperphagia, where they are preparing for hibernation. The grizzly bear, during this time, can put on as much as 3 pounds of fat per day!
2.) Even though it is difficult for them, due to long claws and heavy weight, grizzlies can actually climb trees.
3.) Grizzlies are strong enough to eat whatever they want, including bison, elk, and even moose. Contrary to their reputation for having carnivorous appetites, their diet also consists of nuts, fruits, berries, and leaves. They've even been reported eating mice.
4.) Grizzlies can allegedly run 35 mph, and maintain speeds of up to 28 mph for up to two miles! That's faster than Usain Bolt's 27 mile per hour stride (which he can only sustain for a few seconds).
5.) Grizzly front claws can be up to 4-inches in length, claws as long as human fingers! It is highly advisable you avoid these.
But wait, there's more on the grizzly bear!
6.) There are certain parts of Canada and Alaska where grizzly bear and polar bear territories overlap. In this region, male grizzly bears have been known to mate with female polar bears; producing what some call pizzlies or grolar bears.
7.) The hump on a grizzly bear's back is actually a large muscle that helps them dig and lumber about their day. Grizzy bears spend much of their day digging for roots, insects, and mice.
8.) Grizzlies are not only omnivores, eating vegetation and meat, but they have also been spotted engaging in cannibalism! They have been seen eating smaller black and brown bears when times were really rough.
Did you know…?
One study on bear eating habits published in 2017 recorded a 10-year-old male eating a 6-year-old female brown bear.
9.) Grizzly bears may eat up to 90lbs of food each day. That's like 360 Whoppers from Burger King!
10.) Hibernation lasts between 5 and 8 months. During hibernation, their metabolic processes, breathing and heart rate will slow down and they will survive solely on their fat reserves. Don't be fooled though, during hibernation, a grizzly bear can wake up at any time.
But wait, there is still more about the grizzly bear!
11.) Male grizzly bears are solitary and bears are only found in groups (or sloths) during hyperphagia, during salmon runs, where they are gorging themselves before hibernation.
12.) Mating season lasts from late spring to early summer, but females become pregnant when they enter hibernation. They give birth to 2 cubs few months before the hibernation ends.
13.) Bears are excellent swimmers.
14.) They have perfect eyesight and excellent sense of smell. They can detect smell better than hound dog.
15.) Cubs will stay with their mother for up to 2 – 4 years. She is very protective and if you come close to her cubs she can easily become highly protective and violent.
Now a Short Grizzly Bear Video!
Another Short Grizzly Bear Video!