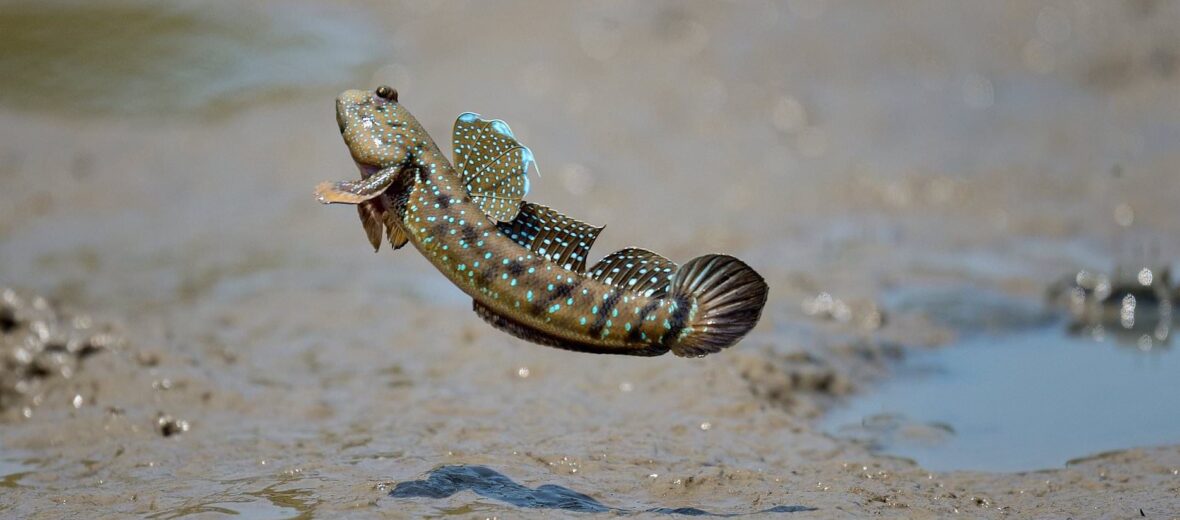 The mudskipper is a type of fish. They are part of the fish family known as Periophthalmini, which is in the family Gobiidae (gobies). They are amphibious fish, which means that they can live in the water and on land. When on land they use their pectoral fins to walk or scuttle about. When in water, they use their pectoral fins and caudal (tail) fin. These critters can be found in the marine and brackish waters of mangrove swamps in Thailand, Malaysia, Myanmar, India, the Philippines, and parts of northern Indonesia.
First the Stats…
Scientific name: Oxudercinae
Weight: Up to 2.3 ounces
Length: Up to 9.75″
Lifespan: Up to 10 years
Now on to the Facts!
1.) Their eyes move independently of each other. They are able to see objects above and below the surface of the water at the same time.
2.) Mudskippers move across the muddy surface using modified pectoral fins. Unlike legs, pectoral fins move at the same time and pull the body forward.
3.) This critter is a carnivore (meat-eater). Its diet consists of insects, crustaceans, small fish, and worms.
4.) A mudskipper can jump up to 2 feet in the air!
5.) Unlike other fish, these fish are able to survive on land during low tide. They breathe using their gills, mucous membranes of the throat and mouth, and a dense capillary network in the skin. Too much time under the water can actually kill a mudskipper.
But wait, there's more on the mudskipper!
6.) Mudskippers roll their eyeballs into their sockets, which are filled with water to refresh their face and gills to prevent dehydration during the low tide.
Did you know…?
The mudskipper has evolved to move across the muddy surface using modified pectoral fins. Their particular type of movement is known as "crutching" because the pectoral fins resemble a pair of crutches.
7.) Females deposit eggs inside the specially designed chamber within her burrow. The male guards the eggs until they hatch. Some mudskippers release eggs directly into the water.
8.) The throat and chin of male mudskipper becomes golden colored during the breeding season. Males perform push-ups and jump high in the air, and expose their dorsal fins before they return to the water to impress females.
9.) Although hard to come by, mudskippers can also be kept as pets. They can even be trained to take food from the hands of their owners.
10.) Their pelvic fins are like suckers. It is because of this they are capable of climbing various structures including rocks and even trees!
Now a Short Mudskipper Video!
Also, check out the Critter Science YouTube channel. Videos added frequently!
Want to suggest a critter for me to write about? Let me know here.
Learn more about all kinds of cool critters, right here!