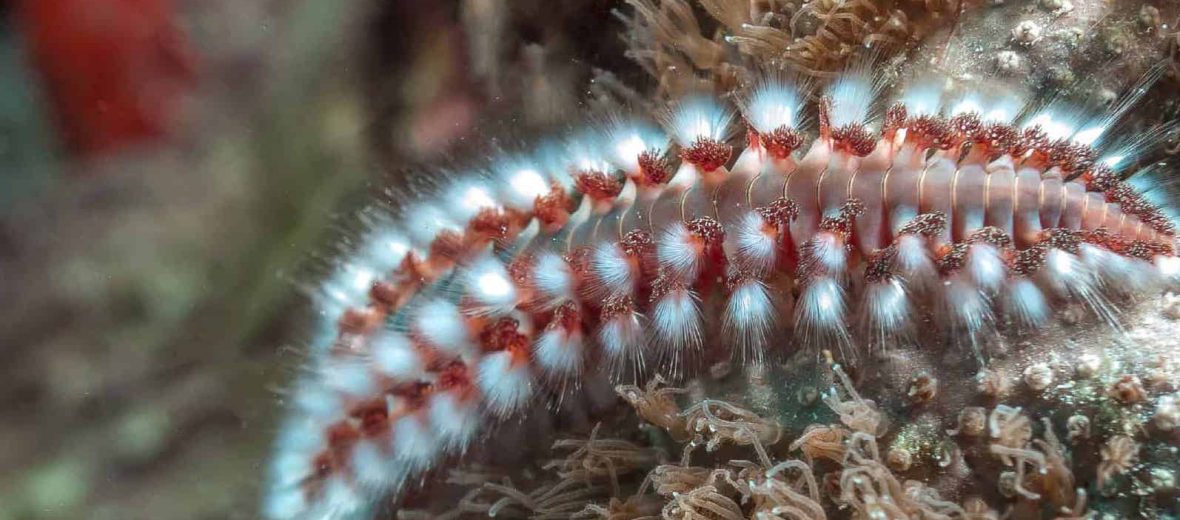 The bristle worm, aka bristleworm or polychaete, can be found in primarily saltwater environments, but can also be found in brackish (mildly salty) and even freshwater habitats. Bristle worms exist the world over. Some are even venomous. Due to the abundant and almost invasive nature of some of these creatures and their ability to reproduce rapidly, these critters are not currently evaluated by the IUCN.
First the Stats…
Scientific name: Polychaeta
Weight: Up to 2+ lbs.
Length: Up to 10 feet
Lifespan: Up to 250 years
Now on to the Facts!
1.) Bristle worms are nocturnal (active at night).
2.) These critters often hitchhike on live rock, which is purchased by aquarists, and placed into marine enclosures as reef aquarium set ups. If left unchecked, they can very quickly reproduce and take over an aquarium.
3.) Some bristle worms are Carnivorous (eat meat) and others are detritivores (eat detritus or decaying matter), and many will also consume carrion (dead animals).
4.) In aquarium environments, many aquarists utilize biological control of bristle worms. This is done by introducing wrasses, coral banded shrimp, and arrow crabs. These creatures will hunt for and eat the bristle worms.
5.) There are over 10,000 known species of bristle worms.
But wait, there's more on the bristle worm!
6.) The bristle worm can have 2 – 4 pairs of eyes, but some are blind. Some of these worms have eyes that are so complex that they rival those of cephalopod and vertebrate eyes.
7.) Numerous species exhibit bioluminescence (production and emission of light).
Did you know…?
Venomous bristle worms have the ability to sting with their chaetae, or even bite. If bitten or stung, the victim will experience inflammation, burning, swelling, numbness, redness, and pain.
8.) If afflicted by a bristle worm bite or sting, the affliction can become infected. Although the chance of death is not really a possibility.
9.) Their head possesses a pair of tentacle-like palps (antennae), and also a pair of pits lined with cilia, known as nuchal organs. These all aid in finding food.
10.) They also have a pair of jaws and a pharynx that can be quickly everted, letting the worm grab food and pull it into their mouth.
But wait, there's still more on the bristle worm!
11.) The nervous system consists of 1 or even 2 ventral nerve cords running the length of the body, with ganglia and a set of small nerves in each of their segments.
12.) There are approximately 80 known species that are parasitic. They can be either ectoparasites (external) and/or endoparasites (internal).
Did you know…?
Some species reproduce by budding (breaking off segments of their body, which later develop into adult worms.
13.) Able to survive in a wide variety of habitats, 1 polychaete, the Pompeii worm, is endemic to the hydrothermal vents found in the Pacific Ocean. Pompeii worms are among the most heat-tolerant complex organisms known to science.
14.) Another polychaete is the Hesiocaeca methanicola, which survives on methane clathrate deposits.
15.) The Bobbit worm is a predatory species that can grow up to 10 feet in length!
But wait, there's still a little more on the bristle worm!
16.) While most species fertilize eggs externally, some reproduce via gonads which shed immature gametes directly into the other's body cavity, where they complete their development. As soon as they are mature, the gametes are shed into the water through ducts, or in some cases by the total rupture of the body wall; which ends up killing the adult.
17.) In the wild, various wrasses, dottybacks, hawkfish, boxer shrimp, and arrow crabs prey on bristle worms.
Now a Short Bristle Worm Video!
Be sure to share & comment below! Also, check out the Critter Science YouTube channel. Videos added regularly!
Want to suggest a critter for me to write about? Let me know here.