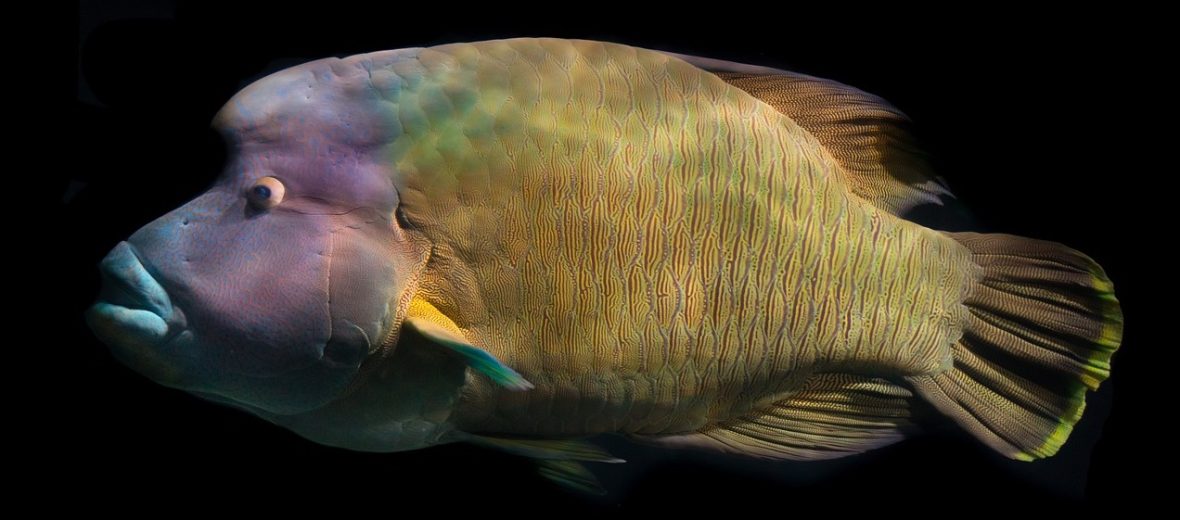 The humphead wrasse, aka Māori wrasse, Napoleon wrasse, Napoleon fish, Napoleonfish, so mei 蘇眉, mameng, and merer, can be found off the coast of eastern Africa near the opening of the Red Sea, and in some locales of the Indian and Pacific Oceans. Facing the threats of habitat destruction and overfishing, these fish are listed as Endangered by the IUCN. Their numbers are also decreasing.
First the Stats…
Scientific name: Cheilinus undulatus
Weight: Up to 420 lbs.
Length: Up to 7 feet
Lifespan: Up to 30+ years
Now on to the Facts!
1.) While predominantly solitary, they can be found in pairs and smaller groups.
2.) Juveniles tend to hang out in shallower water, while adults can be found in deeper reef waters.
3.) Starting off as females, these fish are actually protogynous hermaphrodites, and will change genders, when the need arises, from female to male, at around 9 years old.
4.) These fish are opportunistic predators that feed on mollusks – like annelids, crustaceans, echinoids, gastropods, and pelecypods. They also prey on fish.
5.) Humpheads are able to produce a strong jet of water, from their mouths, into the sand to uncover prey items.
But wait, there's more on the humphead wrasse!
6.) They will also grab sea urchins and, with a quick head movement, crack them open on rocks to get at the meat inside.
7.) Humphead wrasses are an umbrella species. This means that protecting them subsequently protects other species of fish and invertebrates.
Did you know…?
Females only lay up to 100 eggs each breeding season and they only start breeding after they are upwards of 7+ years old.
8.) The eggs are pelagic (float in the upper layers of the ocean). Once they hatch, the larvae will settle in to dwell among the reefs to continue developing.
9.) Indonesia, the Philippines, and Sabah Malaysia are the 3 biggest exporters of these wrasses.
10.) Asia offers the largest bounty on live caught humpheads.
Now a Short Humphead Wrasse Video!
Be sure to share & comment below! Also, check out the Critter Science YouTube channel. Videos added regularly!
Want to suggest a critter for me to write about? Let me know here.
Think you know a lot about critters? Try your hand at these fun, free quizzes: