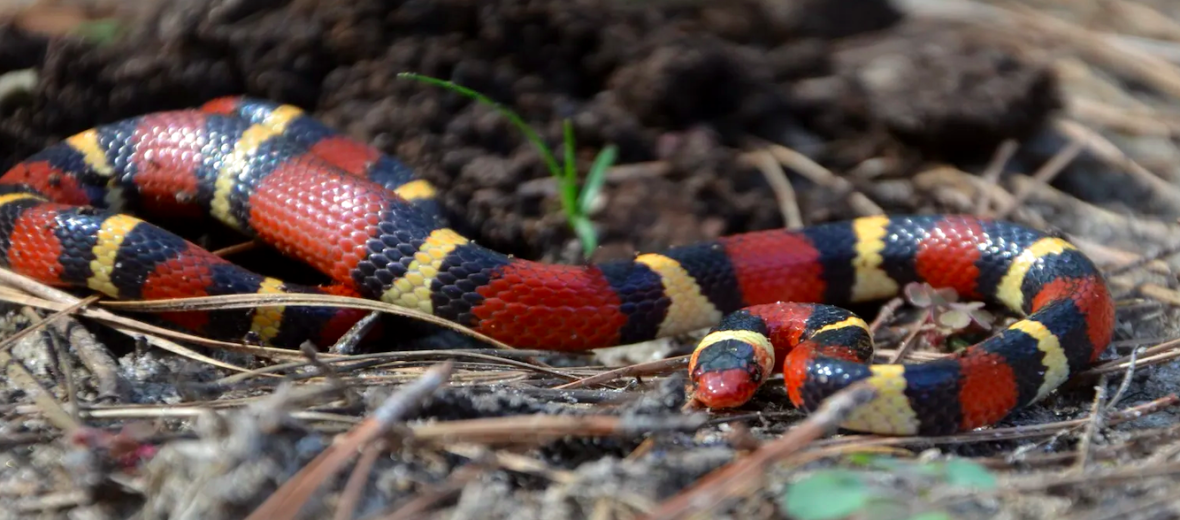 The scarlet kingsnake, aka scarlet milksnake, can be found throughout southeastern United States. These snakes dwell in various habitats, like pine savannas, mesic pine-oak forests, flatwoods, hydric hammocks, prairies, cultivated fields, and a range of suburban habitats. Even though they face the threats of habitat destruction and trapping, these snakes are abundant and are listed as Least Concern by the IUCN. Their populations are stable throughout their range.
First the Stats…
Scientific name: Lampropeltis elapsoides
Weight: Up to 2.77 lbs.
Length: Up to 29 inches
Lifespan: Up to 22 years
Now on to the Facts!
1.) These snakes are predominantly fossorial (spend most of their lives underground).
2.) Scarlet kingsnakes are among the smallest known kingsnakes.
3.) They are nocturnal (active at night).
4.) If threatened, they will prefer to flee, rather than stay and attack.
5.) A group of snakes, although very uncommon, is called a bed, den, knot, nest, or pit.
But wait, there's more on the scarlet kingsnake!
6.) Lizards (particularly skinks), smaller snakes, frogs, toads, voles, mice, young rats, birds, and bird eggs are all on the menu.
7.) Like other kingsnakes, they are polygynandrous (promiscuous – males and females have multiple partners).
Did you know…?
Kingsnakes are known for hunting and eating venomous snakes. They are immune to rattlesnake venom.
8.) Females lay up to 10 eggs that hatch in up to 65 days.
9.) The snakelets are born precocial (self sufficient) and measure up to 7 inches long.
10.) Foxes, coyotes, skunks, opossums, and raccoons all prey on these snakes.
Now a Short Scarlet Kingsnake Video!
Be sure to share & comment below! Also, check out the Critter Science YouTube channel. Videos added regularly!
Want to suggest a critter for me to write about? Let me know here.