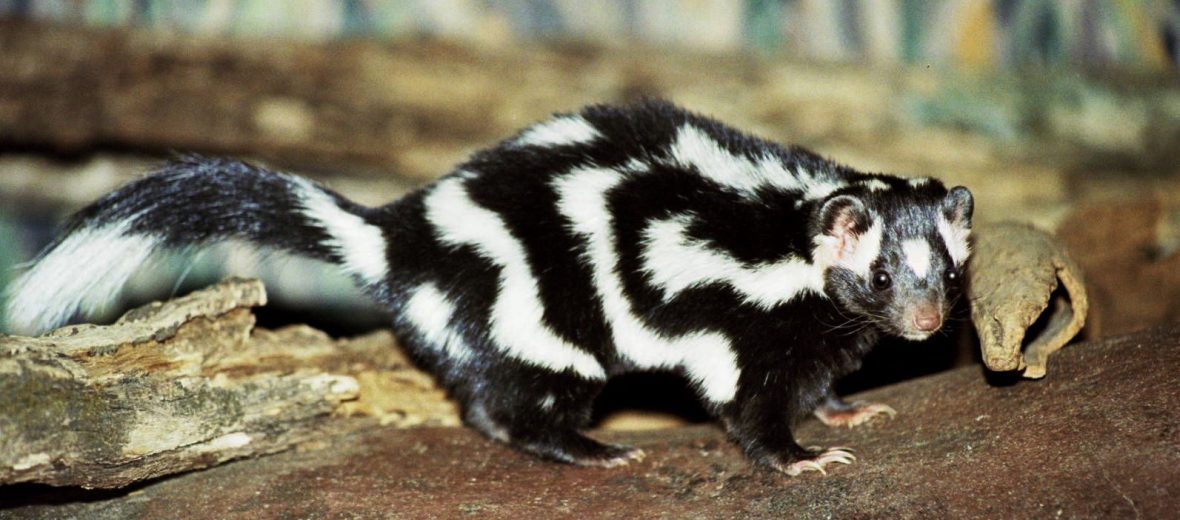 The pygmy spotted skunk hails from the Pacific side of Mexico. They prefer woodlands and thickets with rocky soil. These skunks tend to avoid dense forests and swamp habitats. Due to habitat destruction, at the hands of residential & commercial development; roads, fragmenting their populations and subjecting them to vehicle strike; hunting; trapping; human-based recreational activities; and invasive species, and with them disease; these critters are listed as Vulnerable by the IUCN. Their numbers are also decreasing.
First the Stats…
Scientific name: Spilogale pygmaea
Weight: Up to 13 ounces
Length: Up to 13.6 inches, plus up to a 4.72 inch tail
Lifespan: Up to 10 years
Now on to the Facts!
1.) Pygmy spotted skunks are nocturnal (active at night).
2.) They like to take refuge in trees and burrows.
3.) These critters are more similar to weasels, than skunks, in that they are very prey driven (have a strong predatory drive).
4.) Like all skunks, they have 2 large scent glands in the perianal region that are used for self defense.
5.) The highly predatory pygmy spotted skunk preys on mice, rats, moles, insects, birds, reptiles, and amphibians. They also eat fruits and berries. Thus making them Omnivores (eat plant and animal matter).
But wait, there's more on the pygmy spotted skunk!
6.) When they are threatened, their first response is to flee. However, if cornered they become aggressive. They will bristle and raise their tail to look bigger. These skunks can stand on their forelegs and move forward in that position against their would be attacker.
7.) If the previously mentioned displays fail, they resort to standing on all 4 legs and folding back in a U shape, pointing their tail at their enemy. Then they will blast their opponent with their famous odoriferous scent.
Did you know…?
Skunk spray symptoms include: lethargy, weakness, and change in urine color, as well as pale or brown gums; which may take up to a few hours or even days to appear. Temporary blindness is possible, if sprayed in the face.
8.) If a pet is sprayed by a skunk, they may exhibit drooling, vomiting, red and/or swollen eyes, rolling, face rubbing, sneezing, and even temporary blindness.
9.) Mating season takes place between September – October. But the females undergo delayed implantation, aka embryonic diapause, where she will hold onto the male's sperm and wait till March or April to begin gestation (pregnancy).
10.) Females birth up to 10 cubs per litter.
11.) Humans, dogs, and coyotes prey on these skunks.
12.) The best way to remove skunk spray is to use a solution of baking soda and hydrogen peroxide. The classic tomato juice method only temporarily masks the scent, while the hydrogen peroxide method actually counteracts the scent altogether.
Now a Short Pygmy Spotted Skunk Video!
This video is on spotted skunks, in general.
Be sure to share & comment below! Also, check out the Critter Science YouTube channel. Videos added regularly!
Want to suggest a critter for me to write about? Let me know here.
Think you know a lot about critters? Try your hand at these fun, free quizzes: