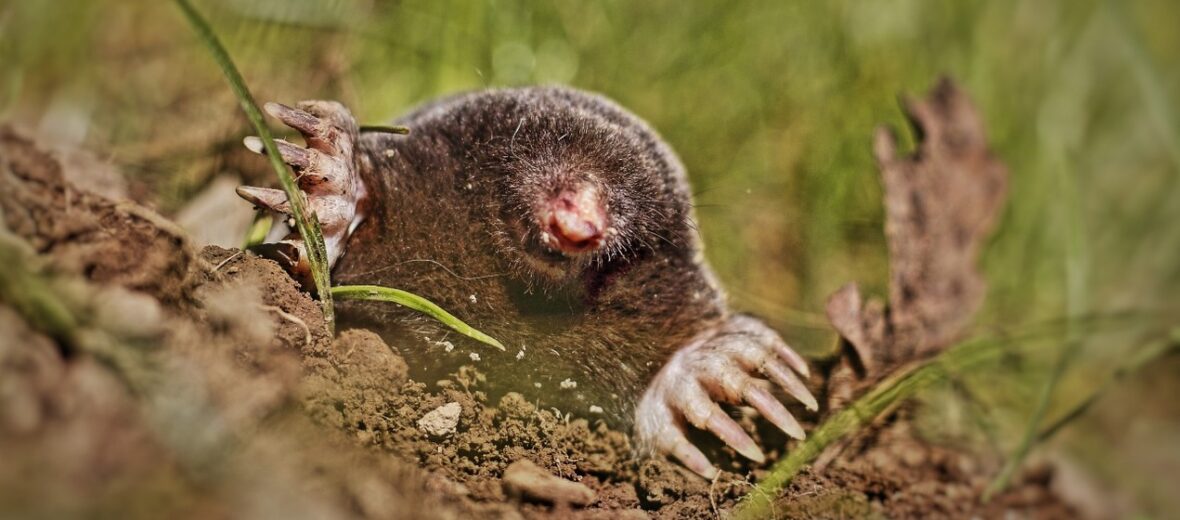 The mole can be found in North America, Europe (sans Ireland), Asia, and parts of Africa. They like meadows, fields, pastures, and open woodland equipped with moist, sandy, loamy soil. These tunnel-loving critters spend up to 99% of their lives in their tunnels. Due to their populations, globally, most moles are listed as Least Concern by the IUCN. Some are listed as Endangered or Vulnerable. Their main threats to survival are agriculture, vermicides, and accidental poisoning.
First the Stats…
Scientific name: Talpidae
Weight: Up to 5 ounces
Length: Up to 8.3 inches, plus up to a 1.6 inch tail
Lifespan: Up to 6 years
Now on to the Facts!
1.) Due to spending most of their time underground, these critters have nearly 2 times the amount of haemoglobin than other mammals their size. This helps with the low oxygen levels in their burrows.
2.) Moles are cathemeral (active in both day and night).
3.) They have poor eyesight that can only detect light and dark.
4.) These little creatures also have no discernible ears.
5.) The mole has an acute sense of touch and smell.
But wait, there's more on the mole!
6.) Due to their burrows being below the frost line, they don't hibernate in winter.
7.) Moles communicate via guttural squeaks, high-pitched squeals, short snorting sounds, plus they grate their teeth.
Did you know…?
Moles can dig up to 18 feet an hour and up to 60 feet in a day!
8.) A group of moles is called a company, movement, or labor.
9.) Earthworms make up most of their diet. But they also eat insects, larvae, and vegetation.
10.) The mole mates, typically, from February – March.
But wait, there's still more on the mole!
11.) After up to a 45 day gestation (pregnancy), females will birth 2 – 5 pups.
Did you know…?
A single mole can eat up to 50 lbs. of earthworms in a year!
12.) Moles can move backwards almost as fast as they can forwards.
13.) Snakes, foxes, coyotes, weasels, skunks, badgers, owls, hawks, buzzards, blue herons, cats, dogs, and more all prey on moles.
14.) The mole is a solitary creature that only comes together to mate.
15.) They paralyze worms and insects with toxins in their saliva and then take the paralytic prey to their underground layer for later feasting.
16.) Not only can they dig, they are also skilled swimmers.
Now a Short Mole Video!
Be sure to share & comment below! Also, check out the Critter Science YouTube channel. Videos added frequently!
Want to suggest a critter for me to write about? Let me know here.
Learn more about all kinds of cool critters, right here!