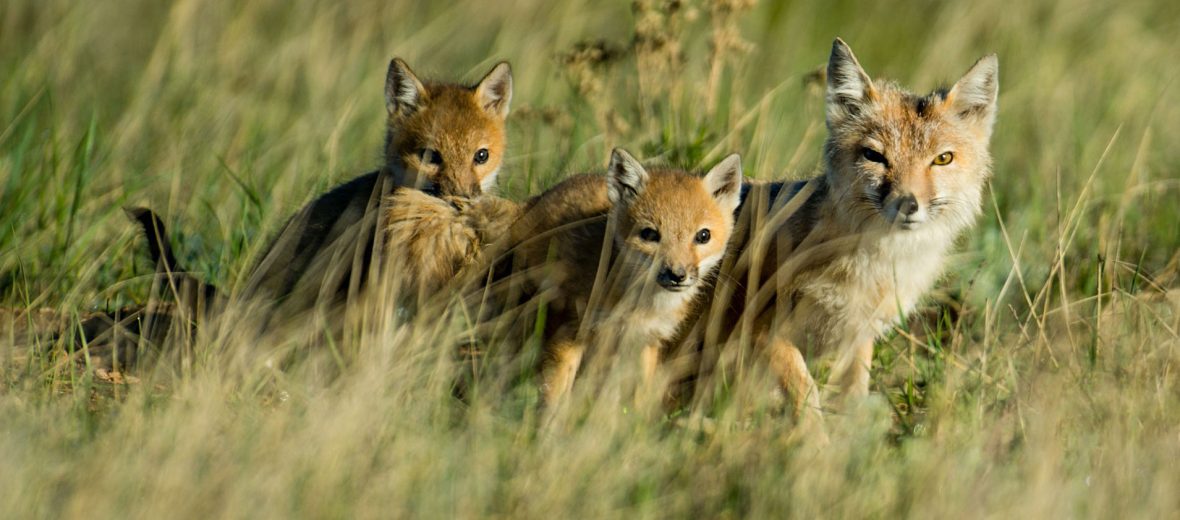 The swift fox is a rather small fox that is about the size of a house cat. They can be found in the Great Plains region of central Canada down through central United States. These foxes prefer western grasslands and short-grass prairies. Due to their stable populations, these foxes are listed as Least Concern by the IUCN. They do however face the threats of habitat loss, hunting, and trapping.
First the Stats…
Scientific name: Vulpes velox
Weight: Up to 4.6 lbs.
Length: Up to 1.7 feet, plus up to a 12+ inch tail
Height: Up to 12 inches
Lifespan: Up to 14 years
Now on to the Facts!
1.) Swift foxes are nocturnal (active at night).
2.) They can occasionally be found out of their dens during the daytime, on warmer winter days.
3.) Up to 13 foot dens are dug for protection from predators.
4.) A group of foxes is called a earth, lead, leash, skulk, or troop.
5.) These foxes are Omnivores (eat plant and animal matter) that prey on rabbits, moles, voles, mice, rats, gophers, ground squirrels, birds, insects, and lizards. Their diet also includes: fruits and grasses. During lean times, they will also resort to eating carrion (dead animals).
But wait, there's more on the swift fox!
6.) Coyotes, eagles, hawks, and humans prey on swift foxes.
7.) Swift foxes are generally monogamous (mate for life).
Did you know…?
The swift fox gets its name from their speed, as you would imagine. They are capable of running up to 40 mph!
8.) Females undergo up to a 51 day gestation (pregnancy) that yields up to 5 pups.
9.) Males are called reynards or tods. Females are called vixens. Newborns are called cubs, kits, or pups.
10.) The social aspect of swift foxes is not typical among canids as it is more of a matriarchal environment (led by an alpha female).
Now a Short Swift Fox Video!
Be sure to share & comment below! Also, check out the Critter Science YouTube channel. Videos added regularly!
Want to suggest a critter for me to write about? Let me know here.
Think you know a lot about critters? Try your hand at these fun, free quizzes: