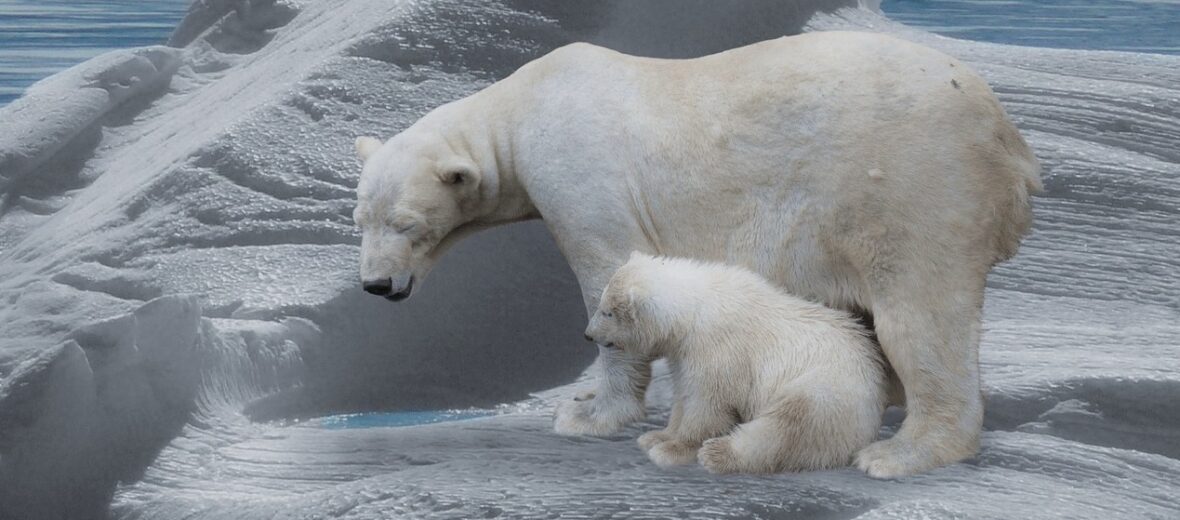 The polar bear is found in the Arctic regions in Canada, Alaska, Greenland, Russia, and Norway. These bears are 1 of the most beloved bear species in the world. However, they are under serious threat from climate change, which has caused their sea ice habitat to shrink to critically dangerous levels. Their environment is also under threat from the oil industry as they begin to eye, more and more, the polar regions. Polar bears are listed as "Vulnerable" by the IUCN.
First the Stats…
Scientific name: Ursus maritimus
Weight: Up to 1,700+ lbs.
Length: Up to 9.8 feet
Height: Up to 9.8 feet (while on their hind legs) | 4.4 feet (at the shoulders) while on all fours
Lifespan: Up to 25 years
Now on to the Facts!
1.) These bears are the largest land carnivore (eats meat) in the world.
2.) Polar bears are actually jet black, not white. Their translucent fur reflects visible light and only appears white; but their skin is totally black.
3.) Their sense of smell is so powerful that they are able to detect prey over 10 miles away and smell a seal's breathing hole up to 1 mile away!
4.) Polar bears are classified as marine mammals, due to the fact that they spend a majority of their time in and around the frigid Arctic water and rely on ringed seals, bearded seals, and fish for food.
5.) Using their slightly webbed, 12 inch wide paws, these critters can actually swim for days!
But wait, there's more on the polar bear!
6.) Powerful and fearsome as they are, they aren't the most triumphant hunters around. Less than 2% of their hunts are actually successful.
7.) In 2006 genetic testing revealed the existence of polar bear/grizzly bear hybrids. They are called "pizzly bears" or "grolar bears". The hybrids look like a mix of the 2 species. However, since these hybrids are typically born from polar bear mothers they act more like polar bears than grizzlies.
Did you know…?
These massive bears can run up to 25 mph and swim up to 6 mph!
8.) Due to melting sea ice at the hands of climate change, polar bears are having to move closer to human habitations. This causes understandable conflicts between human and bear. Fortunately, humans are beginning to adapt to their presence and are learning to avoid encounters.
9.) Polar bears evolved from brown bears as early as 150,000 years ago.
10.) There are approximately 26,000 polar bears in the wild. This number is divided into 19 sub-populations.
But wait, there's even more on the polar bear!
11.) By 2050 polar bears are expected to decline by 30%! That would bring their estimated numbers down to 18,200!
12.) Polar bear fur is so dense that this, along with their blubber, causes them to almost overheat. Even in the blistering cold, these bears are able to stay warm.
13.) Female polar bears give birth to their cubs in snow dens between November – December. Mom and her cubs emerge from their den 4 – 5 months later.
14.) The 1 – 4 cubs stay with their mother for up to 2 years, learning the necessary skills needed to survive their harsh environment.
15.) The male does not participate in the rearing of the young.
Now a Short Polar Bear Video!
Also, check out the Critter Science YouTube channel. Videos added frequently!
Want to suggest a critter for me to write about? Let me know here.
Learn more about all kinds of cool critters, right here!