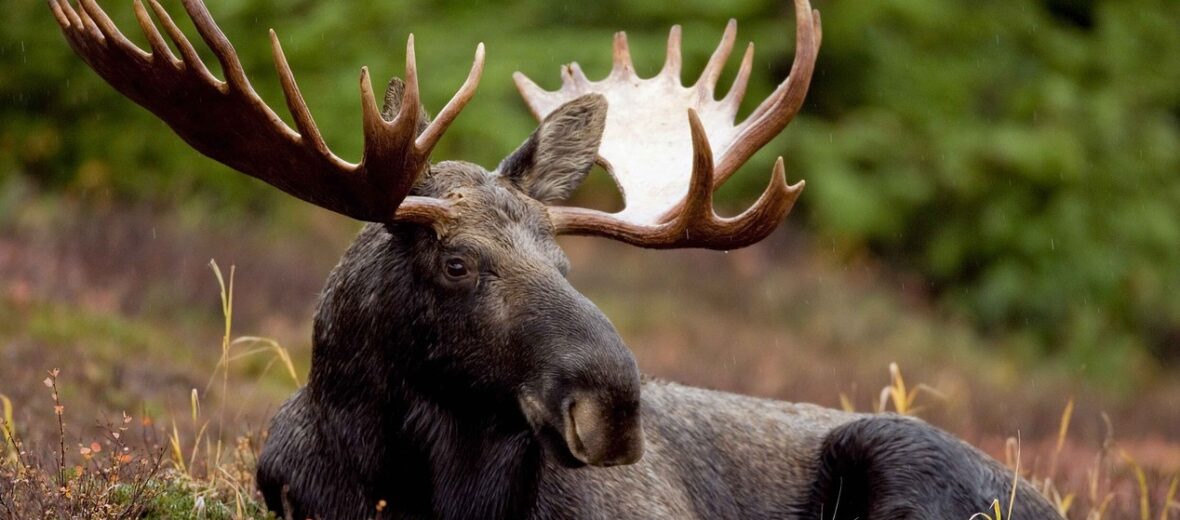 Being the tallest member of the deer family, it's the moose. These giants are found in the northern parts of the midwest, north eastern United States, and in Canada and Alaska. They prefer to live in forests during the cold winter months and near lakes and streams during the rest of the year. Males and females are told apart by the fact that only the males sport antlers. Their antlers can measure over 5 feet across and weigh over 60 lbs! Moose are listed as Least Concern by the IUCN.
First the Stats…
Scientific name: Alces alces
Weight: Up to 1,500 lbs.
Length: Up to 10 feet
Height: Up to 6.9 feet, at the shoulder
Lifespan: Up to 25 years
Now on to the Facts!
1.) Moose have very wide hooves that serve as kind of snow shoes in the winter and help keep them from sinking in soft or muddy ground the rest of the year.
2.) They eat over 70 lbs. of food a day in the summer and over 30 lbs. in the winter!
3.) Interestingly enough, they have 32 teeth, yet are missing their front teeth altogether.
4.) These ginormous critters have poor eyesight, but excellent hearing and a keen sense of smell.
5.) They are herbivores (eat plant matter) that consume shrubs, flowering plants, leaves, small branches, pond weed, pond lilies, and river grasses.
But wait, there's more on the moose!
6.) Sans the brain worm (Parelaphostrongylus tenuis), which is a parasite contracted from accidentally eating snails, adult moose have very few takers for a battle. The brain worm is consumed and travels up to the moose's brain, causing severe neurological damage and death. However wolves, black bears, and grizzlies will pick off the sick and young. Ticks also pose a big threat to these giants.
7.) A male is called a bull, a female a cow, and the newborns are called a calf.
Did you know…?
As big as they are a moose is actually capable of running up to 35 mph!
8.) The flap of skin that hangs from their chin is called a bell.
9.) Each year a bull moose will shed and regrow his antlers. These antlers are used during the rut, where they butt heads against one another to fight for the affection of a female.
10.) As large and cumbersome as they look, these beasts are surprisingly good swimmers that can reach speeds of up to 6 mph in the water.
But wait, there's still more on the moose!
11.) Males are solitary, only gathering during the mating season.
12.) Gestation (pregnancy) lasts for 8 months and yields up to 2 calves.
Now a Short Moose Video!
Here's a Short Moose Fight Video!
Also, check out the Critter Science YouTube channel. Videos added frequently!
Want to suggest a critter for me to write about? Let me know here.
Learn more about all kinds of cool critters, right here!