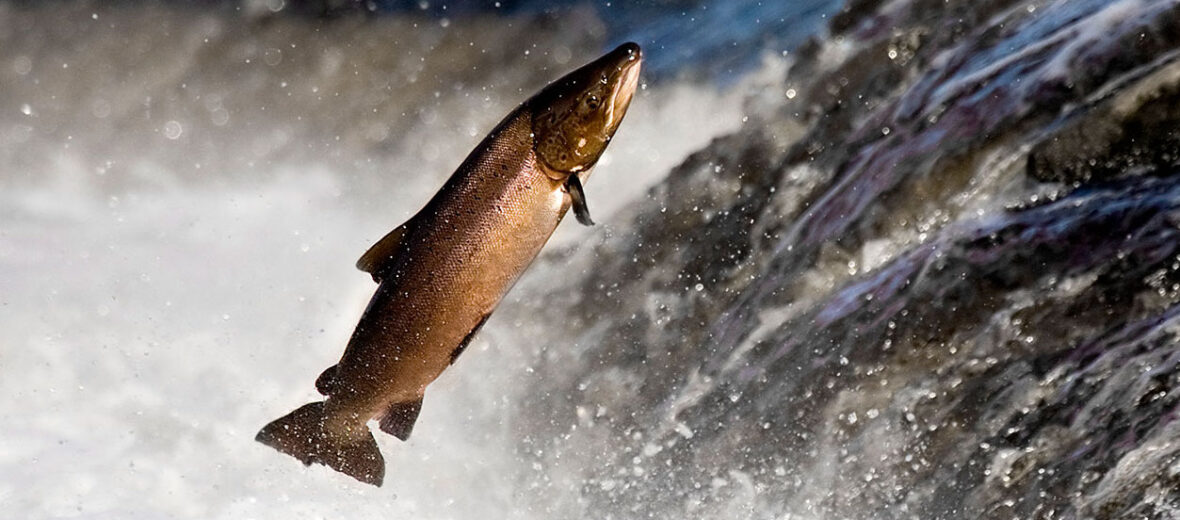 The salmon is closely related to char and trout. There are 9 known species found in both the Pacific and Atlantic oceans. Most are anadromous, meaning they spend a portion of their lives at sea and a portion in fresh water. The remaining species spend their entire lives in fresh water. Due to overfishing, sockeye, chinook, and Atlantic are all listed as Endangered by the IUCN. The coho is nearing extinction. The most readily known species, due to their hooked beak, green head, and brilliant red body is the sockeye.
First the Stats…
Scientific name: Oncorhynchus nerka (sockeye salmon)
Weight: Up to 9.3 lbs.
Length: Up to 2.5 feet
Lifespan: Up to 5 years
Now on to the Facts!
1.) The cherry salmon is the smallest known and the chinook is the largest known species.
2.) Sockeyes go through a series of color changes as they age. As juveniles, they are lightly colored with spots. During their oceanic adventures they are silver. When it comes time to spawn, they change yet again to brilliant red bodies with green heads. The males also develop a hooked jaw, called a kype.
3.) They are considered a keystone species as they have a disproportionately large affect on the ecosystem. They provide food for other animals and when they are brought on land and decompose, they provide nutrients to plants.
4.) Young salmon eat invertebrates, like insects and plankton. Adults eat small fish, shrimp, and squid.
5.) The populations in Canada are threatened by a variety of things like overfishing, disease, parasites, climate change, and habitat loss.
But wait, there's more on the salmon!
6.) Their primary predators are sea lions, larger fish, sharks, seals, orcas, and bears.
7.) They are very high in protein, vitamin D, and omega-3 fatty acids.
Did you know…?
The word salmon comes from the Latin word salmo or salire, which means "to leap". If you've seen how they get from the ocean to where they breed then you'll understand how they got that name.
8.) These fish travel thousands of miles and scale up to 7,000 feet, upstream, to the place of their birth. This journey is so arduous that it ultimately claims their life. Migratory salmon die shortly after mating.
9.) Females will prepare a nest, called a redd, with her tail and then deposit up to 5,000 eggs. The male will fertilize the eggs and then the female will cover the redd with gravel. This process is then repeated up to 7 more times before both the male and female die of exhaustion.
10.) The newly hatched salmon, called alevin or sac fry will spend up to 3 years developing in ponds and lakes before making the journey out to sea for the next few years. Then the process will be repeated all over again.
Now a Short Salmon Video!
Also, check out the Critter Science YouTube channel. Videos added frequently!
Want to suggest a critter for me to write about? Let me know here.
Learn more about all kinds of cool critters, right here!