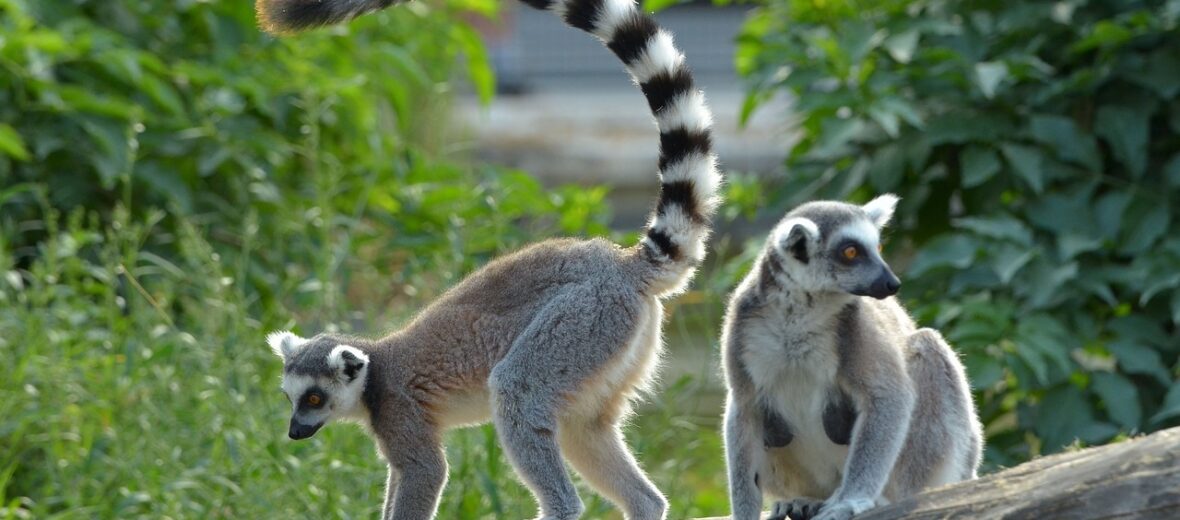 The ring-tailed lemur can only be found in southwestern Madagascar; typically in arid, open areas and forests. They can also be viewed in zoos around the world. These beautiful primates are just one species of lemur. Lemurs only exist, in the wild, on the island of Madagascar. There are approximately 110 known species of lemur. Sadly, due to habitat loss, global warming, poaching, and over collecting for the pet trade and for private collections, all lemurs are listed as Vulnerable, Endangered, or Critically Endangered (based on the species) by the IUCN.
First the Stats…
Scientific name: Lemur catta
Weight: Up to 4.9 lbs.
Length: Up to 1.5 feet (body) plus their 2.1 foot long tail
Lifespan: Up to 19 years
Now on to the Facts!
1.) Olfactory (smell) communication is very important for ring-tailed lemurs.
2.) With scent glands located on their chests and wrists they mark their territory by rubbing their scent on bushes and trees and even by piercing trees with their wrist spur and leaving their secreted scent.
3.) These beautiful creatures also utilize a variety of facial expressions to express their intent.
4.) Their diet consists of plant matter, fruit, and even dirt. It is thought that the dirt is consumed to gain necessary salts and minerals.
5.) Ring-tails live in groups of up to 20 members, called a troop.
But wait, there's more on the ring-tailed lemur!
6.) These lemurs are led by a matriarch (dominant female). There are also several breeding females in a troop.
7.) Ring-tails are notoriously well groomed. After eating they can spend hours grooming themselves and others in their troop.
Did you know…?
When it gets too cold, these lemurs will huddle together stay warm. This is called a lemur ball. How cute is that?
8.) Like most other primates, lemurs have opposable thumbs.
9.) A ring-tailed lemur baby weighs less than 3 ounces at birth and is carried on its mother's chest for up to 2 weeks. Then they move to their mother's back but, at that time, they also start to venture out and explore.
10.) Babies are not fully weened from mom till about 5 months of age.
Now a Short Ring-Tailed Lemur Video!
Also, check out the Critter Science YouTube channel. Videos added frequently!
Want to suggest a critter for me to write about? Let me know here.
Learn more about all kinds of cool critters, right here!