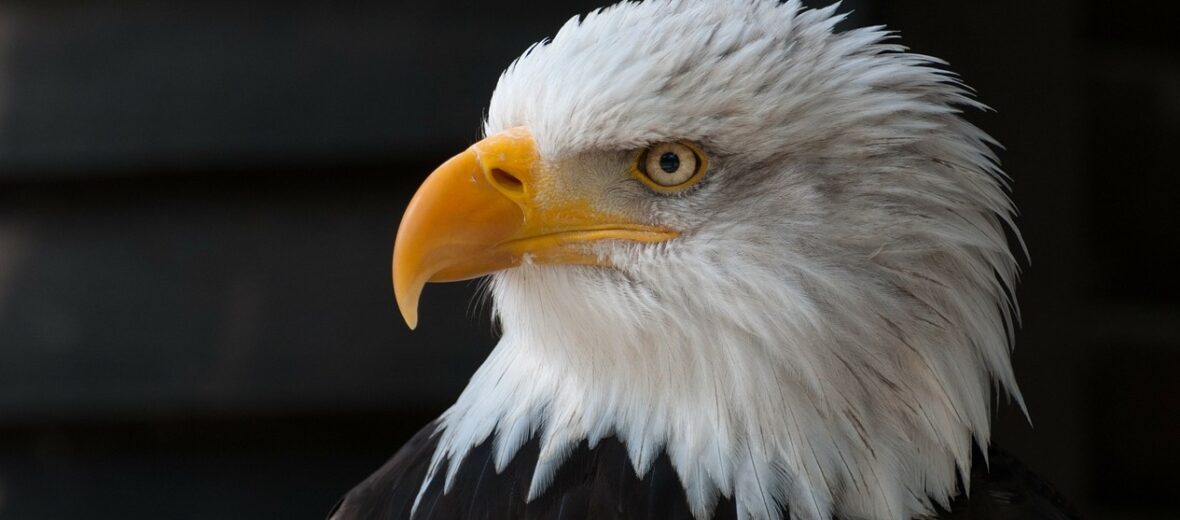 The bald eagle lives in North America and Canada. Bald eagles prefer to live in forests that are near lakes, rivers, reservoirs, coasts, and marshes. Many also live near fish processing plants, city dumps, and other areas where they can easily find food. Back in the 1950s, this raptor and symbol of America began to drastically decline due to the use of the chemical DDT (dichloro-diphenyl-trichloroethane). After many years of massive conservation efforts by the United States government, the bald eagle successfully regained its population and can continue its part as the national bird of the United States. These raptors are now listed as Least Concern by the IUCN.
First the Stats…
Scientific name: Haliaeetus leucocephalus
Weight: Up to 14 lbs.
Length: Up to 37 inches
Wingspan: Up to 90 inches
Lifespan: Up to 50 years
Now on to the Facts!
1.) The bald eagle has been the national symbol and mascot for America since 1782. Our symbol was almost the turkey.
2.) They prey on bird's eggs, smaller birds, rabbits, reptiles, amphibians, crabs, but primarily fish.
3.) These eagles are well known for pestering smaller birds and stealing their hard earned prey.
4.) Bald eagles are also not as brave as many think though, as they are often bullied by the little king bird; which is no larger than a sparrow.
5.) A bald eagle doesn't make the stereotypical screeching sound heard in movies and TV. That sound is the overdubbed sound of the red-tailed hawk. Bald eagles make a high-pitched giggle or a weak scream. Hardly noble as is typically portrayed.
But wait, there's more on the bald eagle!
6.) Even though, yes they do swoop down majestically and snatch fish from the water, their preferred method of obtaining prey is by stealing fish from other birds like ospreys.
7.) They are monogamous (mate for life).
Did you know…?
Typically, their nests are 2 – 4 feet deep and 4 – 5 feet wide. However, 1 pair of eagles located near St. Petersburg, Florida, got the Guinness World Record for largest bird's nest. The nest measured 20 feet deep and 9.5 feet wide! It weighed over 2 tons!
8.) While flying, bald eagles will occasionally grab each other by the talons and twirl while falling to the ground. Scientists believe this to be a courtship or a territorial act. Typically, the 2 will let go before hitting the ground. However, sometimes they hold on too tight and don't let go, resulting in injury or death of 1 or both birds.
9.) Like most raptors, the females are larger than the males.
10.) The eyes have it. Bald eagles have a see-through eyelid called a nictitating membrane. This is used to clean their eyeballs as well as moisten them.
Now a Short Bald Eagle Video!
Also, check out the Critter Science YouTube channel. Videos added frequently!
Want to suggest a critter for me to write about? Let me know here.
Learn more about all kinds of cool critters, right here!