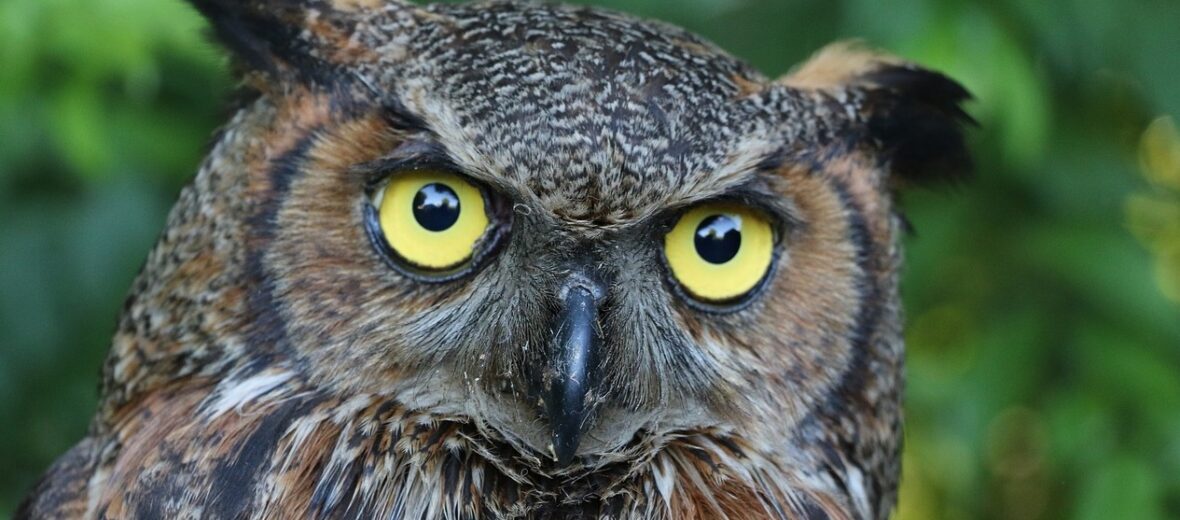 The great horned owl is a powerful and aggressive hunter that is sometimes referred to as the "tiger owl". They can be found from northern Canada and Alaska, all the way down to Central America. These critters live in agricultural areas, swamps, secondary-growth woodlands, orchards, deciduous, coniferous, and mixed forests. The horned owls can also be found in rural towns, suburban locales, and in the city. They are efficient hunters with black talons and beaks.
First the Stats…
Scientific name: Bubo virginianus
Weight: Up to 3.2 lbs.
Length: Up to 25 inches
Wingspan: Up to 4.6 feet
Lifespan: Up to 28 years
Now on to the Facts!
1.) If you hear and see a murder of crows swarming something, there could very well be a horned owl nearby. They are a Predator of crows.
2.) It takes approximately 28 lbs. of force to pry open the clenched talons of a horned owl!
3.) They primarily predate rats, mice, and rabbits, also ground squirrels, opossums, skunks, prairie falcons, ospreys, peregrine falcons, and even other owls. They also eat much smaller items like frogs, centipedes, and scorpions. Keep your cats and small dogs inside on warm nights, as they have been known to take them away or kill them where they sit.
4.) The remaining prey's indigestible bones, fur, and teeth are compacted into a pellet which the owl spits out. Owls typically cast 1 pellet per day, often from the same roosting spot, so you may find large numbers of owl pellets on the ground wherever an owl is roosting.
5.) Great horned owls are listed as "Least Concern" by the IUCN.
But wait, there's more on the great horned owl!
6.) Females are slightly larger than the males. However, the males have a deeper call.
7.) Horned owl eyes are very large and don't rotate in their sockets. Therefor, they have the ability to rotate their heads 270°!
Did you know…?
Owls are equipped with 3 eyelids. They have a normal upper and lower eyelid, the upper closing when the owl blinks, and the lower closing up when the owl is asleep. The third eyelid is called a nictitating membrane, and is a thin layer of tissue that closes diagonally across the eye, from the inside to the outside.
8.) These owls, like other owls, have approximately 1,550 rod cells per square inch in their eyes! This allows for excellent night vision.
9.) Due to facial disc feathers, sound is directed to their sensitive ears and this allows for an amazing sense of hearing!
10.) A great horned owl pair will typically nest in trees, however, city dwelling owls will nest just about anywhere they feel is safe from predators. The Home Depot near my house has a returning family each year in the rafters. Out of respect for these amazing raptors, they keep that part of the rafters clear of merchandise so they can safely nest there.
But wait, there's still more on the great horned owl!
11.) The female will lay between 1 – 4 eggs each year.
Did you know…?
Their feathers are very soft and insulate them against heat and cold. The flight feathers are also serrated which allows them to fly almost completely silent!
12.) Owlets are born helpless, with pink skin, closed eyes, and white down on their upper regions.
13.) These owls nest during January – February.
14.) Owls are almost exclusively nocturnal (active at night) but can sometimes exhibit a crepuscular (active at dawn and dusk) habit.
15.) Since these owls are a protected species, Game and Fish will give you a $15,000 fine and up to 6 months in prison if you injure, capture, or otherwise cause duress to these creatures.
Now a Short Great Horned Owl Video!
Also, check out the Critter Science YouTube channel. Videos added frequently!
Want to suggest a critter for me to write about? Let me know here.
Learn more about all kinds of cool critters, right here!