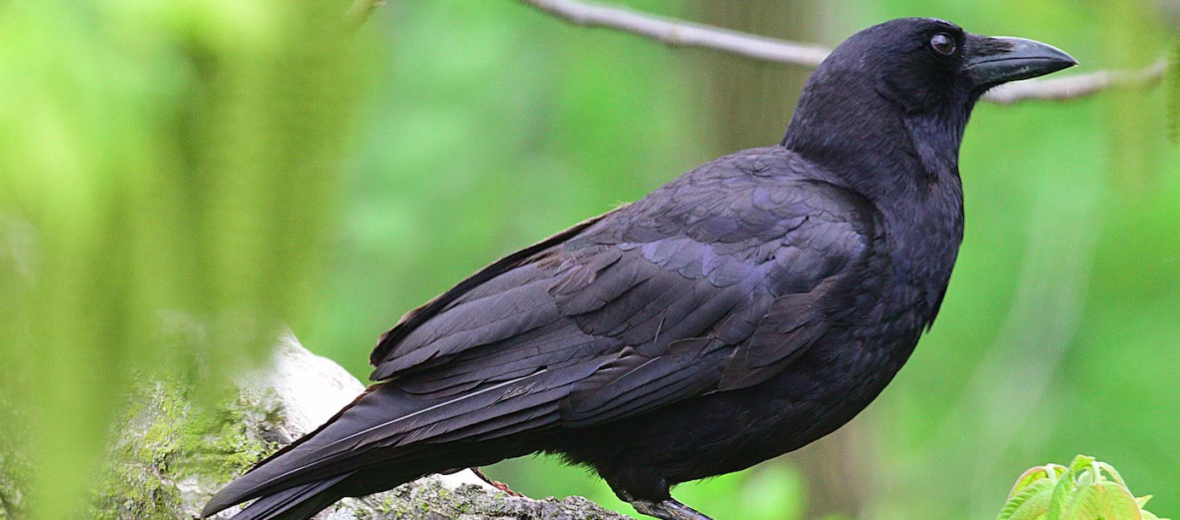 The crow is typically looked down upon by most people around the world. They have been linked to disease, death, bad omens, known as crop-stealers, and labelled a nuisance by many. However, these birds are very intelligent and social to boot. Don't underestimate their abilities. Don't get me wrong. I know they also have the habit of searching for and pooping on people and their call is a little annoying at times. But read more and you might just change your perspective on these misunderstood critters.
First the Stats…
Scientific name: Corvus
Weight: Up to 1.4 lbs.
Length: Up to 21 inches
Wingspan: Up to 3.3 feet
Lifespan: Up to 8 years
Now on to the Facts!
1.) Crows can be found, in one form or another, on every continent but Antarctica.
2.) There are 40 known species of crows in the world.
3.) They are monogamous (mate for life).
4.) The crow has the largest brain-to-body ratio of any bird and a large forebrain, where their intelligence is regulated.
5.) These birds have been around since the Miocene Period. That's over 17 million years ago. They first appeared in Oceana and Australia.
But wait, there's more on the crow!
6.) When a dead crow is encountered, as many as 100 or more crows will gather to investigate, while never touching the dead one. It is thought that this is their way of learning of danger in that area.
7.) Crows are omnivorous (eat plant and animal matter) scavengers. They will eat everything they deem edible. They will even eat maggot infested carrion. Yummy!
Did you know…?
Even though they are social, they have a dark side too. When a sick or wounded crow is approaching death, the other crows will flock around it and aggressively attack it with the intent of killing the ailing bird.
8.) A flock of 3 or more crows is called a murder. Taking the previous fact into consideration, that's an appropriate name.
9.) When a female crow is incubating her eggs, the other crows in the murder will watch out for and protect the female.
10.) A crow can find which murder they belong to via specialized dialects that each flock engages in.
But wait, there's still more on the crow!
11.) Crows are able to recognize faces. As an experiment, a group of scientists conducted a survey where they wore face masks and captured several crows. They then released them. When they returned, donning their masks, the crows attacked them, but not when they wore different masks or no masks at all.
12.) The really interesting thing is that the attacking crows informed the others in their murder and those birds attacked the masked captors. Even 2 years later, the crows went after their masked abductors and even their young were taught about this incident and also attacked.
Did you know…?
How do you tell a raven from a crow? Ravens have larger, more curved beaks in relation to crows. Even though both species have bristles at the base of the beak, the raven's are visibly longer. A raven's throat feathers are also more shaggy looking.
13.) In Japan, the carrion crow has learned to leave walnuts on the road for cars to run over and smash, freeing the tasty treat inside.
14.) Females lay between 4 – 5 eggs and the other young and adult crows help watch over them. This is called cooperative breeding.
Now a Short Crow Video!
Here's Part 2 of the Previous Crow Video!
Also, check out the Critter Science YouTube channel. Videos added frequently!
Want to suggest a critter for me to write about? Let me know here.
Learn more about all kinds of cool critters, right here!