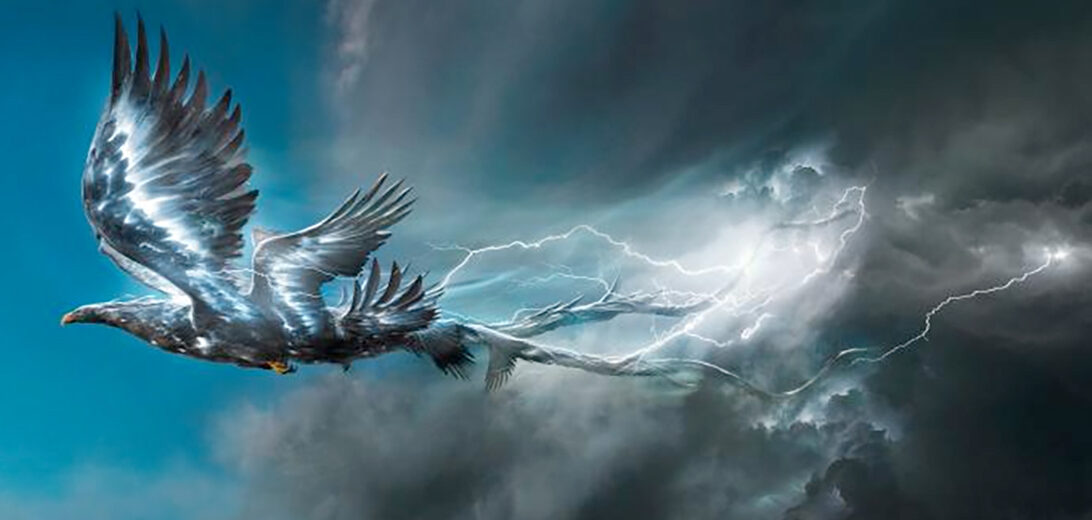 In honor of Samhain (Halloween), I give you the cryptozoological creature of this year – The Thunderbird. Native American legends talk of this mystical creature being a protector but also that it could punish those who displayed little or no morals. It could be spotted in the sky with bright feathers and a clap of thunder could be heard with each flap of its mighty wings and bolts of lightening would fly from its eyes. Is this creature just a way to explain the natural phenomenon of weather patterns or is it real? You decide. This article is on special request by my friend Sutty.
First the Stats…
Alternate names: Rain Bird & Pamola
Weight: Immeasurable
Length: Immeasurable
Lifespan: Infinite
Now on to the Facts!
1.) As the Thunderbird would arrive it would bring with it storms consisting of thunder, lightening, rain, and wind.
2.) This bird was said to be so large that it once picked up a whale with its talons.
3.) Per Gros Ventre tradition, this mighty creature gave the sacred pipe to the people.
4.) The Arapaho people associated Thunderbirds with the summer season and the White Owl represented winter.
5.) Some tribes even believed these birds were shapeshifters, who frequently changed their appearance to mingle with people. The Shawnee tribe thought they appeared as boys or really young men and could be identified by their ability to speak backward.
But wait, there's more on the Thunderbird!
6.) According to Algonquian mythology, the Thunderbird watches over the upper world while the Great Horned Serpent or Underwater Panther controlled the underworld.
7.) Their power varied from tribe to tribe. Some thought them to be very powerful and others thought of them as just regular members of the animal kingdom.
Did you know…?
The Thunderbird kept the underworld spirits at bay by throwing lightening at them.
8.) Winnebago tradition stated that if a man had a vision of a Thunderbird during a solitary fast they would become a war chief.
9.) Throughout recorded history, the Thunderbird symbolism has appeared on such things as pottery, totem poles, masks, petroglyphs, jewelry, carvings, and more. The legend has spread far and wide through songs and oral recollections.
10.) It is supposed that the stories of Thunderbirds were based upon the discoveries of pterosaur fossils by early Native Americans.
Now a Short Thunderbird Video!
Also, check out the Critter Science YouTube channel. Videos added frequently!
Want to suggest a critter for me to write about? Let me know here.
Learn more about all kinds of cool critters, right here!