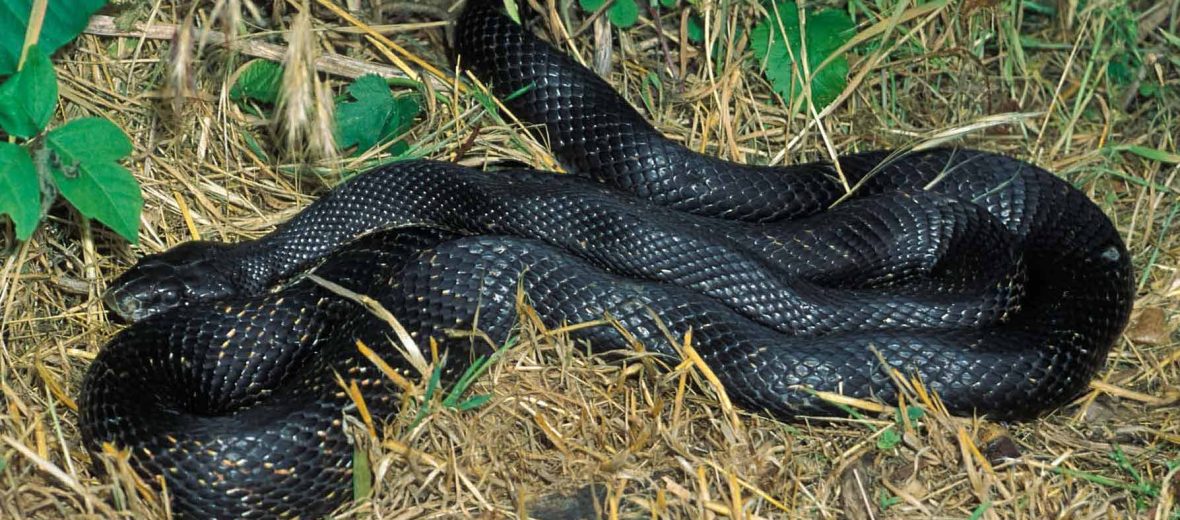 The western rat snake is a large, non-venomous, colubrid (constrictor) that can be found in the central parts of the United States. They reside in hardwood forests and woodlands; wooded areas near streams; rivers & canyons; rocky outcroppings; swamps; farmlands near woods, barns, old fields, and abandoned houses. Due to their stable numbers and wide-spread populations, these snakes are listed as Least Concern by the IUCN.
First the Stats…
Scientific name: Pantherophis obsoletus
Weight: Up to 4.9 lbs.
Length: Up to 6 feet
Lifespan: Up to 15 years
Now on to the Facts!
1.) Some other common names are rat snake, black rat snake, mountain black snake, mountain pilot snake, pilot black snake, black snake, black chicken snake, black coluber, chicken snake, pilot, rusty black snake, scaly black snake, cow snake, Schwartze Schlange, sleepy John, and white-throated racer.
2.) The western rat snake hails from just west of the Mississippi River, from eastern & southern Iowa southward through Missouri, Arkansas over to western Louisiana, west to eastern Texas, north through Oklahoma, and eastern Kansas to southeastern Nebraska.
3.) A group of snakes is called a bed, den, knot, nest, or pit.
4.) These snakes are diurnal (active during the day).
5.) While generally solitary, they can be found, in colder months, brumating (hibernation for reptiles) with the likes of timber rattlesnakes and copperheads. Talk about great protection!
But wait, there's more on the western rat snake!
6.) Generally speaking, these snakes are terrestrial (spend their lives on the ground). But they can also be arboreal (spend their lives in trees) and are capable of scaling large, old-growth trees with ease and without the assistance of branches. Pretty neat, considering they have no limbs.
7.) Rat snakes are also excellent swimmers.
Did you know…?
When fleeing, these snakes can slither at a whopping several feet per second!
8.) As mentioned, rat snakes are non-venomous colubrids (constrictors). When they acquire a prey item, they don't envenomate it. Instead, they coil around the animal and constrict it. This causes profound hypotension. The animal is unable to breath or circulate blood effectively to its organs and dies. The animal is then eaten whole and always head first.
9.) If threatened, they will coil themselves up and rattle the tip of their tail, in a form of mimicry, to seem like a rattlesnake. They may also strike or flee, if further pestered. They also produce a stinky musk (kind of like a liquid fart).
10.) Western rat snakes prey on mice, rats, voles, moles, squirrels, gophers, and birds.
But wait, there's still more on the western rat snake!
11.) These rat snakes breed from May – June.
12.) Males release pheromones while passing through the female's territory to attract a mate.
13.) Females undergo up to a 5 week gestation (pregnancy) that yields up to 20 eggs.
Did you know…?
Foxes, raccoons, owls, and hawks all prey on younger western rat snakes.
14.) Eggs hatch in up to 70 days and the snakelets are born precocial (totally self sufficient).
15.) At birth, the snakelets resemble mini fox snakes.
Now a Short Western Rat Snake Video!
Be sure to share & comment below! Also, check out the Critter Science YouTube channel. Videos added frequently!
Want to suggest a critter for me to write about? Let me know here.
Learn more about all kinds of cool critters, right here!