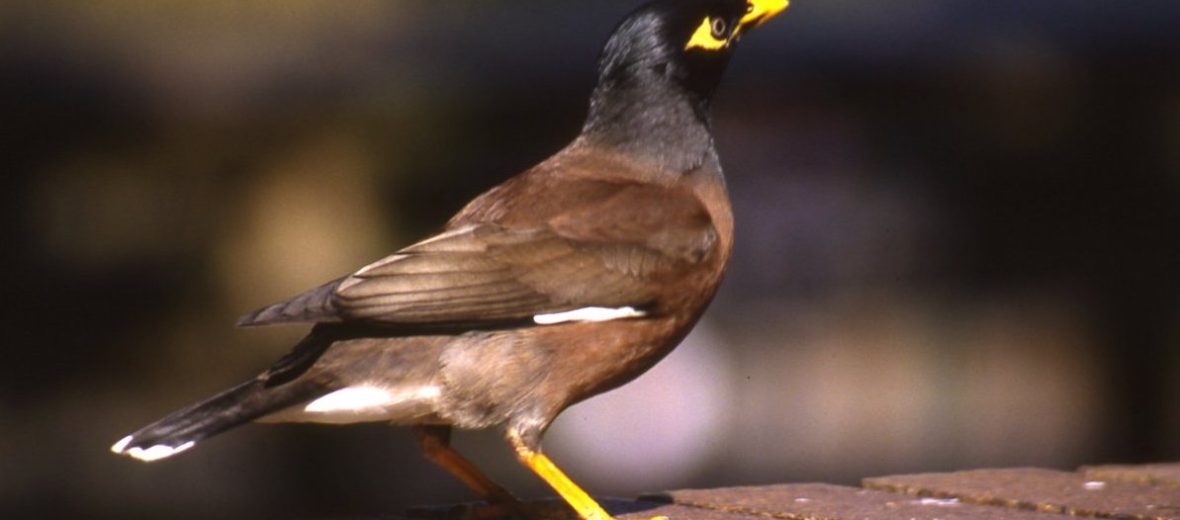 The common myna bird, aka Indian myna, hails from Asia, Africa, Oceania, and North America. They can tolerate a wide range of habitats, as long as they have access to water. These birds inhabit mangroves, grasslands, woodlands, farmlands, orchards, and even urban areas. Due to their stable and increasing numbers, wide distribution and invasive nature, these birds are listed as Least Concern by the IUCN.
First the Stats…
Scientific name: Acridotheres tristis
Weight: Up to 4.9 ounces
Length: Up to 9.1 inches
Wingspan: Up to 18 inches
Lifespan: Up to 12 years
Now on to the Facts!
1.) When on the ground, these birds prefer to walk, rather than hop.
2.) These birds are omnivores (eat plant and animal matter) that consume snails, insects, worms, frogs, eggs, immature birds, various seeds, and fruits. They also scavenge for food in trash.
3.) On farmlands, mynas will often follow plows, as they unearth insects and worms.
4.) Occasionally, they will even remove ticks from cattle.
5.) The common myna is a social bird that roosts communally in flocks of up to several thousand birds.
But wait, there's more on the common myna bird!
6.) These diurnal (active during the day) birds can travel up to 6.2 miles in search of food.
7.) In a behavior that is believed to be part of pair formation, these mynas will perform pre-roosting and post-roosting aerial maneuvers.
Did you know…?
In what is called communal noise, these birds will call in unison before resting for the night.
8.) Common myna birds communicate vocally too, with chirps, clicks, croaks, squawks, whistles, and growls. They can even mimic human speech.
9.) A group of mynas is called a local or statutory.
10.) It is believed that mynas are monogamous (mate for life).
But wait, there's still more on the common myna bird!
11.) Their nests are built using roots, twigs, tow, and trash.
12.) Mynas breed throughout most of the year, based on their locale.
Did you know…?
These birds are increasing their territories so rapidly, that in 2000 they were declared to be 1 of the worlds top 100 most invasive bird species. That list contains birds like starlings, pigeons, and sparrows; to name a few.
13.) Females lay up to 6 eggs that hatch in up to 18 days.
14.) Fruit farmers are not big fans of mynas, as they tend to cause a lot of damage to fruit by piercing the skin to get at the tasty insides. This costs the farmers untold amounts of money due to crop damage.
15.) Common myna birds are considered a pest species in many countries and are even termed "flying rats" and "cane toads of the sky".
16.) The common myna bird is sometimes kept as a pet, due to their singing and speaking abilities.
Now a Short Common Myna Bird Video!
Be sure to share & comment below! Also, check out the Critter Science YouTube channel. Videos added frequently!
Want to suggest a critter for me to write about? Let me know here.
Learn more about all kinds of cool critters, right here!