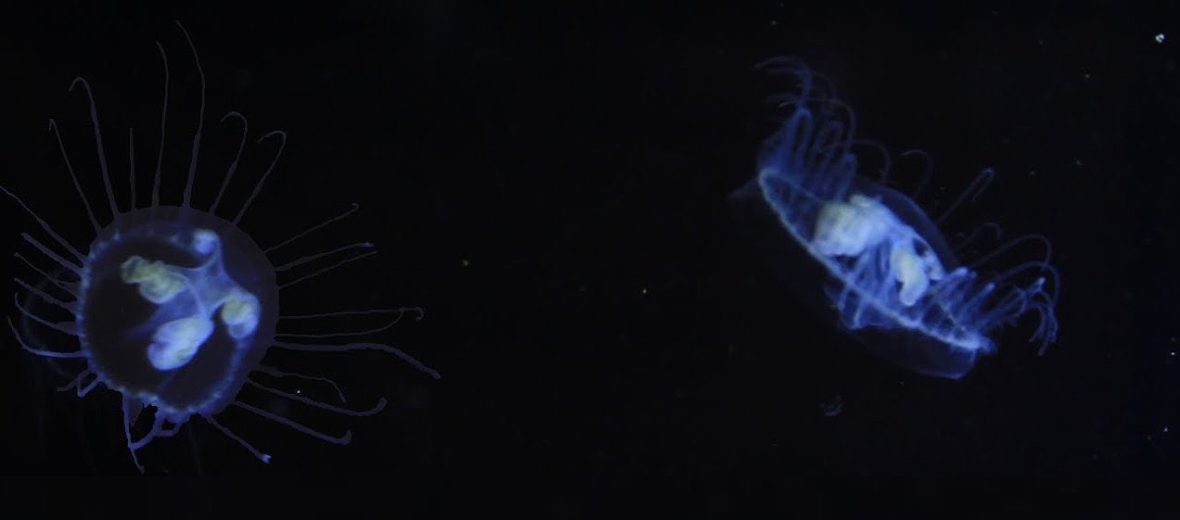 The freshwater jellyfish, aka peach blossom jellyfish, originally hails from the Yangtze River valley in China. However, is has been introduced to every continent, sans Antarctica. They prefer calm, freshwater reservoirs, lakes, impoundments, gravel pits, quarries, and slow-moving backwaters of river systems. These jellyfish are not currently evaluated by the IUCN. But their wide spread distribution and invasive nature indicates their populations aren't decreasing any time soon.
First the Stats…
Scientific name: Craspedacusta sowerbyi
Weight: Up to .18 ounce
Length: Up to 1 inch, plus up to 2 inch tentacles
Lifespan: Unknown
Now on to the Facts!
1.) These, like other jellyfish, are able to reproduce both sexually and asexually.
2.) Freshwater jellies prey on zooplankton including: copepods and daphnia.
3.) They catch prey by drifting with their tentacles extended. They wait for suitable prey to touch a tentacle. Once contact has been established, stinging nematocysts on the tentacle fire into the prey, injecting venom which paralyzes the creature. Then the tentacle coils around the prey. The tentacle, with the prey, is then brought into the mouth, where it's released and digested.
4.) They start life out as a polyp, which lives in colonies attached to underwater rocks, vegetation, or tree stumps.
5.) These polyps feed and then asexually reproduce in spring and summer.
But wait, there's more on the freshwater jellyfish!
6.) Some of the offspring are sexually reproducing medusae (adults).
7.) Fertilized eggs will develop into small ciliated larvae called planulae. The planulae settle to the bottom of the body of water and develop into polyps, to start the process over again.
Did you know…?
Humans are not at much risk of envenomation by a freshwater jelly, as their stinging nematocysts are very small and not likely to penetrate human skin.
8.) Most of the populations of freshwater jellyfish in the United States are either all male or all female. So these reproduce asexually.
9.) During colder months, the polyps will contract and enter into a type of dormancy as resting bodies called podocysts. It is thought that podocysts are sometimes transported by aquatic animals, plants, and even watercraft to other bodies of water. Once conditions become favorable, they develop into polyps again.
10.) Crayfish are the only known natural Predator of freshwater jellyfish.
Now a Short Freshwater Jellyfish Video!
Be sure to share & comment below! Also, check out the Critter Science YouTube channel. Videos added frequently!
Want to suggest a critter for me to write about? Let me know here.
Learn more about all kinds of cool critters, right here!