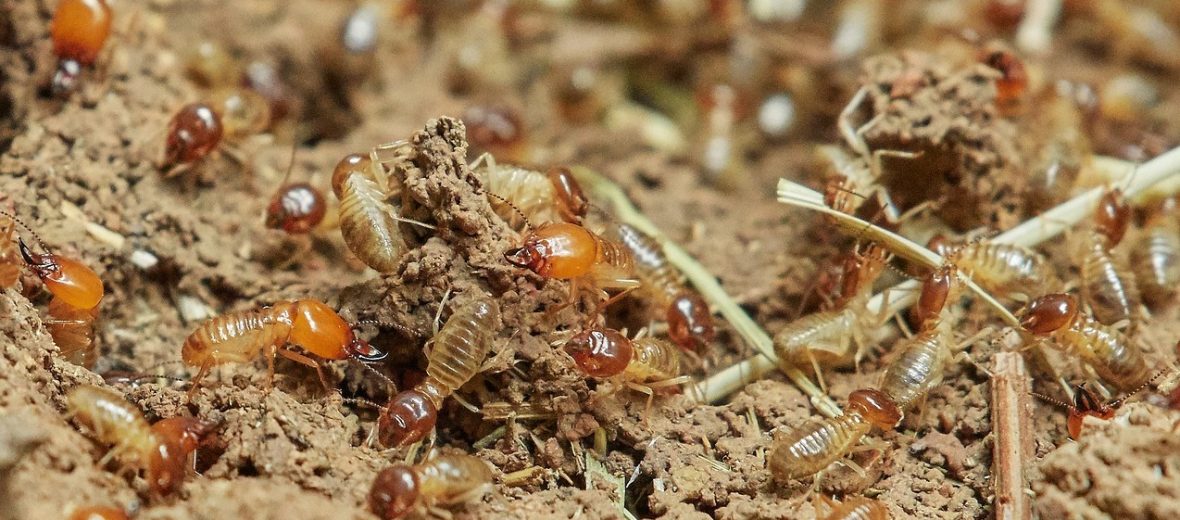 Yes, it's the termite. The bane of every homeowner in the world. Termites are found on every continent, sans Antarctica. They prefer coniferous forests, hardwood forests, subterranean habitats, and your home. These critters are numerous and hungry. They're also fascinating. Due to their overall numbers and potentially invasive habits, all termites are considered Data Deficient or Least Concern by the IUCN.
First the Stats…
Scientific name: Isoptera
Weight: Up to 0.001+ ounce
Length: Up to 4 inches
Lifespan: Up to 2 years, with queens living up to 10+ years
Now on to the Facts!
1.) Initially thought of as a type of ant. These critters are actually a social insect from the same family as the cockroach.
2.) Most soldier and worker termites lack eyes and thus are completely blind.
3.) Termites have been around for approximately 250 million years.
4.) Wood isn't the only thing on the menu. Fabrics, plastic, and even wallpaper are also consumed with great vigor by some species.
5.) Even though termites and ants comprise less than 1% of the insect species, they represent more than 50% of the total insect biomass!
But wait, there's more on the termite!
6.) As they consume wood, and other products, termites release up to 150 million tons of methane gas into the atmosphere every year!
7.) Their mounds can be as small as 12 inches across to over 42 feet high.
Did you know…?
Panamanian termites can snap their mandibles shut at up to 157 mph!
8.) They can hold as many as 1,400 species of bacteria in their hindgut.
9.) When a threat is perceived, the soldiers will bang their heads against the mound wall to alert the others of impending danger.
10.) In certain parts of the world, people eat them dipped in alcohol and some eat them live.
But wait, there's still more on the termite!
11.) Certain Amazonian tribes will breathe in the smoke of burning mounds to rid themselves of the flu.
12.) Of the 2,800 described species, only 28 are known to have houses on the menu.
Did you know…?
For every 1 human, there are an estimated 1,000 termites.
13.) Their mounds act as sort of lungs that respirate heat in and out of the nest in an effort to control the ambient temperature.
14.) Queens feed their young pheromone-laced feces (poop). The type of pheromone the queen excretes determines the role of that particular individual.
15.) Queens lay an egg every 15 seconds and can produce up to 40,000 eggs per day. That equates to around 292,000,000 eggs in a single queen's lifetime.
But wait, there's still a little more on the termite!
16.) The king and queen both have functional eyes and wings.
17.) Once a new colony is established, the king and queen will shed their wings and reproduce.
18.) King termites only live for up to 4 years.
19.) If you gathered all the world's termites together, they would weigh a collective 445 million tons. If you combined all the world's humans together we would collectively weigh in at approximately 350 million tons.
20.) Termites are unable to digest cellulose and extract nutrition from the wood they eat, on their own. Instead, they rely on the help of 1-celled protozoa and bacteria that live in their digestive tracts. The microorganisms in their guts break the cellulose down into simple sugars that keep their host alive.
21.) Predators of termites include: ants (their primary Predator), centipedes, cockroaches, crickets, dragonflies, scorpions, spiders, assassin bugs, reptiles, amphibians, and some mammals.
Now a Short Termite Video!
Be sure to share & comment below! Also, check out the Critter Science YouTube channel. Videos added frequently!
Want to suggest a critter for me to write about? Let me know here.
Learn more about all kinds of cool critters, right here!