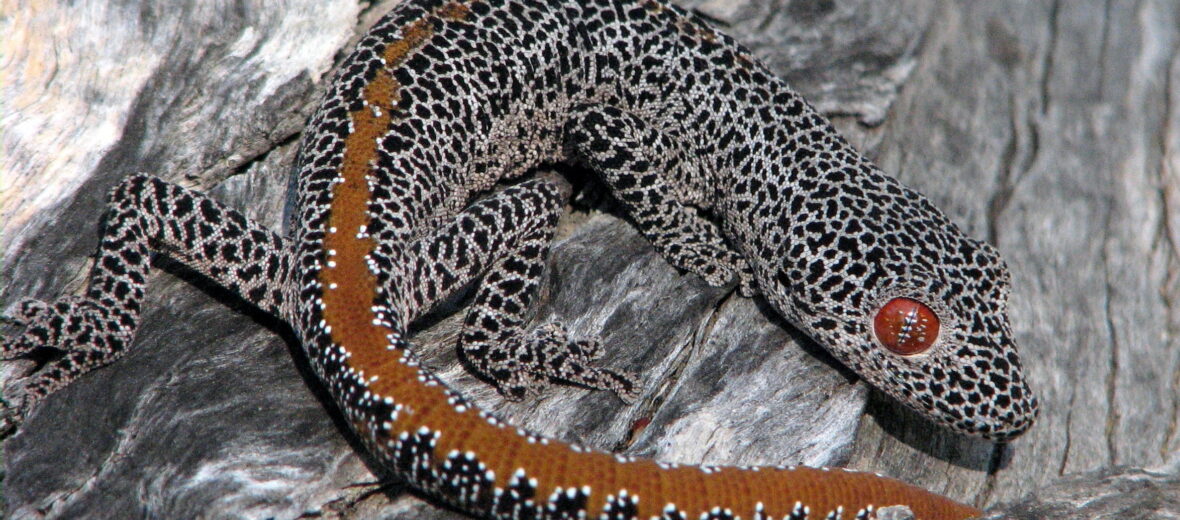 The golden-tailed gecko, aka the golden spiny-tailed gecko, is endemic to the Brigalow Belt of South-eastern Queensland. There are 3 subspecies recognized, to date: Strophurus taenicauda albiocularis, Strophurus taenicauda triaureus, and Strophurus taenicauda taenicauda. They can be found in open, dry forests and woodland, especially those with brigalow, cypress, ironbark, & ribbon gum trees. These cool geckos are listed as Least Concern by the IUCN. However, their numbers are decreasing, due to habitat loss, climate change, and invasive species. These geckos aren't just cool looking, they have a secret weapon. This article is on special request from Nick.
First the Stats…
Scientific name: Strophurus taenicauda
Weight: Up to .24 ounce
Length: Up to 5.1 inches
Lifespan: Up to 8 years
Now on to the Facts!
1.) Golden-tailed geckos are nocturnal (active at night), like most geckos.
2.) This species is also arboreal (spend their lives in trees).
3.) They are preyed on by larger lizards, cats, dogs, and birds.
4.) Like many geckos, they lack claws, but possess flaps of skin on their toes called lemellae. In between the flaps of skin are tiny hairs that utilize the principle of Van der Waals force to adhere to surfaces.
5.) Van der Waals force is where the tiny hairs on their toes (called setae) come into contact with various surfaces. Each seta splits off into hundreds of even smaller bristles called spatulae. A physical bond happens when electrons from the gecko hair molecules and electrons from the surface molecules interact with each other and thus create an electromagnetic attraction.
But wait, there's more on the golden-tailed gecko!
6.) Just like other geckos, they lack eyelids and instead have a special clear eye plate that protects their eyes from harm.
7.) Females are oviparous (lay eggs). The female will lay 2 eggs each clutch.
Did you know…?
When threatened, these geckos have a unique ability to squirt a sticky and foul smelling liquid straight at their Predator. This is shot from their tail and smells like crushed legume seeds. It is also an eye irritant.
8.) Eggs hatch in approximately 60 days.
9.) Juvenile golden-tailed geckos are born totally self sufficient and receive no parental care or assistance.
10.) Due to a lack of eyelids, these critters have the ability to lick their eyeballs with their tongue! Step aside, Gene Simmons.
Now a Short Golden-Tailed Gecko Video!
Be sure to share & comment below! Also, check out the Critter Science YouTube channel. Videos added frequently!
Want to suggest a critter for me to write about? Let me know here.
Learn more about all kinds of cool critters, right here!