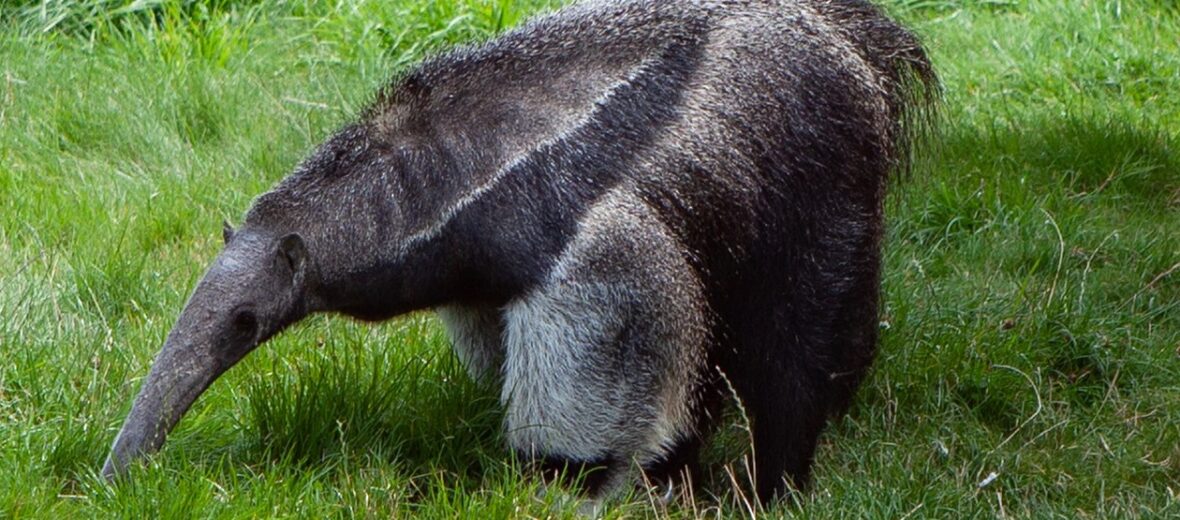 One of the more bizarre mammals, and there are a few, is the anteater. They can range in size from a squirrel, to up to 7′ long! There are 4 species of anteater: the giant anteater, silky, northern tamandua and southern tamandua. The giant anteater is listed as Vulnerable but the other 3 are listed as Least Concern by the IUCN.
First the stats…
Scientific name: Vermilingua
Weight: Up to 90 lbs.
Length: Up to 7.1 feet
Lifespan: Up to 15 years
Now the facts…
1.) Did you know that anteaters are actually edentate (toothless) animals? Imagine that, a toothless Carnivorous mammal!
2.) Their narrow tongues can be up to 2 feet long. These impressive tongues are covered in small spines and sticky saliva, which allows them to catch ants and termites with ease.
3.) These critters can eat up to 35,000 insects in a day. What's really impressive is they do this without being bitten. Their secret is to eat really fast by flicking their tongue at the insects up to 160 times a minute and only spend a short while at each feeding spot.
4.) Anteaters catch both ants and termites through the holes that can be found on the top of anthills. Through life experience, they figure out not to destroy these mounds/holes so that they can continually get a food source.
5.) Mothers carry their baby on their back. This helps to camouflage the baby and also make the mom look bigger. Moms usually have 1 baby each year.
But wait, there's more on the anteater!
6.) The paws of all four species are tipped with enormous, blade-like claws so long and sharp that the anteaters have to walk on their knuckles or wrists to avoid stabbing themselves. Kinda like Wolverine's claws.
7.) Their long thick fur also protects the anteaters from stings and bites from insects while they hunt for their food.
Did you know…?
The arboreal (spends most or all of its life in the trees) silky anteater has a prehensile tail to help it live it's life up in the trees?
8.) Some anteaters will climb trees to get food and some even eat fallen fruit.
9.) Anteaters are not social…at all! They have been observed swiping at each other and generally ignoring each other, even during the mating process.
10.) As a defense, the anteater will rear back on its hind legs, use its tail for balance, and come out swinging with fists of fury! Giant anteaters have been responsible for at 3 recorded human deaths, and all 3 anteaters had been cornered. Note to self…
But wait, there's still more on the anteater!
11.) They are surprisingly good swimmers and use their long snouts like snorkels!
12.) When thought to be in danger, the tamandua starts hissing and drops a skunk-like bomb from a special gland under its tail. Assault by air biscuit!
13.) All 4 types of anteater are mainly nocturnal (active at night), but the giant anteater can also be diurnal (active during the day). Anteaters sleep for up to 15 hours a day and spent the rest of their time eating.
14.) Anteaters hunt by smell, not sight, as their eyesight is generally poor.
15.) Only pumas and jaguars prey on anteaters.
Now a short video
Also, check out the Critter Science YouTube channel. Videos added frequently!
Want to suggest a critter for me to write about? Let me know here.
Learn more about all kinds of cool critters, right here!