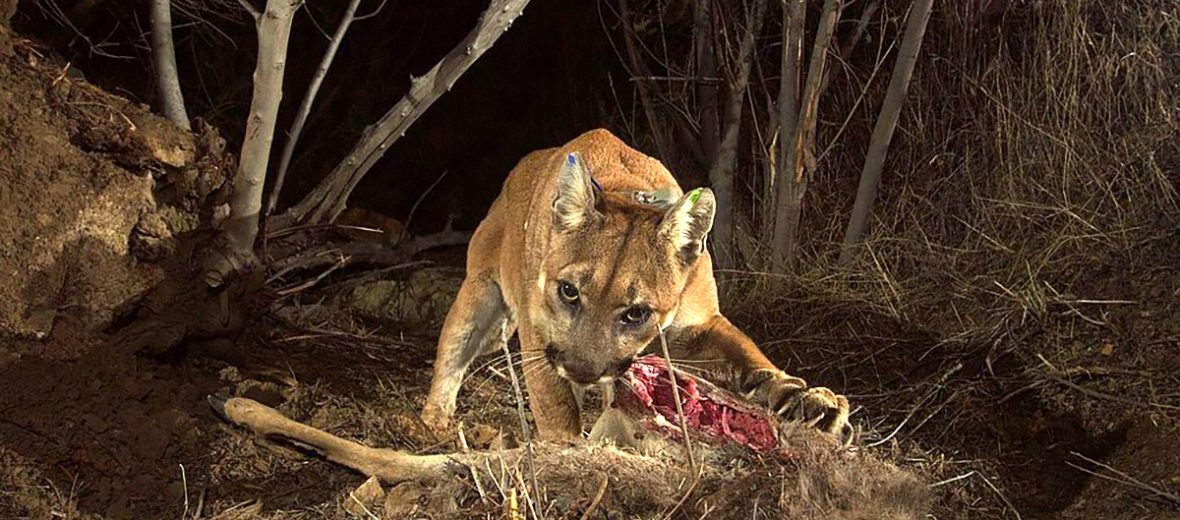 The mountain lion is also known as the panther, cougar, puma, catamount, and gato monte (cat of the mountain), to name just a few. These critters have so many names because of their huge demographic. They live from Canada, down to Argentina. Pumas living in warm or humid climates are usually a dark, reddish-brown color, and those found in colder climates have thicker, longer hair that is silver-gray in color.
First the Stats…
Scientific name: Puma concolor
Weight: Up to 220 lbs.
Height: Up to 3 feet, at the shoulder
Length: Up to 5 feet long, plus their 3 foot long tail
Lifespan: Up to 20 years
Now on to the Facts!
1.) Cougars are typically nocturnal (active at night) hunters, but are also sometimes crepuscular (active at dawn and dusk).
2.) These solitary hunters cover a lot of ground with hunting territories ranging from up to 30 square miles, for females, and up to 100 square miles for males!
3.) Mountain lions are considered hypercarnivores (). They prey primarily on mule deer, white-tailed deer, elk, moose, mountain goats, and bighorn sheep. However, they will also take smaller prey as well.
4.) They can run up to 43 MPH! So, if you come across one, don't bother trying to outrun it.
5.) The typical sounds they make are squeaks, whistles, growls, yowls, purrs, and hisses. They also occasionally make their famous roar (listen below).
But wait, there's more on the mountain lion!
6.) The eastern puma population was considered to be mostly extinct in eastern North America from around the beginning of the 20th century.
7.) The name cougar hails from the Portuguese çuçuarana. This name was originally taken from the Tupi language.
8.) The mountain lion is most closely related to the cheetah (of Africa) and the jaguarundi (of Central America).
Did you know…?
These critters hold the Guinness record for the animal with the greatest number of names, with over 40 English variations alone!
9.) These cats migrated across the Bering land bridge into the Americas approximately 8.5 million years ago.
10.) The cougar has the biggest range of any wild land animal in all of the Americas, from the Yukon Territory in Canada all the way down to the southern Andes in Chile. Cougars can be found in 21 of 23 countries, in the Americas!
But wait, there's still more on the mountain lion!
11.) Cougars are apex predators. Sans humans, no other creature preys on adult mountain lions.
12.) Like almost all other cats, cougars are solitary, only coming together to breed.
13.) Females undergo up to a 103 day gestation (pregnancy) that yields up to 6 cubs.
14.) The female is responsible for raising her cubs. They will stay with mom for up to 2 years before departing.
Now a Short Mountain Lion Video!
Now Hear Their Telltale Roar!
Also, check out the Critter Science YouTube channel. Videos added frequently!
Want to suggest a critter for me to write about? Let me know here.
Learn more about all kinds of cool critters, right here!