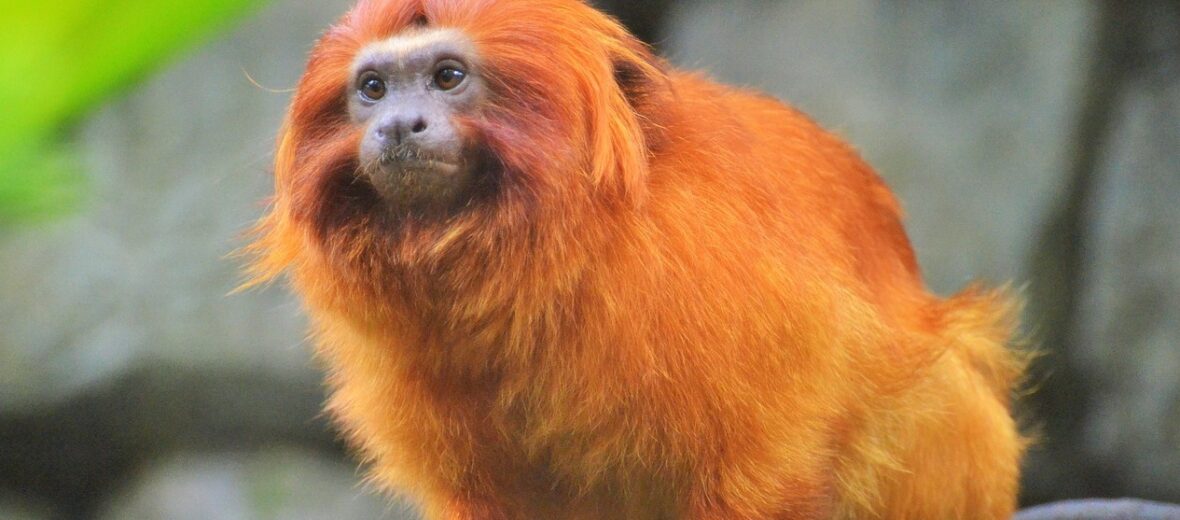 The golden lion tamarin lives in rainforests on the Atlantic coast of Brazil. Touted as 1 of the most beautiful of the 4 known species of lion tamarins, lion tamarins take their name from their gorgeous manes. Their thick rings of hair look like the manes of Africa's male lion. Unfortunately, 90% of their habitat has been destroyed as a result of deforestation and increased agricultural land needs. There are currently only 3,200 known golden lion tamarins remaining in the wild. They are listed as Endangered by the IUCN.
First the Stats…
Scientific name: Leontopithecus rosalia
Weight: Up to 1.4+ lbs.
Length: Up to 10 inches, plus up to a 15 inch long tail
Lifespan: Up to 14 years
Now on to the Facts!
1.) These primates are Arboreal (spend their lives in trees).
2.) There are 4 known species of lion tamarins: golden, golden-headed, black, and superagüi.
3.) Zoos have been captive breeding these tamarins since the 1960s. Over 400 of these critters have been reintroduced into Brazil since the mid 1980s!
4.) Lion tamarins are Omnivores eating a variety of fruits, insects, and small lizards.
5.) Golden lion tamarins (GLTs) live in groups of 2 – 9 individuals, usually containing a male and female of breeding age, plus several younger monkeys. Zoos usually house them in family groups.
But wait, there's more on the golden lion tamarin!
6.) GLTs share their meals with others in their troop. They'll let others steal from them (called passive sharing) and they will offer food to other members (called active sharing).
7.) They are predominantly monogamous (mate for life).
Did you know…?
Sadly about 40% of wild golden lion tamarins die before their first birthday!
8.) The primary predators are large snakes, birds of prey, and cats.
9.) These tamarins can be territorial and defend their territory with vocalized threats and scent marking. Signs of aggression include an open mouth (gaping), an arched back, and staring down their aggressor.
10.) After a 4.5 month Gestation (pregnancy), the mother gives birth to twins. These twins are weened by 3 months of age.
Now a Short Golden Lion Tamarin Video!
Also, check out the Critter Science YouTube channel. Videos added frequently!
Want to suggest a critter for me to write about? Let me know here.
Learn more about all kinds of cool critters, right here!