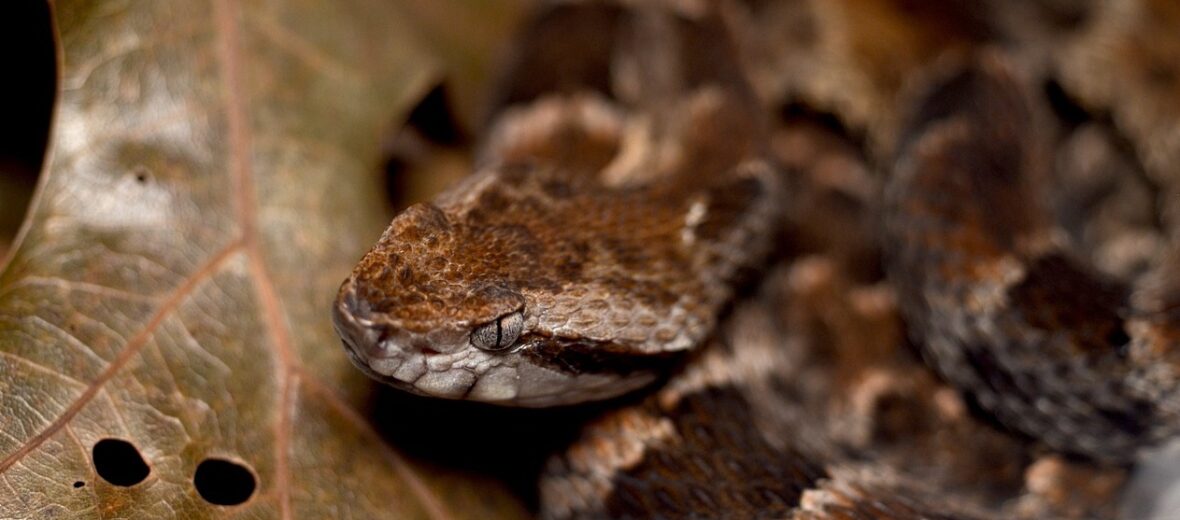 The fer-de-lance is a highly venomous pit viper species that resides from southern Mexico to northern South America. They inhabit pine and broadleaf forests, often looking for refuge in crevices, underneath rocks, and among patches of leaves and wooded debris. They are responsible for the highest number of snake bite deaths in Belize. Males can be aggressive, and wont hesitate to strike when they are cornered or feel threatened. However, they usually prefer to flee when approached.
First the Stats…
Scientific name: Bothrops asper
Weight: Up to 10+ lbs.
Length: Up to 6 feet
Lifespan: Up to 20 years
Now on to the Facts!
1.) "Fer-de-lance" is a French term for "spearhead".
2.) This snake can inject approximately 260 mg of venom per bite! It has been suggested that some bites have yielded up to 800mg!
3.) The fer-de-lance is often preyed upon by other snakes, like the coral snake and the blacktail indigo. It's also a favored prey item of birds of prey like falcons and eagles.
4.) Some other names for this snake are barba amarilla "yellow beard" in Guatemala and Honduras, terciopelo (velvet in Spanish), taya equis in Colombia, equis in Ecuador and Panama and nauyaca in Mexico, & cuaima in Venezuela. Probably the strangest name is "yellow-jawed tommygoff" or sometimes simply "Yellowjaw" or "Tommy Goff" used in Belize.
5.) Like some other vipers, their venom contains an anticoagulant and causes hemorrhaging. This is called hemotoxic venom.
But wait, there's more on the fer-de-lance!
6.) Due to their bad attitude and venom yield, they are considered one of the most dangerous snakes in Central and South America.
7.) They are primarily nocturnal (active at night), but have been spotted hunting during dawn and dusk (crepuscular).
Did you know…?
A single dose of their venom contains enough toxins to kill up to 30 people!
8.) Bite symptoms include: local pain, severe swelling (at the bite point), nausea, numbness, bruising, vomiting, blistering, and tissue necrosis (tissue death).
9.) Juvenile snakes feed primarily on small lizards or large insects. Adults feed on mammals, reptiles, amphibians, and sometimes other snakes.
10.) This species of viper is sexually dimorphic. The females are substantially larger than males.
Now a Short Fer-de-Lance Video!
Also, check out the Critter Science YouTube channel. Videos added frequently!
Want to suggest a critter for me to write about? Let me know here.
Learn more about all kinds of cool critters, right here!