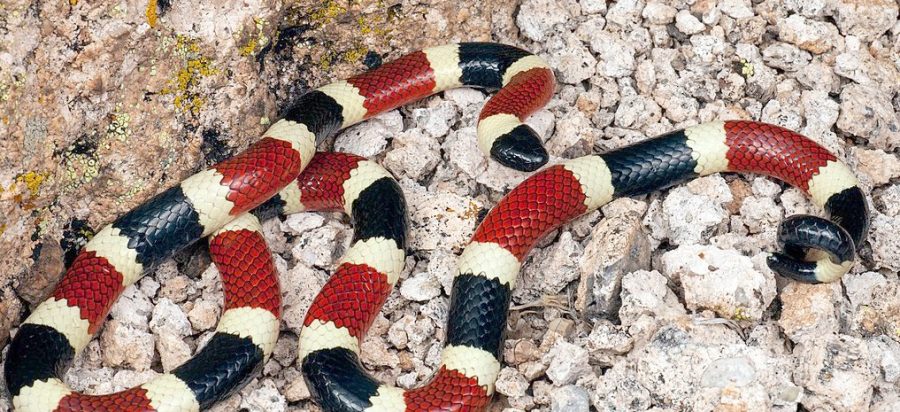 Having the second most potent venom of any snake, the coral snake is not only beautiful but deadly! These beauties can be found in the southwest, southern, and southeastern United States, as well as Mexico. These venomous snakes would much rather slither away than confront a predator. They will stand their ground though, if given no other option to escape. These critters are highly venomous, but no deaths have been recorded in recent years.
First the Stats…
Scientific name: Micruroides euryxanthus
Weight: Up to 16 ounces
Length: Up to 24 inches
Lifespan: Up to 7 years
Now on to the Facts!
1.) These snakes are primarily nocturnal (active at night) but can also be crepuscular (active at dawn and dusk).
2.) Coral snakes brumate (hibernation for reptiles) during fall and winter.
3.) They prey on amphibians and reptiles primarily.
4.) Their predators are typically nocturnal animals like owls, badgers, and raccoons.
5.) Their heads and tails are typically black. This helps to cause confusion for predators. As they aren't sure which is the business end.
But wait, there's more on the Sonoran coral snake!
6.) The coral snake's venom is a highly potent neurotoxin.
7.) Production of antivenom has been stopped since 2010! So, basically, don't get bitten. Leave them alone and they'll leave you alone.
Did you know…?
When threatened, coral snakes will sometimes make a popping sound by pushing air from their cloaca (a single opening for the urinary, reproductive and intestinal tract) to startle the attacker. Yep, these snakes fart when threatened.
8.) One, not so accurate method of telling if you've encountered a coral snake is the saying "red touches black, friend of Jack. Red touches yellow, kill a fellow." However, this rhyme doesn't take into consideration that not all coral snakes have that coloration. Again… not the best way to tell if a snake is venomous. The best approach is not to approach. Appreciate it from a far. Take a picture or 2 and leave it alone.
9.) One myth states that they are rear fang venomous and have to bite and gnaw on you till they work the bite to the back of their mouth, where the fangs are. Not true.
10.) Another myth is that they have to bite you on the webbing of your fingers in order to inject venom. Also not true. They can get you on the finger or hand, just as well and then you'll wish you hadn't messed with them.
Now a Short Sonoran Coral Snake Video!
Also, check out the Critter Science YouTube channel. Videos added frequently!
Want to suggest a critter for me to write about? Let me know here.
Learn more about all kinds of cool critters, right here!
Photo credit: David Jahn