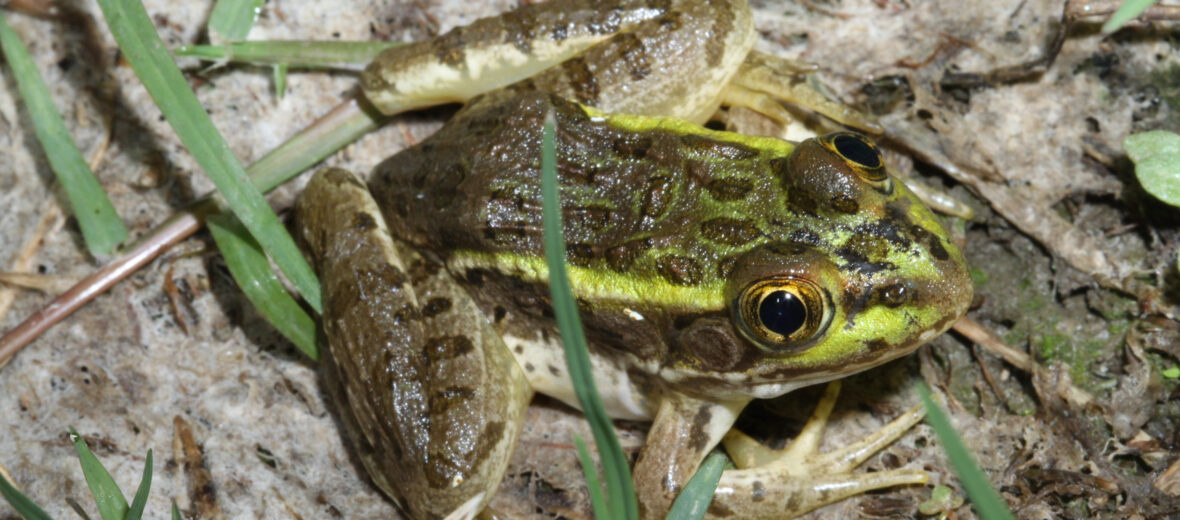 Once upon a time the Chiricahua leopard frog was found in over 400 water locations in the Southwestern U.S. Now the frog can be seen, if you're lucky, at less than 80! In Arizona, the Chiricahua's populations have dwindled more than any other leopard frog species. These frogs need a permanent water source for reproduction. These water sources are becoming increasingly hard to find. This is thanks to humans and and their converting these water sources for groundwater pumping, livestock grazing, water diversion, and dams. That's not all they face. Their adversity comes in many forms. Things like bullfrogs, fish, and crayfish eat the frogs and their eggs. Increasing pesticide use, ultraviolet radiation, climate change and the deadly chytrid fungus Batrachochytrium dendrobatidis and Batrachochytrium salamandrivorans. Needless to say they have a really tough time surviving.
First the Stats…
Scientific name: Lithobates chiricahuensis
Weight: Up to 5 ounces
Length: Up to 4.3 inches
Lifespan: Up to 18 years
Now on to the Facts!
1.) A petition was submitted to list this species as federally endangered in 1998. It took 2 lawsuits until the U.S. Fish & Wildlife Service listed the frog as Threatened in 2002.
2.) Tadpoles eat a mainly Herbivorous (eat plant matter) diet, small diatoms, bacteria, and other small foods.
3.) Adults consume aquatic (water) and Terrestrial (land) invertebrates, small fish, frogs, & toads.
4.) Their main predators are bullfrogs, birds, raccoons, other mammals, and snakes.
5.) Critical habitat has been designated for over 10,000 acres in Cochise, Apache, Gila, Graham, Pima, Greenlee, Santa Cruz, and Yavapai counties in Arizona; and Grant, Catron, Hidalgo, Sierra, and Socorro counties in New Mexico.
But wait, there's more on the Chiricahua leopard frog!
6.) The deadly chytrid fungus can be spread by bullfrogs moving between waters (who seem to be unaffected by the fungi), by equipment that unknowingly transports infected water between aquatic sites, or by vehicles moving between sites with mud or plant matter from infected sites on the vehicles.
7.) These frogs are listed as Vulnerable by the IUCN.
Did you know…?
The Phoenix Zoo, Arizona's Department of Game & Fish, and the USFWS are trying to eliminate threats through captive breeding and reintroduction efforts.
8.) They breed from spring through summer.
Now a Short Chiricahua Leopard Frog Video!
Also, check out the Critter Science YouTube channel. Videos added frequently!
Want to suggest a critter for me to write about? Let me know here.
Learn more about all kinds of cool critters, right here!