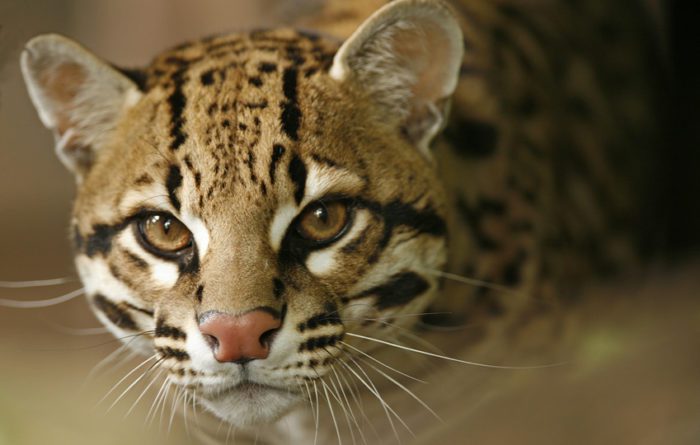 The ocelot is a secretive, beautiful cat that roams the night in search of food and the occasional mate. Like many other cats, the ocelot is solitary and is only ever found with another cat during mating, or when the female is caring for her young. Read more about these amazing felines.
First the Stats…
Scientific name: Leopardus pardalis
Weight: 18 – 44 lbs
Length: Up to 3.3 feet
Lifespan: 10 – 13 years (in the wild) | 20 (in captivity)
Now on to the Facts!
1.) The ocelot has 2 types of teeth: pointed teeth for biting and blade-like teeth for tearing. They don't chew there food, preferring to swallow it whole.
2.) An ocelot's tongue is very rough and is used to remove meat from the bones of their prey.
3.) They primarily eat monkeys, rodents, tortoises, rabbits, armadillos, birds, lizards, snakes, and even fish!
4.) Ocelots are Nocturnal (awake during the night) and thus have excellent night vision, as well as exceptional hearing.
5.) The ocelot is not afraid of water and are, in fact, very good swimmers.
But wait, there's more on the ocelot!
6.) Due to their size, ocelots are prey to larger cats, anacondas, and eagles.
7.) Ocelots are not only solitary but they are territorial. They tend to patrol an area of 20 – 30 square miles.
Did you know…?
Ocelots travel up to 7 miles a night, searching for food!
8.) Ocelots make a loud "yowl" sound that signals desire to mate.
9.) Females have one litter every other year. Pregnancy lasts 85 days and results in 2 to 3 kittens.
10.) Kittens are born blind and with dark fur. They become independent within a year.
11.) What do you call an ocelot kitten? An ocelittle. Dad joke.
Now a Short Ocelot Video!