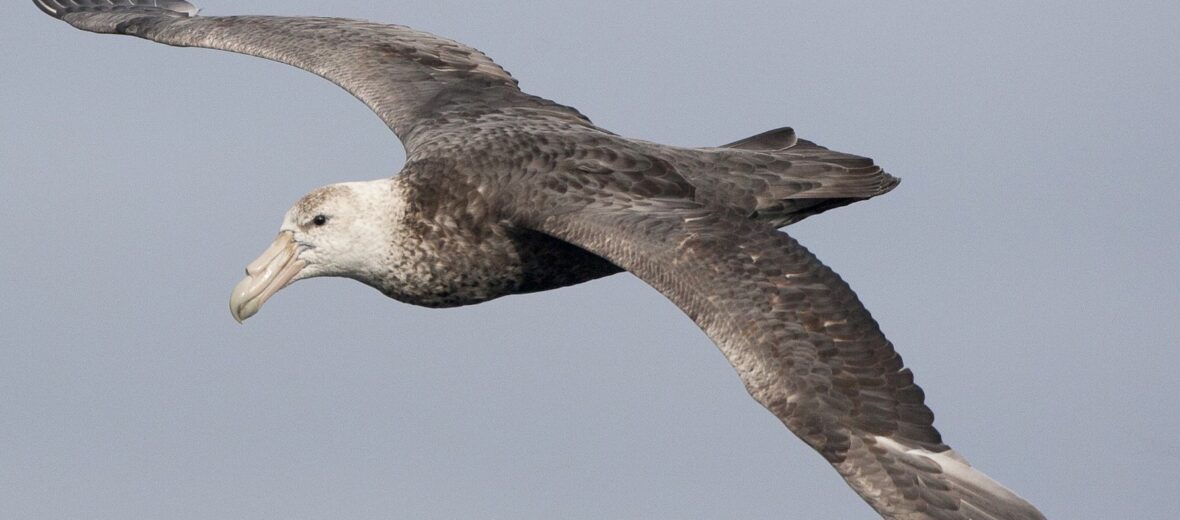 The giant petrel is a sea bird that hails from Antarctica up into the subtropical areas of South America, Australia, and Africa. They may look a little like an albatross but when they fly, they have a slight hunchback. Giant petrels are a perfect example of an opportunistic feeder. They will eat just about anything they can get a hold of. They will feed on land and out at sea. Due to their numbers and distribution, both the northern and southern giant petrels are listed as Least Concern by the IUCN.
First the Stats…
Scientific name: Macronectes
Weight: Up to 9.3 lbs.
Length: Up to 37 inches
Wingspan: Up to 83 inches
Lifespan: Up to 30 years
Now on to the Facts!
1.) They go by several names like Hall's giant petrel, sea vulture, Antarctic giant petrel, giant fulmar, stinker, stinkpot, and gluttons.
2.) These large sea birds are notorious for attacking other birds. They either beat them to death or drown them. Depending upon whether they're on land or sea.
3.) Aside from being kind of the aggressive bullies of the sea bird world, petrels also feed on fish, squid, krill, crustaceans, and carrion (dead animals).
4.) Southern petrels are a little larger than the northern ones.
5.) These birds are diurnal (active during the day).
But wait, there's more on the giant petrel!
6.) Giant petrels are typically solitary coming together to breed and if there is a large amount of food to be had. When brought together via food, they can become very aggressive towards one another over food disputes.
7.) They may be solitary, but when they find a mate they are monogamous (mate for life) and will remain with their partner till one dies.
Did you know…?
The word "petrel" refers to St. Peter and the story of him walking on water. This is in reference to the way they take off while in water. It looks as though they are walking on water.
8.) Females lay a single white egg that is incubated for up to 66 days.
9.) They get their name "stinkers" from their habit of vomiting on anyone who gets near them.
10.) Southern giant petrels get the name "fulmar", which hails from "full" a Norse word meaning "foul", and "mar", which means "gull". Foul from their ability to spit vomit on predators and gull, due to their resemblance to seagulls.
But wait, there's still more on the giant petrel!
11.) Giant petrels have a special salt gland above the nasal passage which helps to remove salt from their blood. They get a large amount of salt in their systems from eating their sea diet.
12.) Adults of both the northern and southern petrels can be differentiated by the color of their bill-tip: reddish on the northern petrels & greenish on the southern petrels.
13.) The name Macronectes comes from Greek words makros, meaning "long" and nēktēs, meaning "swimmer".
14.) They get the name glutton due to the fact that they will eat till they are so full, they can't take off. Their solution to this problem is to regurgitate some of their food in order to be able to fly away.
Now a Short Giant Petrel Video!
Also, check out the Critter Science YouTube channel. Videos added frequently!
Want to suggest a critter for me to write about? Let me know here.
Learn more about all kinds of cool critters, right here!