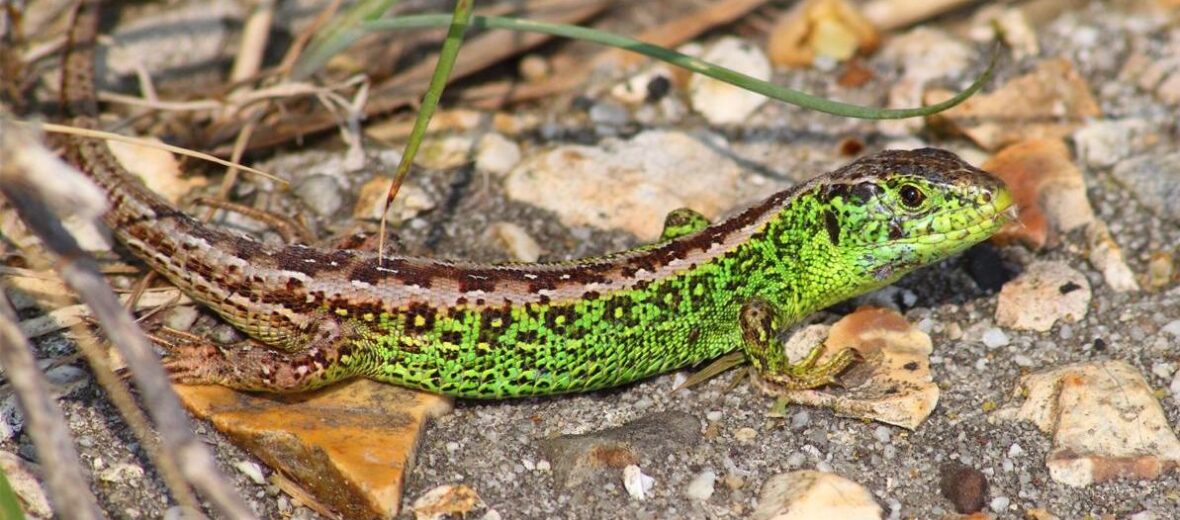 The sand lizard can be found throughout Europe and Asia. They prefer sandy heathlands and sand dunes in coastal regions. These multicolored critters are considered 1 of the United Kingdom's rarest reptiles. This is due to habitat destruction and degradation. However, due to their overall numbers in Asia, they are listed as Least Concern by the IUCN.
First the Stats…
Scientific name: Lacerta agilis
Weight: Up to .5 ounces
Length: Up to 7.9 inches
Lifespan: Up to 12 years
Now on to the Facts!
1.) Like many other lizards, send lizards can undergo caudal autonomy. This is where they drop their tail to distract a predator. The tail grows back, but lacks the same coloration of the original.
2.) These lizards can dig burrows up to 3 feet deep, but they have a small opening.
3.) They are diurnal (active during the day).
4.) Being predominantly carnivorous (eat meat), they eat insects and arachnids. However, they will occasionally eat fruit and flowers. Technically making them omnivores (eat both plant and animal matter).
5.) Their primary predators are dogs, cats, foxes, birds of prey, mustelids, badgers, and snakes.
But wait, there's more on the sand lizard!
6.) In the winter, they will brumate (hibernation for reptiles).
7.) Mating season takes place from April – May.
Did you know…?
Their tail can measure up 130 – 170% of the lizard's body.
8.) During the mating season, males will fight for breeding rights with females.
9.) When a female mates with 2 or more males, sperm competition within the female's reproductive tract can happen. This is where the female will selectively pick the male's sperm from a more distant location to help prevent inbreeding.
10.) Females lay up to 14 eggs each breeding season.
Now a Short Sand Lizard Video!
Also, check out the Critter Science YouTube channel. Videos added frequently!
Want to suggest a critter for me to write about? Let me know here.
Learn more about all kinds of cool critters, right here!