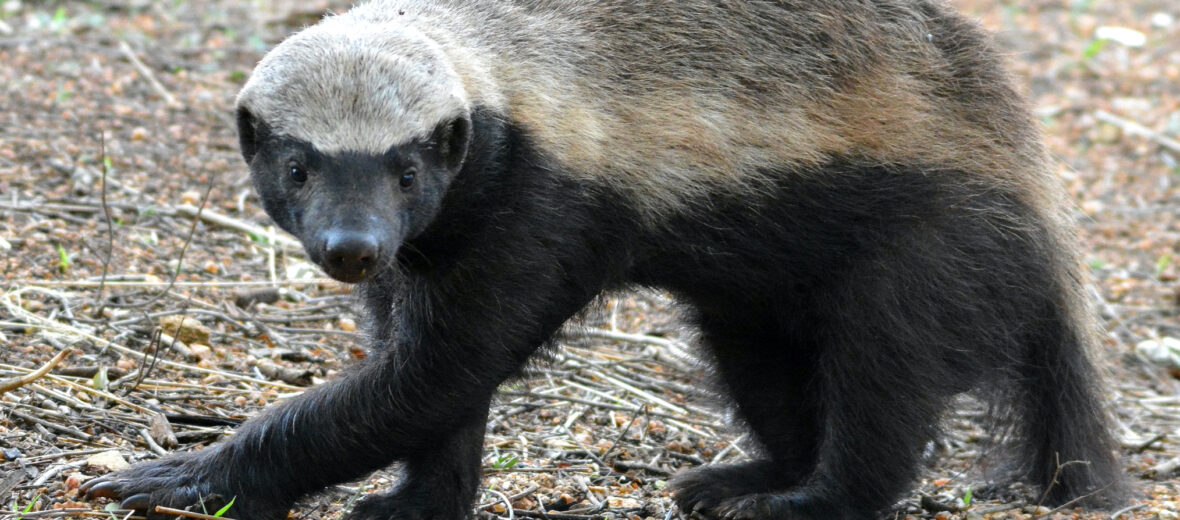 The honey badger or ratel is found in Africa, Asia, and India. They're mean, tough as nails, and fearless to boot! Honey badgers are part of the weasel family, related to otters, skunks, and also ferrets. Even though they eat almost everything, including honey, their main goal is to eat bee larvae. With their powerful claws and teeth they tear apart beehives, thwarting off multiple stings, in search of these tender delicacies. A testament to their toughness is that they can even take bites from venomous snakes and just simply shake it off.
First the Stats…
Scientific name: Mellivora capensis
Weight: Up to 35 lbs.
Height: Up to 11 inches
Lifespan: Up to 24 years
Now on to the Facts!
1.) The honey badger has a special gland at the base of its tail that houses a stinky liquid that is as powerfully strong smelling as a skunk's. The stink just doesn't last as long as a skunk's.
2.) A male ratel is called a boar and a female is called a sow.
3.) The honey badger's skin is tough and very loose. This allows them to twist around and bite an opponent that has grabbed a hold of it.
4.) Ratels dig burrows up to 9 feet long and up to 5 feet deep! There they stay during the heat of the day, only to come out at night, as they are Nocturnal (awake during the night) creatures.
5.) These fierce creatures will eat just about anything, being Omnivores (eat both meat and plants).
But wait, there's more on the honey badger!
6.) Grunts, hisses, squeaks, and whines can often be heard and are they are also known for their deep and scary growl!
7.) Following a Gestation period of 7 – 10 weeks, 1 pink, hairless, and closed eyed cub is born. After several weeks the cubs develop and, in 3 month's time, they take on the same appearance as the adults.
Did you know…?
The honey badger has the Guinness Book of World Record's title of "World's Most Fearless Creature"!
8.) Their name means honey eater of the Cape.
9.) They can bite down with enough force to break a tortoise's carapace (shell)!
10.) Honey badgers have been observed exhibiting high levels of intelligence. They have been witnessed using tools to escape compounds; tools like rakes, sticks, mud, and stones to build an escape route out of their enclosure.
Now a Short Honey Badger Video!
Also, check out the Critter Science YouTube channel. Videos added frequently!
Want to suggest a critter for me to write about? Let me know here.
Learn more about all kinds of cool critters, right here!