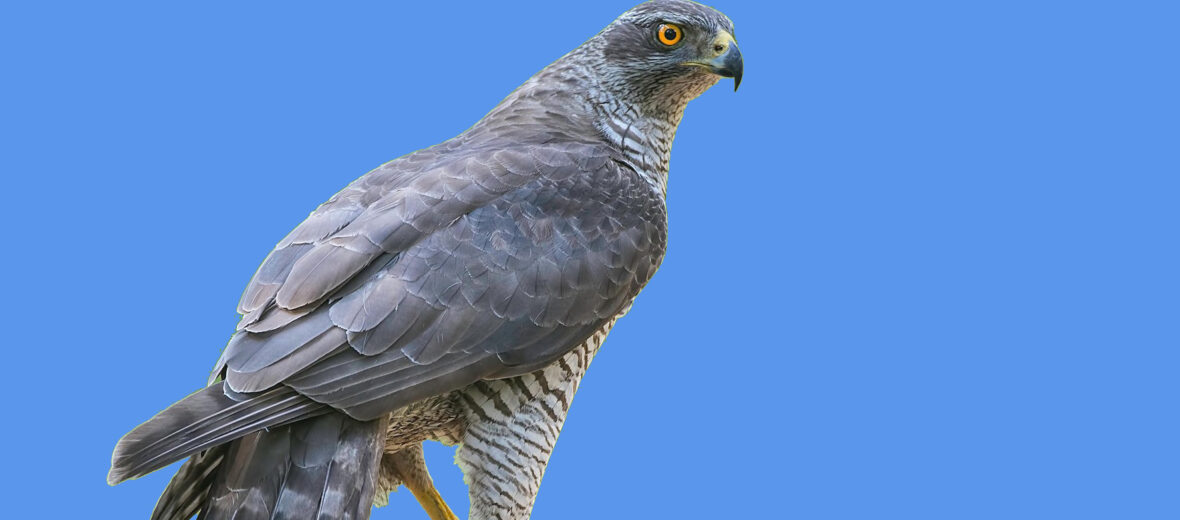 The northern goshawk is a rare sight to see. There are 10 known subspecies of northern goshawk that are located in temperate areas of North America, Europe, and Asia. Northern goshawks prefer highland and lowland deciduous and coniferous forests. Their name translates to gentle hawk, which is the case, unless you're prey or are getting in the way of their nesting. These birds are listed as Least Concern by the IUCN.
First the Stats…
Scientific name: Accipiter gentilis
Weight: Up to 3 lbs.
Length: Up to 2 feet
Wingspan: Up to 50 inches
Lifespan: Up to 11 years
Now on to the Facts!
1.) They prey on rabbits, hares, squirrels, game-birds, waterfowl, corvids, and pigeons.
2.) The goshawk is diurnal (active during the day).
3.) These raptors have been known to crash through vegetation while chasing prey and will even chase down animals on foot, if needed.
4.) Like all raptors, the goshawk is a carnivore (eats meat).
5.) Goshawks have been observed relentlessly chasing hares for up to 60 minutes.
But wait, there's more on the northern goshawk!
6.) Mediaeval falconers preferred the goshawk and it was the raptor of choice of nobility.
7.) Like many raptors, these critters are solitary, except during mating season.
Did you know…?
These raptors can reach speeds of 61 mph!
8.) Most sightings of goshawks are actually sparrowhawks. Goshawks are larger and less commonly seen.
9.) Goshawk pairs copulate as many as 500 – 600 times per clutch! Busy birds.
10.) The goshawk is mostly monogamous (mates for life).
But wait, there's still more on the northern goshawk!
11.) Mating season takes place from March – April.
12.) Females lay between 1 – 5 eggs, between April – May.
Now a Short Northern Goshawk Video!
Also, check out the Critter Science YouTube channel. Videos added frequently!
Want to suggest a critter for me to write about? Let me know here.
Learn more about all kinds of cool critters, right here!