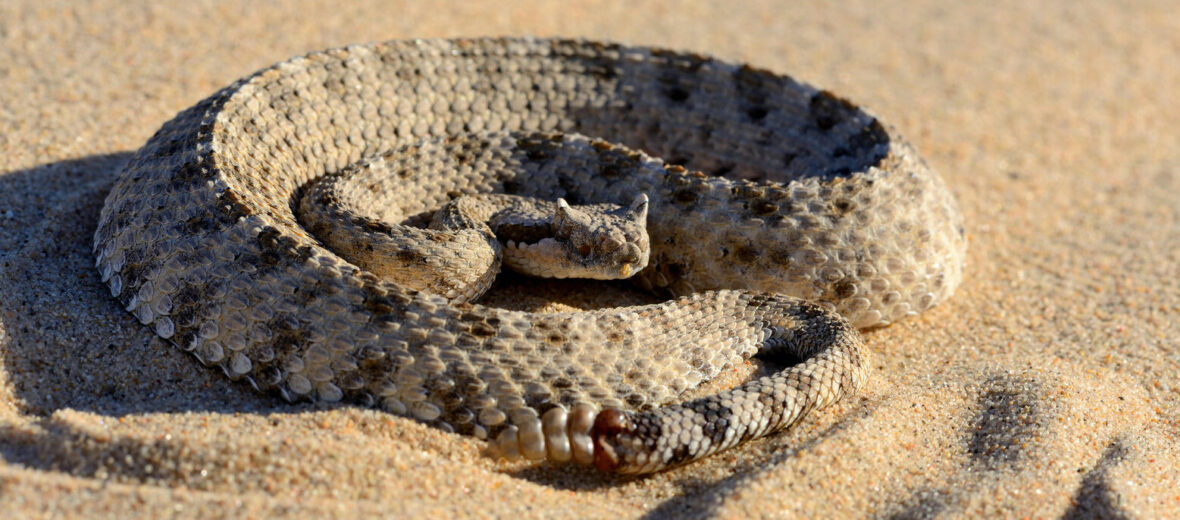 The sidewinder is a venomous pit viper that is found in arid regions of the southwestern U.S. and even into northwestern Mexico. They live in desert regions of Arizona, California, Nevada, Utah, and Mexico – in Baja California and Sonora. They derive their namesake from their strange method of locomotion. Rather than moving forward, they move sideways. Hey, any snake can move forward, why not be different? They move their middle ahead first, then they move their head and tail at the same time to catch up with the middle. This leaves an "S" shaped imprint in the sand.
First the Stats…
Scientific name: Crotalus cerastes
Weight: Up to .67 lbs
Length: Up to 30 inches
Lifespan: Up to 30 years
Now on to the Facts!
1.) These snakes can reach speeds of up 18 mph!
2.) Even though they spend most of their time in the sand, they are actually good swimmers too.
3.) They are nicknamed the "horned rattlesnake" due to the horn-like protrusions above each eye. These "horns" help to keep the sun and sand out of their eyes.
4.) There are 3 known subspecies of sidewinder: Mojave, Sonoran, and Colorado.
5.) Prey includes: mice, lizards, amphibians, birds, and occasionally other snakes.
But wait, there's more on the sidewinder!
6.) Sidewinders are preyed upon by owls, hawks, kestrels, coyotes, foxes, roadrunners, snakes, and large lizards.
7.) They are nocturnal (active at night) during the summer and diurnal (active during the day) during the winter.
Did you know…?
Although typically not fatal, their venom causes chills, nausea, coagulopathy (lack of blood clotting), dizziness, and shock. It can also cause pain, swelling, hemorrhagic blebs (blisters), and ecchymosis (discoloration of the skin)!
8.) Rattlesnakes are also called pit vipers because they have small heat sensing pits between their eyes and nostrils, called pit organs, that are used to sense the heat of their prey and predators.
9.) The sidewinder is listed as Least Concern by the IUCN.
10.) A sidewinder will brumate (hibernation for reptiles) during the coldest months of the year.
But wait, there's even more on the sidewinder!
11.) Mating season takes place from April – May.
12.) Sidewinders are ovoviparous (eggs hatch within the body and are born live). The eggs are then reabsorbed by the female to help restore lost calcium.
13.) Females will often use abandoned burrows of other animals to give birth.
14.) Clutches of up to 20 young are born from July – August.
Now a Short Sidewinder Video!
Also, check out the Critter Science YouTube channel. Videos added frequently!
Want to suggest a critter for me to write about? Let me know here.
Learn more about all kinds of cool critters, right here!