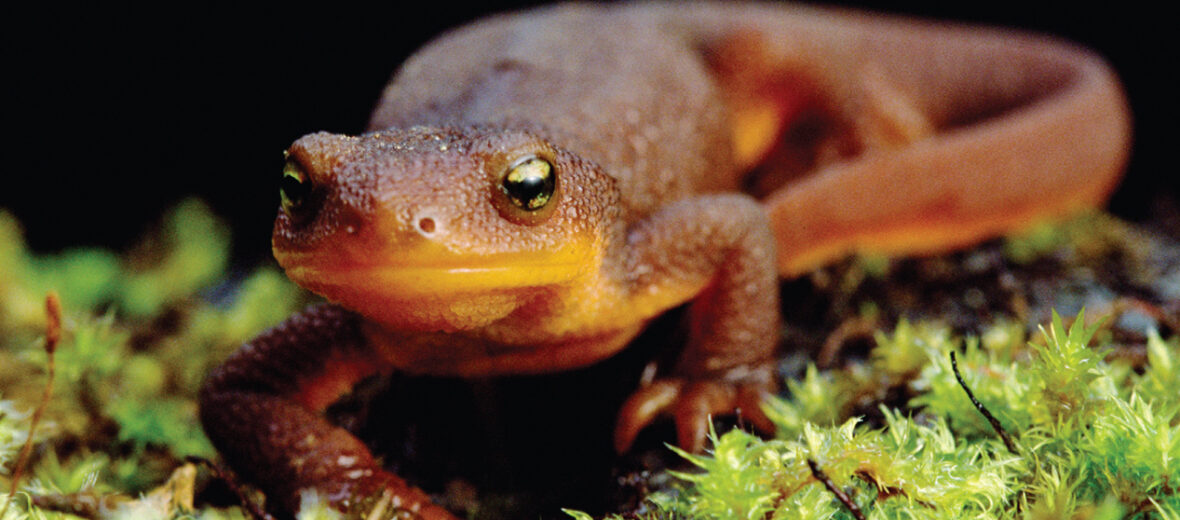 The rough-skinned newt is found in coniferous forests, grasslands, woodlands, and areas near ponds, lakes, and rivers. These newts are often kept as pets and are frequently found in exotic pet stores. Newts are primarily set apart from salamanders due to their rough skin and paddle-shaped tail. Despite collection for the pet trade and even for fish bait, these newts are only listed as Least Concern, by the IUCN.
First the Stats…
Scientific name: Taricha granulosa
Weight: Up to .42 ounce
Length: Up to 5 inches
Lifespan: Up to 12 years
Now on to the Facts!
1.) These newts are nocturnal (active at night) but sometimes exhibit crepuscular (active at dawn and dusk) behaviors.
2.) They are Carnivores (eat meat) that prey on insects, eggs, larvae of other salamanders, and sometimes small fish.
3.) The common garter snake is one of the few animals able to eat this poisonous newt.
4.) When threatened, the rough-skinned newt will roll over to expose it's brightly colored belly thus warning of it's poisonous potential. This is called aposematic coloration.
5.) The rough-skinned newt spends most of its time on land. They only venture into water during the breeding season or to drink.
But wait, there's more on the rough-skinned newt!
6.) Like all amphibians, these newts drink water through their skin.
7.) Mating season takes place between March – April, but can extend from December – July.
Did you know…?
This newt excretes a poison called tetrodotoxin, which is a potent neurotoxin that is more poisonous than cyanide. This toxin can cause paralysis and death, if ingested!
8.) The skin of both the male and female becomes smooth during the beginning of the mating season. The male's body transforms during this time. The cloacal lips become swollen, their tails flatten, and their toe pads become more developed to aid in gripping females in the water.
9.) Males will wrestle and fight to win the attention of a female. The winner gets the girl.
10.) Metamorphosis into adult takes 4 – 5 months.
Now a Short Rough-Skinned Newt Video!
Also, check out the Critter Science YouTube channel. Videos added frequently!
Want to suggest a critter for me to write about? Let me know here.
Learn more about all kinds of cool critters, right here!